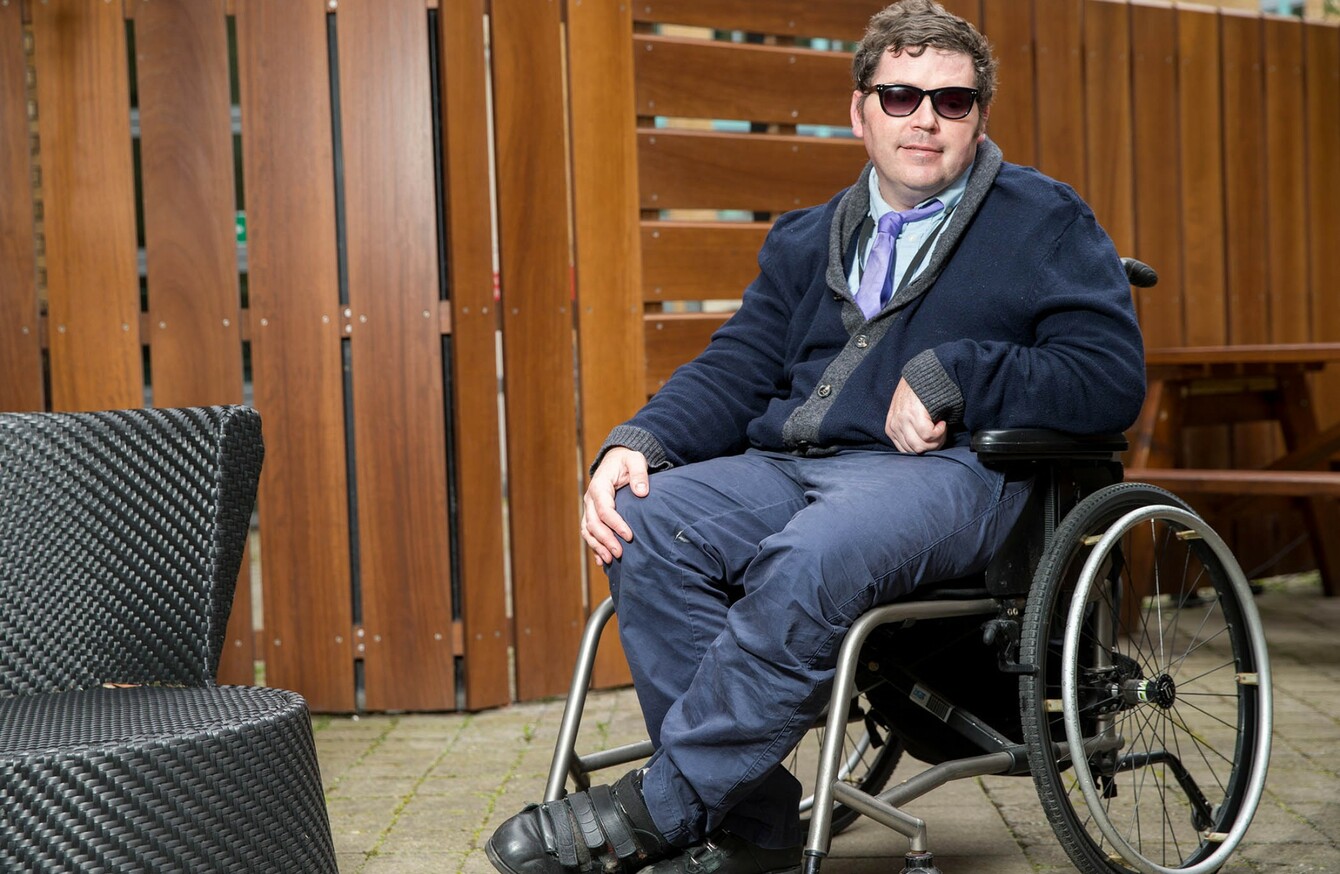 Brian Hogan
Image: Conor Healy Photography
Brian Hogan
Image: Conor Healy Photography
EIGHT YEARS AGO, Limerick man Brian Hogan was flying.
He was a 32-year-old senior quantity surveyor at a firm in Nottingham, England, managing multi-million pound projects and enjoying his life.
Aged 40, he is blind, uses a wheelchair and lives in a rehab facility run by Acquired Brain Injury Ireland (ABII).
"I was on a night out and I was assaulted. I was punched and fell back, banging my head on a kerb.
I went home thinking I was fine, but I actually had a bad bleed on my brain. I was taken into hospital and had surgery to remove the bleed and put in a coma for three months to allow the swelling go down.
After the swelling went down, Brian was awoken, but discovered he had lost sight.
"It's been hugely life-changing. I was a 32-year-old, fiercely independent man, very busy, having a good life.
"One reckless act of some idiot, a stranger, turned my life upside down."
The brain injury presented Brian with a unique set of challenges, not least losing his sight in his 30s.
He credits ABII with helping him come to the point where, at 40, he is aiming to live independently.

Research
New research released by ABII yesterday shows an over-reliance on families to provide care and the need for long-term access to rehabilitation.
It is the first time that research into peoples' lived experiences of brain injury in Ireland has been published.
ABI Ireland CEO Barbara O'Connell said that these first-hand accounts of those affected by ABI are remarkable stories of resilience and strength despite life changing injuries and struggles.
"Brain injury is a hidden phenomenon in our society. Rarely, if ever, do we hear the voice of the person living with ABI. This report lifts the lid and gives us an insight into what life is like for people with a brain injury. It illuminates in very clear terms the barriers faced, the lack of services that people contend with and the difficulties in trying to access them."
Minister of State with special responsibility for Disabilities, Finian McGrath who launched the report, said that he was acutely aware of the dual role which the family and the State play in looking after those who acquire a brain injury.
Independence
That lack of support is evident in Brian's case. When he returned to Ireland, he was placed in a facility that he felt was not suitable.
I was in rehab in the UK for a year, learning how to walk and talk again. When my family felt I was well enough, they brought me home. I was moved into a place that was advertised as a brain injury unity, but it was an old folk's home. When you're 33 and you're living with old folks with dementia, it's a huge wrench.
From there, ABI found me and rescued me and brought me to the house in Clarecastle.
"The rehabilitation house where I live, run by ABI, has changed my life – I can see a future for myself again."
Brian still attends physical therapy, but feels that he has had his dignity restored by moving to the ABI facility.
"I'm winning back my independence bit by bit. It's slow, but I'm getting there.
"Where there's life, there's hope. You can improve, you can see a future for yourself.
"My hope for the future is to eventually live independently again and live the life I aspired to live in the beginning."