Source: Fox News/YouTube
SUPREME COURT NOMINEE Brett Kavanaugh has said he won't let "false accusations drive me out of this process" as he shot back at allegations of sexual assault in an exclusive interview with Fox News.
Appearing alongside his wife Ashley, he said that he was a virgin at the time of the alleged attack, and said that he hadn't had any physical contact with his accuser.
"I've never sexually assaulted anyone – not in high school, not ever. I've always treated women with dignity and respect."
"Listen to the people who know me best, the 65 [women from high school] who overnight signed a letter saying that I treated them with dignity and respect."
Ahead of his own Senate testimony due after Ford's, Kavanaugh said that he was a virgin at the time of the alleged attack by way of a defence:
I did not have sexual intercourse or anything close to sexual intercourse in high school or for many years thereafter.
"I'm not going to let false accusations drive us out of this process," he added, repeatedly calling for a "fair process".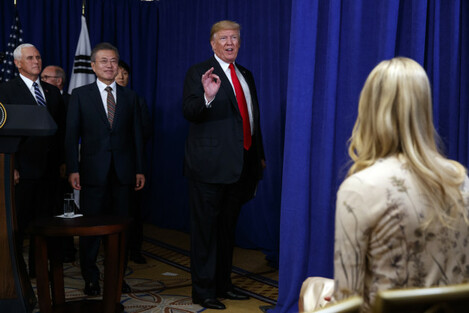 President Donald Trump answers a question about Supreme Court Justice nominee Brett Kavanaugh. Source: Evan Vucci
President Donald Trump and Republican leaders have accused Democrats of a smear campaign by using accusations by two women of sexual misconduct by Kavanaugh in the 1980s to try scuttling his Senate confirmation.
There were no immediate indications that the emergence of a second accuser had fatally wounded Kavanaugh's prospects, but the nominee took the unusual step of defending himself in a television interview.
The 53-year-old said that he wasn't questioning that his initial accuser, psychology professor Christine Blasey Ford, may have been sexually assaulted in her life.
He said that he may have met her, but they "did not travel in the same social circles. She was not a friend, not someone I knew".
He added that he doesn't remember being at parties with her ever. 
I was never at any such party, the people who were alleged to be present have said that they do not remember any such party.
When asked if there was any incident between Ford and Kavanaugh that Ford could have misconstrued, whether they had ever met, kissed or touched, Kavanaugh responded "correct".
I've never had any sexual or physical activity with Dr Ford.
He added, "What I know is the truth, and the truth is I've never sexually assaulted anyone in high school or otherwise".
Background
Source: HEATHER KHALIFA/The Philadelphia Inquirer
Kavanaugh's TV appearance came three days before a crucial Senate Judiciary Committee hearing at which he and his chief accuser, Christine Blasey Ford, are scheduled to testify.
After the interview with Fox, Trump tweeted out his support, calling the accusations among "the single most unfair, unjust things to happen to a candidate for anything".
Despite the forceful rhetoric by Kavanaugh and his Republican supporters, it remained unclear how three moderate Republicans – Senators Susan Collins of Maine, Arizona's Jeff Flake and Alaska's Lisa Murkowski – would react to the latest accusation.
With the GOP's Senate control hanging on a razor-thin 51-49 margin, defections by any two Republican senators would seal his fate if all Democrats vote against him.
Collins said she remained undecided about Kavanaugh, a judge on the District of Columbia Circuit Court of Appeals.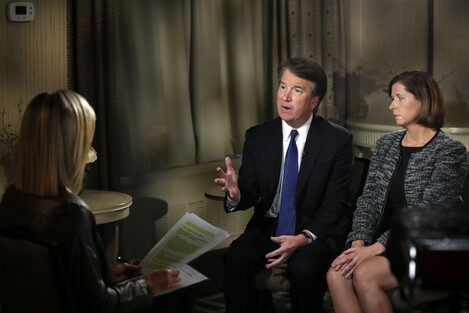 Source: Jacquelyn Martin
During the Fox interview, Kavanaugh said that while there were high school parties with beer and he wasn't perfect, "I'm a good person. I've led a good life."
He said he'd never done anything like the episodes his accusers have described and said he didn't have sexual intercourse until "many years" after high school.
"I'm not going to let false accusations drive me out of this process. I have faith in God and I have faith in the fairness of the American people," he said.
Second accusation
On Sunday, The New Yorker magazine reported that Deborah Ramirez described a 1980s, alcohol-heavy Yale dormitory party at which she said Kavanaugh exposed himself, placed his penis in her face and caused her to touch it without her consent.
Ford has said Kavanaugh tried removing her clothes and covered her mouth to prevent screams after he pinned her on a bed during a high school party.
With increasing intensity, Republicans have attacked the credibility of Ford's and now Ramirez' accounts. They note that neither the accusers nor news organisations have found people willing to provide corroboration, even though both women have named people who they said were present at the alleged incidents.
Ramirez, who told The New Yorker that she'd been drinking at the time, was initially reluctant to speak publicly "partly because her memories contained gaps", the magazine said.
After "six days of carefully assessing her memories and consulting with her attorney," she felt confident enough to go public, the report said.
Dozens of people protesting Kavanaugh were arrested outside Collins' Capitol Hill office. Away from Washington, there were walkouts in support of Ford and Ramirez by dozens of liberal groups in a campaign promoted on Twitter under the hashtag #BelieveSurvivors.
- with reporting from AP