Image: PA Wire/Press Association Images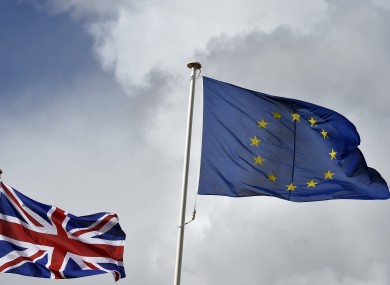 Image: PA Wire/Press Association Images
IT'S THE BIG DAY.
This morning Britain goes to the polls to decide whether or not to remain a member of the European Union.
It's been months of debates, back and forth arguments between the Remain and Leave sides, and relentless campaigning from both camps – but now it's all set to come to a head.
The next 26 or so hours could change the face of EU and with it the rest of the world.
Here are the times of when everything will play out:
Thursday 7am: Polls open 
About 41,000 polling stations across the UK will open and eligible voters will be able to cast their vote.
Thursday 10pm: Polls close 
Polls will close at 10 tonight and thousands of ballot boxes will be transported from polling stations to one of 212 counting venues across the UK – where counting will begin.
Thursday 11.30pm: Local turnout figures start to be announced
There will be 382 individual counts for each council area across Britain, Northern Ireland and Gibraltar. It shouldn't take too long for the local turnout figures for areas to be announced.
Counters will have to verify that all the votes have been accounted for and they can then issue a local turnout figure. The earliest of these is expected at about 12.30am (probably from Sunderland).
Friday 12.30am: First local results begin to be announced
This is when things will start to get interesting.
The first local count results are expected to start coming in around now. There will be a big discrepancy between individual counts – with results for some areas coming in much earlier than others.
The UK Electoral Commission has a downloadable spreadsheet on its website with the expected declaration times of all the local counting areas.
The three earliest expected times are:
Sunderland – 12.30am
City of London – 12.30am
Foyle (Derry) – 12.30am
Friday 3am-4am: Majority of local results announced
The majority of local results will be announced by this point, however there will still be some stragglers.
Friday 4am: Regional results will start to be announced
After the local results are totted up, each of the 12 voting regions will start to announce their results – and by now the overall picture may start to become clear.
The first regions to report will be the ones with smallest populations. So Wales, Northern Ireland, London, etc.
Areas like Wales and London are expected to be strongly pro-Remain, so an early lead when these regions declare is to be expected.
Friday 6-7am: Final regional results will be announced
The overall result of the vote should be fully clear after the majority of the regions announce their results.
The Eastern, North West and South Eastern regions will be the final to declare and they should have their results in by 7am.
Fine Gael MEP Brian Hayes – who outlined key areas to look out for when the results are declared – said that certain "bellwether" areas will give the picture better.
"Watch for 'bellwether' areas like England's eastern and southern coasts, the East Midlands and Cumbria," he said.
These areas will help decide the final result.
Friday breakfast time: National result announced
Once all the regional results have been announced, Jenny Watson, the chief counting officer (CCO), will declare the national result at Manchester Town Hall.
It is not certain when this result will be but it is expected about breakfast time.
Friday mid-morning: David Cameron announcement 
Whatever the result, UK Prime Minister David Cameron will be obliged to give an announcement following the national result declaration.
Only time will tell whether it's a celebratory speech or an acknowledgement of defeat.
Friday lunchtime: Expected statements of EU leaders
Leaders from across the EU (including Enda Kenny) will give speeches about now. And much like David Cameron's statements, it what they will say won't be known until the final results are in.
Expect announcements, speeches and statements from both sides of the referendum and all the groups associated with the campaign as the counting gets underway and the fate of Britain and Europe goes to the polls.
TheJournal.ie will be liveblogging all the Brexit day action today and throughout the night.