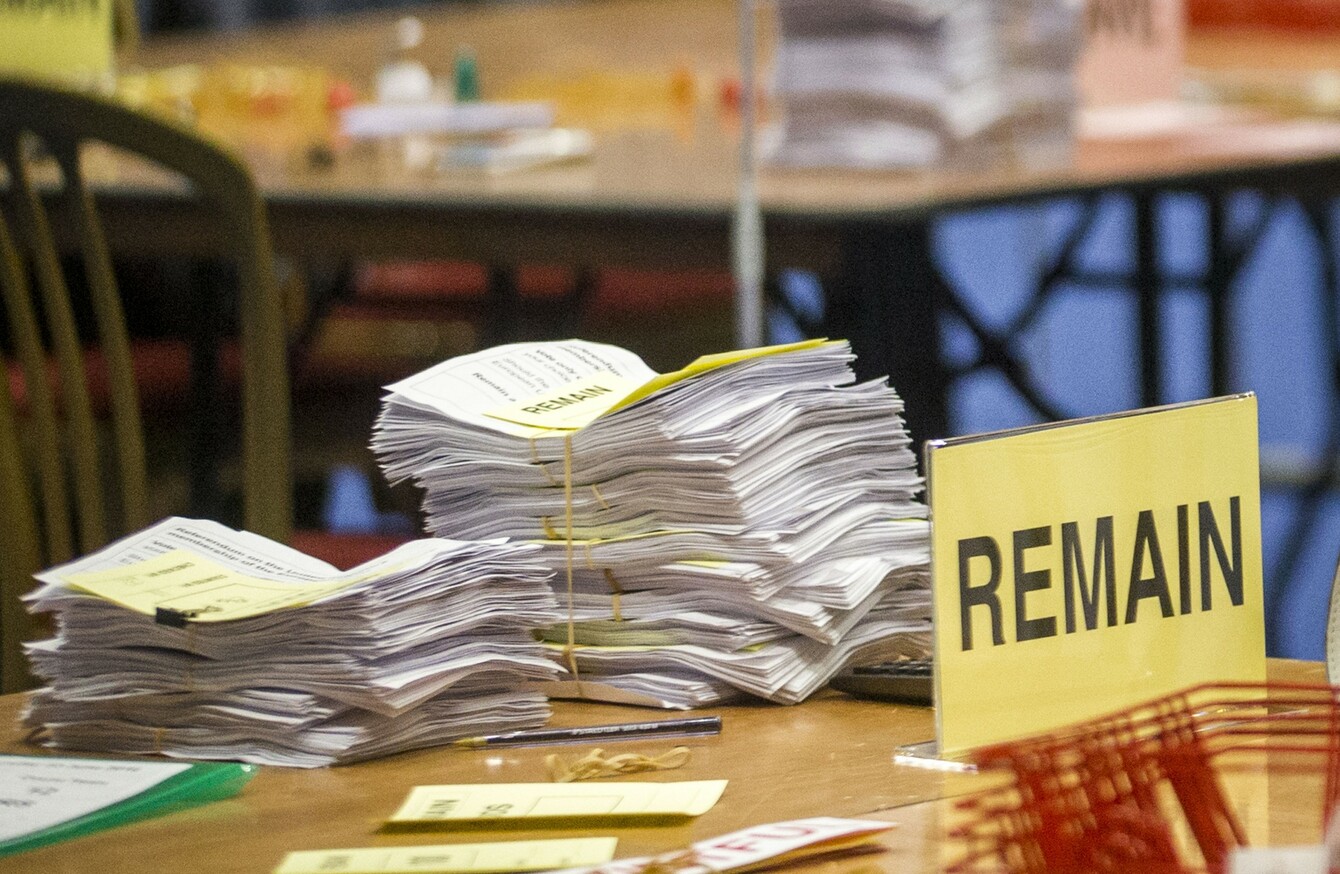 Image: PA Wire/Press Association Images
Image: PA Wire/Press Association Images
OVER 17 MILLION British people have voted to take the country out of the EU.
But just yesterday, pollsters said the opposite. A final poll of polls said it was 52-48 in favour of remain.
A day of poll survey of 3,000 voters said the same. Nigel Farage and Boris Johnson conceded they would lose the vote.
But, as with last year's British general election, some pollsters were wrong. In this case, wrong by a margin of 1.3 million votes.
But, were they really that bad? No.
The reality is that polls had for weeks gone back and forth and had always predicted a close-run race.
As recently as yesterday, Huffington Post's poll of polls tracker put the sides just 0.5% apart, with 9% of people yet to make their minds up.
Data guru Nate Silver, editor of FiveThirtyEight, said the real issue was why so few people believed the polls:
Polling
One issue that has cropped up is the disparity between phone and internet polling.
Harry Carr, the Head of Sky Data wrote today that there was a major shift in how people said they intended to vote when on the phone and at their computer.
"Online polls had consistently shown a close race throughout the campaign.
"Phone polls had at first shown a far bigger Remain lead, which had closed suddenly in the penultimate week of campaigning amid methodological changes.
"Their final polls had shown the Remain campaign ahead again, but the online polls still showed a close race – with two pollsters, TNS and Opinium, predicting a Leave victory."
The Telegraph's expert, Professor John Curtice, had warned that polls were wrong throughout the campaign and said last month's polling showing the Remain camp in the lead was down to the type of polling.
"In May people were saying Remain were making progress; they weren't, there were just more phone polls."
YouGov's analysis says the two methods can be quite different.
"In person-to-person dialogue people feel pressured by the expectation of an opinion, and then it's much more likely to be for the status quo rather than change.
We believe this accounts for most of the difference between the methodologies. It doesn't make one right or wrong. Indeed, judging how many people really have an opinion and will turn out to vote is the big question mark hanging over this campaign, and we expect to find out more and more as we get closer to the moment of decision.
Bookies
In the last week, there had been some argument over whether to believe pollsters or bookies.
In turns out the pollsters were closer to being right. Bookies had pegged a remain win for some time, with Leave chances topping out at around 42%.
Last night, Ladbrokes' were offering 1/4 in favour of remain and 3/1 in favour of leave.
Surprise
Given that Farage and Johnson appeared to concede, it begs the question what changed?
Leading pollster Ben Page of Ipsos Mori, told RTÉ's Morning Ireland the result was a "vote of anger".
Most polls had predicted the result would be extremely close, but it was mainly predicted that the Remain side would win the vote.
Page said he believed people had voted on immigration rather than economic issues.
He noted that the turnout of 72% was higher than expected, and that more working class people had turned out than in previous elections and referendums.