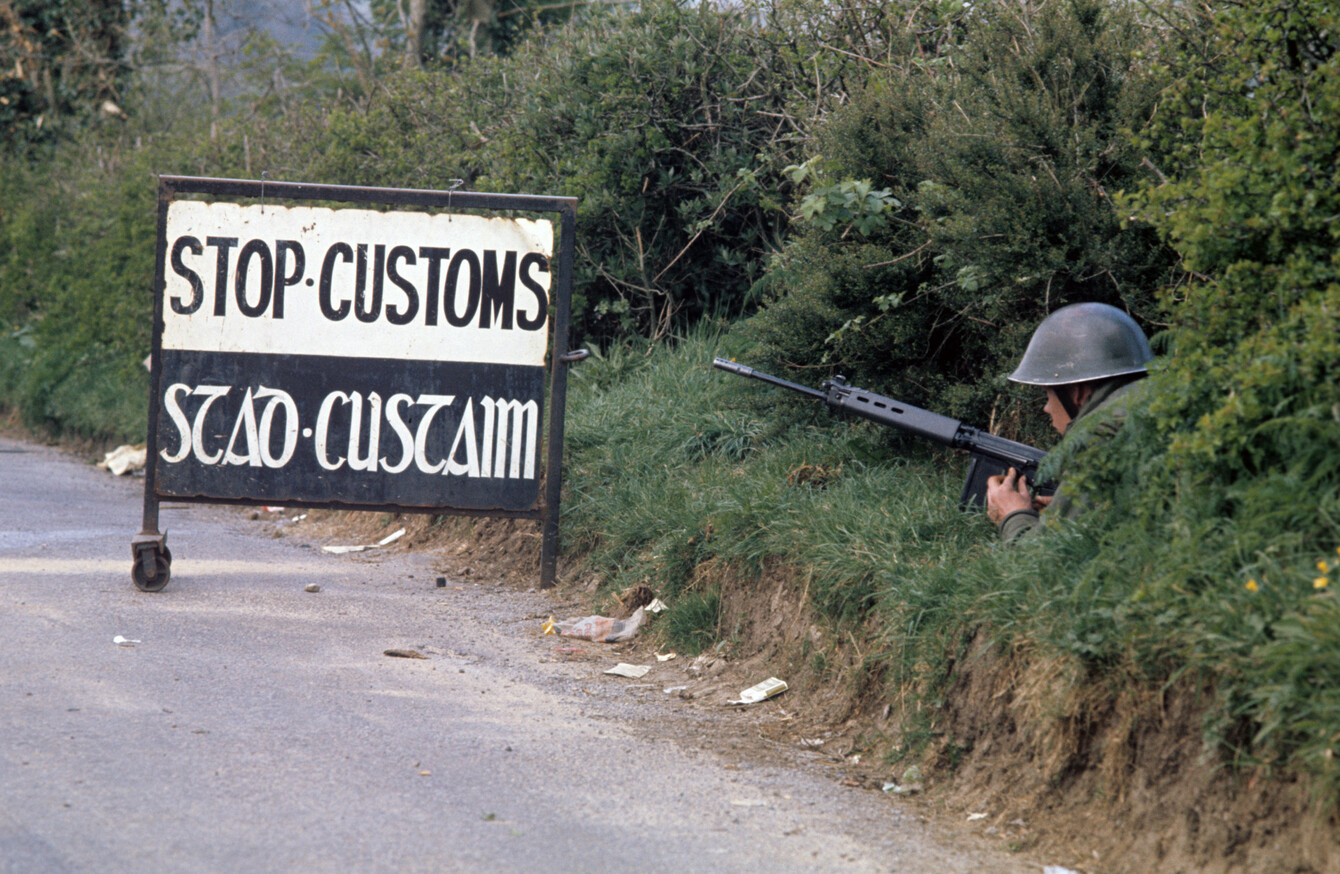 Image: PA Archive/PA Images
Image: PA Archive/PA Images
A RETIRED MEMBER of the Irish Defence Forces has described how the Defence Forces is as "unprepared" for Brexit as it was for manning the border when the Troubles erupted in the late 1960s.
Dan Harvey, author of the book Soldiering Against Subversion, about the Defence Forces' role during the Troubles, told TheJournal.ie that there are parallels between the border issues in the north and what could happen with Brexit.
"Not that [the book] was written with Brexit in mind but there is kind of a chilling parallel… it was written for the 50th anniversary of the Troubles, but Brexit, which I thought would be long since solved, is heading towards its deadline unsolved," he said of the situation.
Beginning in 1969, the Defence Forces worked alongside the gardaí, manning border stops, dealing with incidents, and manning posts at places like Portlaoise Prison. 
In his book, Harvey details how the then-Taoiseach Jack Lynch presided over an emergency meeting about the Irish Government response to rioting. Part of the response was the enlist the help of the Defence Forces. Meanwhile, British troops had been sent to Northern Ireland in huge numbers to assist the RUC and maintain British government authority.
"Well below its peacetime strength, possessing only antiquated equipment and little reliable transport ability of any note, and with no permanently occupied military posts north of a line from Galway to Gormanstown camp in County Meath, the Defence Forces were ordered northwards," writes Harvey of the Irish response.
He wrote the book to highlight the subsequent work of the Defence Forces despite such challenges, showing how they dealt with such an intense situation. 
"I was so proud of what the Defence Forces did, what they did was meaningful it had purpose and it was important, and yet it seemed to be sliding away," he said.
Speaking to TheJournal.ie this week he said: "Again the parallels: We were underprepared in 69, we are unprepared now as well.
Defence Force numbers are down, specialists are going, border posts are sold. The general officer in command of second brigade here in Dublin has responsibility for Donegal. Thirty per cent of the Defence Forces are on income supplement support. We've had eight reorganisations in the last 23 years and the 2012 one was a disaster. So they were based if you like on money reasons and political reasons, not operational reasons. So we are unprepared.
"And we have the lesson. It's not that the Defence Forces hasn't been telling people," he said.  
Anyone thinking wargaming or worst-casing the situation would have to ask themselves, well are we prepared? We are not.
In his book, Harvey writes about the paramilitary attacks that took place along the border. "At the time the border was a good place to carry out your campaign because it was symbolic of division, it was symbolic of occupation," he said. "And if you did blow up a border post you were making the point but you were also incurring costs on the British expenditure."
He questioned what would happen if there was a hard border put in place after Brexit:
If something goes up, a camera, a customs post, is that going to be a target? Is someone going to have to defend it, is someone then going to have reprisals on the people who made it a target. So are we going there again? 
Harvey has been retired for a year, and said that he knows his colleagues in the Defence Forces are talking about the Brexit border issue themselves.
"They were responsible citizens," he said. "Something needs to happen between this and the date [of Brexit], for it not to go in this direction [as during the Troubles]. If nothing happens then that's the direction we're going."
Border warnings
Harvey's warning came a day after former Brexit Secretary David Davis told Sky News that he thinks the Irish Border is an exaggerated and oversimplified issue when it comes to Brexit negotiations. 
"The people oversimplifying it are the Irish government and the commission.
"There is no acceptable sweeping political answer, what they have to do is look at the detail, the detail of tax on the border," Davis said.
Theresa May has insisted there will be no hard border after Brexit, with her government proposing that a backstop plan be put in place should there be no Brexit border deal. It would last until 2021.
The UK has committed to providing technological solutions to the issue of the border. May committed that if the EU did not accept these solutions, a backstop plan would be put in place that would avoid this.
Meanwhile, earlier this year a garda representative claimed that border gardaí were "completely unprepared" for Brexit, saying that they have not once been briefed on the potential policing implications that a hard or soft border would cause.
The division of Cavan/Monaghan is one of the worst affected, according to Garda Representative Association (GRA) member James Morrisroe at the time.
TheJournal.ie took a Brexit road trip along the Northern Irish border, where we found that few, if any, people living there believe a return to a hard border is a desirable solution.
Many fear it could divide communities again, sever trade on the island, and potentially increase the need for a military presence:
Source: TheJournal.ie/YouTube