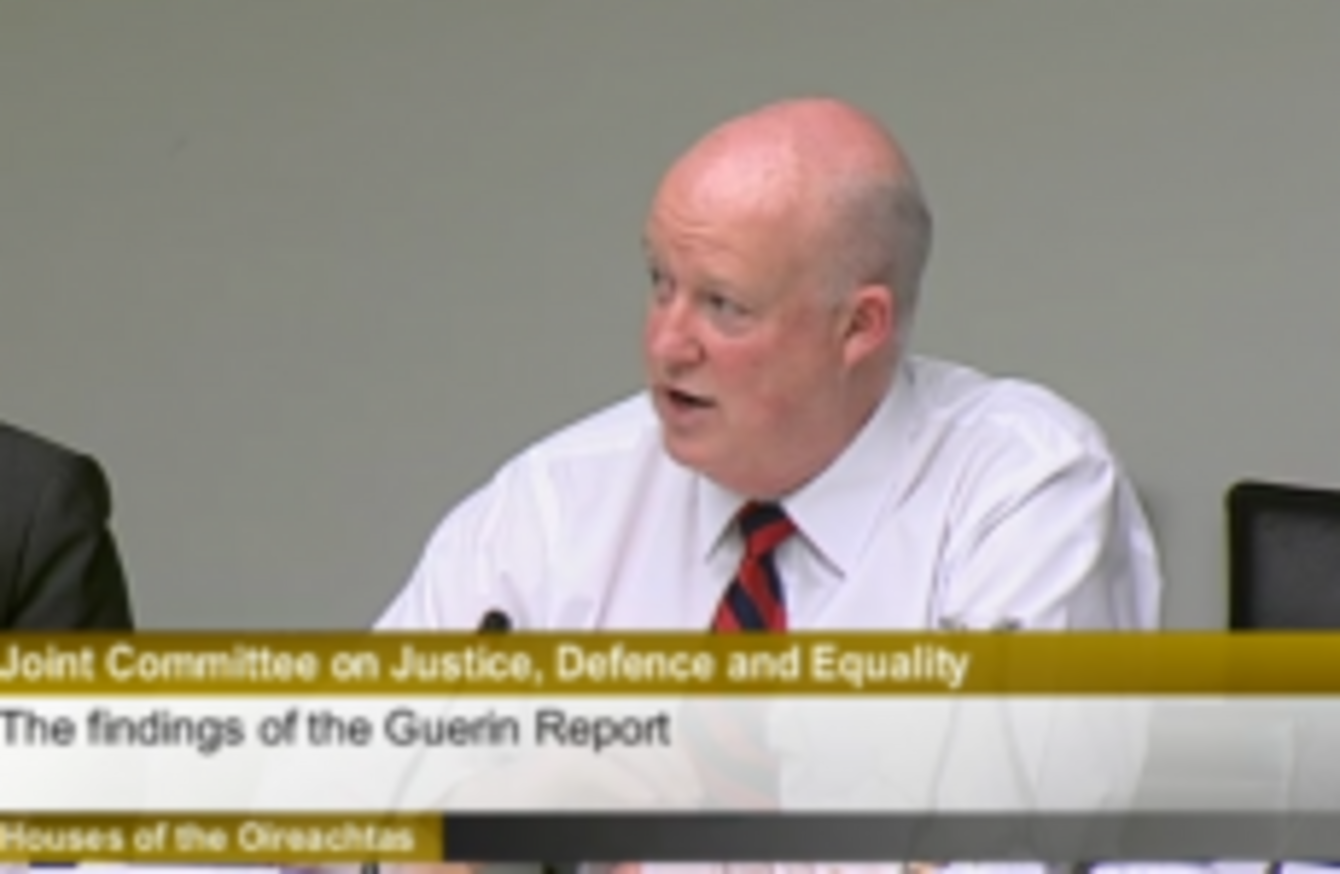 Brian Purcell
Image: Screengrab/Oireachtas TV
Brian Purcell
Image: Screengrab/Oireachtas TV
DESPITE THEIR BEST efforts, members of the justice committee are none the wiser as to what Brian Purcell told former Garda Commissioner Martin Callinan the night before he stepped down.
The Secreary General of the Department of Justice was repeatedly questioned by the committee about the issue today, but refused to elaborate on what happened.
Much speculation has surrounded the night in question, 24 March, and why Taoiseach Enda Kenny sent Purcell to Callinan's house.
"I hope members will understand that I am somewhat constrained in what I can deal with. I fully appreciate these matters are of legitimate interest to members.
"The difficulty is that, although it would be much easier in many ways to come in here today and fully answer your questions, I must respect that the Fennelly Commission has to undertake the work it has been charged with by the Government and these Houses," Purcell stated.
Committee chair David Stanton told Purcell that it was "perfectly within [the committee's] remit" to raise the issue of Callinan's resignation and asked him to answer questions about it "very clearly and in plain English".
Purcell said he was "deeply concerned" that if he discussed Callinan's resignation it could "undermine" the work of the Fennelly Commission, adding that he was being placed in a "rather unusual position".
"I simply won't be able to answer questions in relation to that matter … [while] what could be seen to be a parallel inquiry is proceeding."
Earlier today Taoiseach Enda Kenny claimed he sent Purcell to the former Commissioner as he "had a right to be appraised" of his "concerns and anxieties".
'It's a farce'
The meeting became quite heated at times, with a number of the committee's members venting their frustration with Purcell's lack of cooperation.
Some took exception with Purcell reading from a script, accusing him of doing so in a bid to avoid answering their questions.
Independent TD Finian McGrath said it was "unacceptable that a senior public servant would come in here … and talk down the clock … it's a farce".
The committee's chair, Fine Gael's David Stanton, said he would ask McGrath to leave if he kept interrupting.
At this point, Sinn Féin's Padráig MacLochlainn repeated: "This is farcical."
Stanton said he didn't understand why Purcell couldn't cooperate fully, saying: "The truth cannot change".
We are looking for the truth and we are looking for facts on what happened on the night the Commissioner decided to retire.
After much probing, Purcell finally admitted:
Of course it's unusual for such a meeting to take place in the home of the Commissioner.
McGrath said he was "very disappointed" by Purcell's comments, adding he "doesn't accept" his stance of "hiding behind legislation to answer a few simple questions."
"Despite what anybody might think, I tried my best [to answer your questions]," Purcell insisted.
'Across a corridor'
McGrath questioned why it took two weeks for a letter about the recording of phone calls in Garda stations to get from Purcell's desk to that of the former justice minister Alan Shatter.
He asked Purcell the distance between his office and Shatter's.
The secretary general said they were "on same floor of the same building … across a corridor".
"People have genuine concen that letters can be hanging around offices for two weeks without ministers seeing them," McGrath remarked.
#Open journalism No news is bad news Support The Journal

Your contributions will help us continue to deliver the stories that are important to you

Support us now
Purcell said he could see how this and Callinan's retirement were "of interest" to the public, but said he could not elaborate.
The Guerin Report
Purcell said that the recommendations of the Guerin Report, which set up to examine allegations that An Garda Síochána mishandled a series of cases involving abduction, assault and murder, were "clearly" critical.
When asked about how the department handled concerns raised by Sergeant Maurice McCabe, he noted that Shatter acted on the advice the Commissioner, "the person against whom the complaint was made".
He added that the relationship between the justice minister and the Garda Commissioner is based on a "trust element".
It has undoubtedly been the practice of the Department and successive ministers to place considerable reliance on what they are told by the Garda Commissioner of the day.
Shatter resigned earlier this month as a result of the report. Purcell admitted that the department was "not fit for purpose" in terms of dealing with Garda whistleblowers.
We do not micromanage the gardaí, the Commissioner has responsibility in law for operation of the gardaí.

Maybe we would have looked at it differently [now]. Every one one of us can be wise with the benefit of hindsight.
Purcell noted that a number of reforms had been committed to by justice minister Frances Fitzgerald, including the establishment of an independent garda authority by the end of the year, a strengthening of the remit and powers of GSOC and upcoming legislation to protect whistleblowers.
He said that the programme of reform set to be implemented  was "highly challenging" but would ensure that similar controversies regarding complaints would not arise in the future.
Lack of Confidence
Fianna Fáil's justice spokesperson said Niall Collins asked Purcell if he felt he could do his job while Fitzgerald refused to express full confidence in him.
Purcell said it was "perfectly understandable that a new minister coming in to her job is not going to rush out on her first day … and say 'yes' [to that question]."
He admitted that it was "not a comfortable position for me to be in", but added: "I can understand perfectly why she's taken that approach."