BRUCE SPRINGSTEEN STILL feels like a 'complete fake' and at the height of his fame, he felt a "tremendous amount of pressure".
In an interview for The Late Late Show, Springsteen spoke about Catholicism, being brought up by his half Irish family, being treated for depression and having "half of a nervous breakdown during the intermission" of Slane concert in 1985.
Ryan Tubridy traveled to London for the interview with The Boss. It was the first time the show left RTÉ for an interview since Gay Byrne went to London to interview Jane Fonda in 1989.
Springsteen described how, at the height of his fame, he was unable to enjoy it.
In the States we were on magazines called Time and Newsweek at the same time. In those days, these were very prestigious news magazines that did not put entertainers on their cover very often and I ended up on the cover of both.That should have been an 'I've arrived' moment but it was like 'I've arrived, let me out of here! Let me get away as quick as I can!'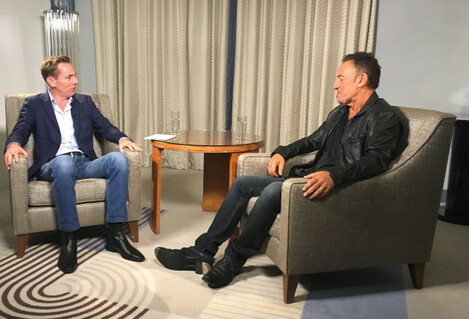 "I felt a tremendous amount of pressure, all of which I asked for of course, but at the same time I felt very ambivalent … Ambivalence has been one of the great signatures of my life, so, whenever those moments would arrive, instead of being able to sit back and just enjoy it, which I have to say I probably am able to do today, when I was younger I was not able to do it at all."
Bruce and Ireland
He also spoke about his fears that someone would die when he played Slane with the E Street Band in 1985.
"We hadn't played for 90,000 before, it was the first time. We came out and the audience was rowdy and swaying this way and swaying that way, and people were dropping into little holes in the crowd.
All I was thinking was 'someone is going to get hurt and it's going to be on me, it is going to be my responsibility'.It really concerned me very deeply and I had half of a nervous breakdown during the intermission.I think Pete Townsend was there and he said: 'oh yeah, that's what it's like!'.
However, he added that his gigs in Dublin last year were "very satisfying".
"It is very lovely, I am deeply appreciative and I am blessed at this point in my life to have an audience like that, to be able to perform still to the best of our abilities, to bring more glory to our band's name and it's a good life, I have no complaints."