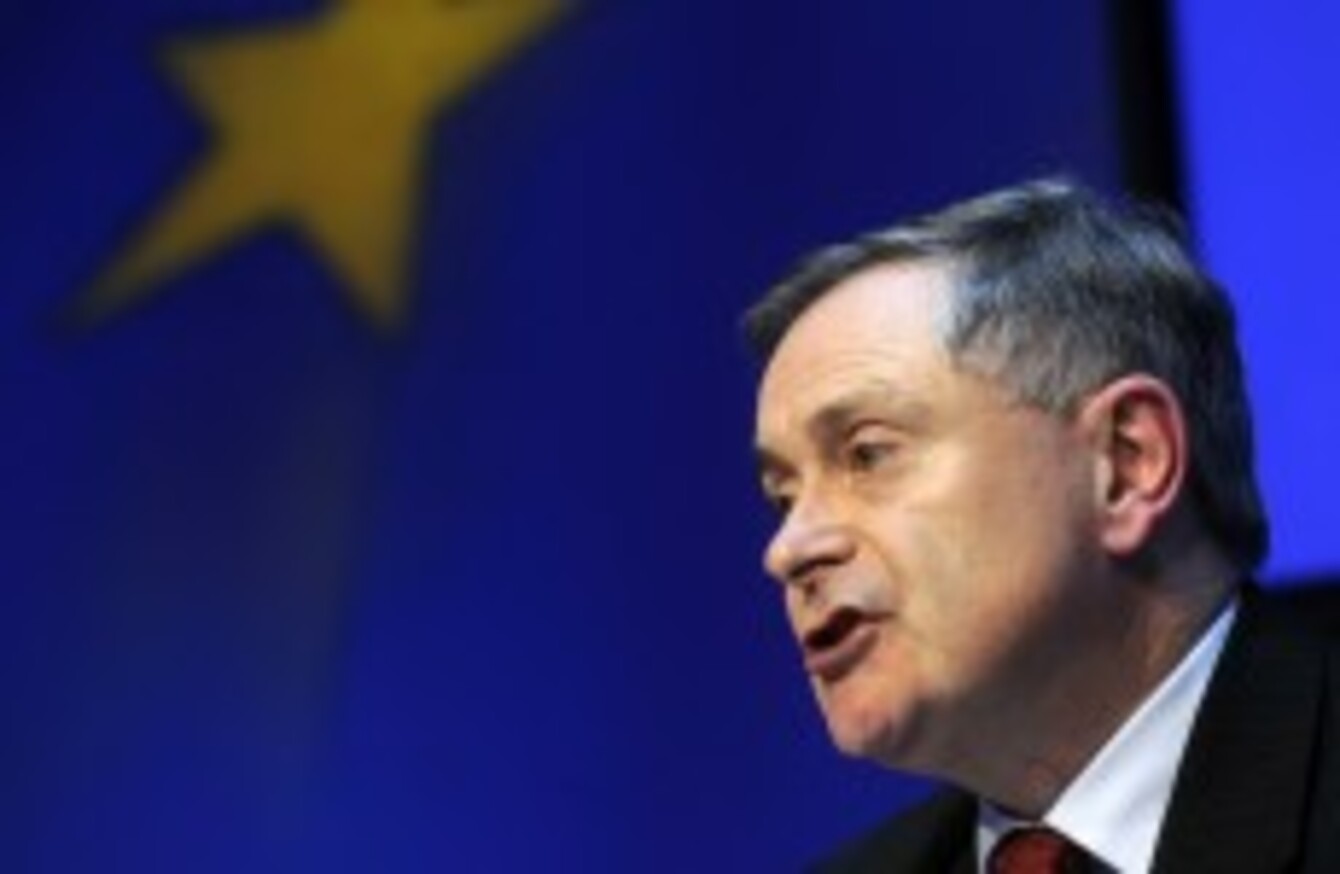 Brendan Howlin at a press conference after his announcement in the Dáil today
Image: Laura Hutton/Photocall Ireland
Brendan Howlin at a press conference after his announcement in the Dáil today
Image: Laura Hutton/Photocall Ireland
THE FIRST PART of Budget 2012 has been delivered in the  Dáil today by the Minister for Public Expenditure and Reform Brendan Howlin.
Howlin has outlined the cuts to public spending of €2.2 billion, with €1.4 billion cut in day-to-day spending, as part of an overall adjustment of €3.8 billion. Minister for Finance Michael Noonan will announce taxation measures of €1.6 billion tomorrow afternoon.
Here are the main points of Howlin's speech today
Government will save €55m in rent supplement cutbacks
There will be a spending ceiling of €54 billion in 2013 and €52 billion 2014.
Overall government spending next year will be €55.8 billion, down from €57.7 billion this year
Reduction in maintenance grants and increase by €250 of third-level registration fees will save €12.6 million.
Reduction in capital grants to schools by 2 per cent
The payment of jobseekers benefit will be based on a 5-day week basis rather than the existing 6 days, saving €5.9 million next year.
Rent supplement changes will save €55 million
Changes to one parent payment will save €20.7 million
€12 million saved on drug payment scheme being reduced whereby monthly threshold for drug payment scheme will rise from €120 to €132 per month.
There will be €13.6 billion for health next year including €50m to fund implementation of the Programme for Government commitments on mental health and access to GP care
No fall in child benefit. There will be standardised rate of payment of child benefits for all children which will save €43 million
Fuel season reduced from 32 to 26 weeks to save
Overhaul of public service paid sick leave
10 per cent reduction in public service overtime
5 per cent cut in public service allowances and premium payments
Limited recruitment into public service next year
Public service pay bill will fall by €400m next year.
There will be a new €20m labour market activity fund which will target long term unemployment
Government is committed to €17 billion in capital spending for the next five years.
The number of medical cards is up 500k since 2007.
State pension spend is up €175 million in 2012.
The pre-budget leaks:
The Evening Herald said it had obtained details of the budget, but estimated only as much as €400 million in cuts to health, contradicting what RTÉ had reported.
The pupil-teacher ratio in private schools was to rise, the paper also reported.
RTÉ's Philip Boucher-Hayes on Twitter reckoned that the registration charge for third level would be increased by €250 this year but there would be no increases next year or the year after.
As is almost customary on Budget day, the cat is out of the bag (Trap won't be happy) and RTÉ's Brian Dowling said that there would be cuts of €550 million in  health, €500 million in social protection, €130 million in education, and €100 million in justice.
Child benefit would see cuts to third and fourth child rates which will be phased in over two years saving a total of €45 million.
Fuel allowance would  be cut to 26 weeks from 32 weeks making savings of €50m.
The Back to school allowance would be abolished for two and three-year-olds making savings of €30 million. Fraud control will bring savings of €40 million and administration savings of €20 million.