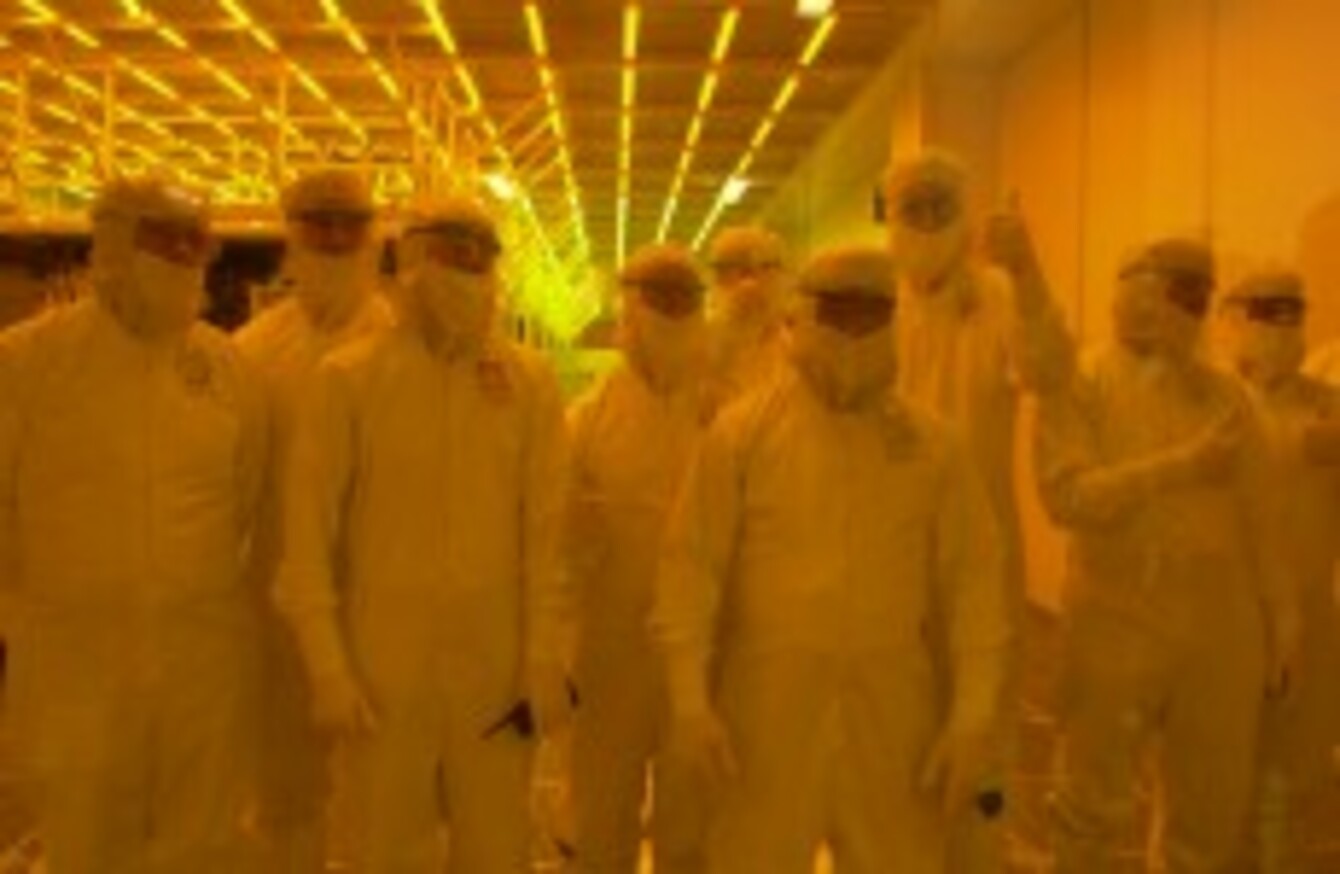 Intel workers in Leixlip, Co Kildare giving the thumbs-up...
Image: Leon Farrell/Photocall Ireland
Intel workers in Leixlip, Co Kildare giving the thumbs-up...
Image: Leon Farrell/Photocall Ireland
THERE ARE 37 days to the Budget with much debate still to take place between now and 14 October on what the government should spend and cutback on. 
In the fifth in a series of articles Dr Daragh McGreal, an economic advisor to the independent TD Stephen Donnelly, looks at the impact of foreign direct investment (FDI) on the Irish economy – and whether it really sustains long-term indigenous growth. 
GENERALLY, SMALL COUNTRIES receive large capital flows, benefit, and then see the money move elsewhere.
Surinam is a good example. As a colony, it became a centre of sugar growing in the 1660s, was 'swapped' between England and the Netherlands (for New York) in 1674, was a coffee growers' hub in the 1730s, saw a return to strong sugar exports in the 1890s, and has, since independence, become heavily dependent on bauxite (aluminium ore). Its history is peppered with colonialism, slavery, and poverty.
But this is not to say foreign capital is bad, only that smaller countries are more susceptible to the changing moods of larger countries and financiers.
Many countries can, in fact, use foreign capital to their advantage. Just before World War 1, it was foreign capital that led to the development of the economies of Australia, South Africa, Canada, and Argentina. Each of these countries was getting between $250 and $500 per person in foreign capital, which allowed their economies to grow during the War, and to ultimately prosper after.
And Ireland?
Well Ireland is a country that has benefitted both from foreign capital and the more recent development of foreign direct investment (FDI), while also being small. In 2013, IDA-supported companies accounted for 161,000 jobs and exports of over €121bn; by comparison, indigenous companies supported by Enterprise Ireland accounted for 175,000 jobs and exports of €17bn.
So the stats say employees of multi-national firms are about 7.5 times more valuable to their firms' exports than are employees of indigenous firms. Were it not for foreign businesses and their money, our economy would be much smaller than it is.
This narrative is often used to justify attracting more and more foreign companies to Ireland. Last year, we ranked 10th in global FDI flows, taking in a net flow of €33bn. And as 40% of new investments in the first half of 2014 came from foreign firms without a base here, it's clear that Ireland holds a continued attraction.
So what's the catch?
Firstly, of the FDI that came in in 2013, 44% went to businesses involved in financial intermediation (banks and insurance companies). Such investment is highly fluid and adds fewer indirect benefits than traditional manufacturing-led investment. Hence we should be cautious about assuming large FDI flows will give a big boost to the economy.
Secondly, of the companies that are here, the data as to their importance to the Irish economy is unreliable. Michael Hennigan of Finfacts suggests that multi-national companies – through tax avoidance schemes – puff up the value they add to the Irish export economy by about €70bn, while 65% of the value of Irish exports come from just 40 firms. So the export figures for multi-national firms are both inflated and concentrated in a small number of companies.
Thirdly, the widely held assertion that Ireland's 'open' economy is a positive thing is only positive as long as open and susceptible are not synonyms. If you easily receive huge volumes of capital then you might just as easily lose it.
Why should we care about this?
Last week, Social Justice Ireland identified indigenous industry as an area of the economy that requires support. It suggested that relying on FDI to spur the economy wouldn't work if we want the regions to grow as well.
So although Intel is pumping €5bn into its facility in Leixlip and Microsoft is paying a local council in Dublin €8m for infrastructure-improvements near its new complex, there are fewer FDI-related benefits accruing in the regions. For example, there were only 8 FDI announcements in the whole Border region in 2012, with 6 of these concentrated in Dundalk.
But we shouldn't forget the positives: foreign capital allowed many in Ireland to own a home throughout the 1990s and 2000s and FDI gave many people jobs and helped the country develop. In recovery-mode, it's quite a quick fix.
But is it the answer? Or should we invest more in less productive indigenous firms? As lessons from history suggest that small countries are more at risk of capital flight, perhaps looking closer to home might be a safer, albeit slower, option? The best option would be a combination of fostering FDI and supporting domestic enterprises.
In doing that, the starting point would be for the state to start collecting data on the proportion of manufacturing facilities that remain empty (Ireland is the only EU27 state that doesn't publish this data). Through this, businesses interested in investing or expanding may be able to do so more quickly and cheaply.
In addition, we could broaden the range of countries from which we receive FDI. In 2012, our main net FDI partners (60% of the total) were the UK, the Netherlands, and Bermuda (with the latter two explained by tax avoidance schemes). Meanwhile, China only made up 0.0013% of our net FDI flows while investment from flows from South America were negative. Attracting greater investment from South America and Asia, as the only English-speaking Eurozone economy, shouldn't be a difficult sell.
On the home front, the abolition of milk quotas in 2015, coupled with China's ever-
increasing need for milk, will allow the agri-food sector to prosper. To take advantage of this, domestic producers can be assisted in their marketing campaigns in China more vigorously.
These are just a few ideas that attract FDI and support indigenous firms; similar multi-
pronged measures are central to our economic recovery.
Dr Daragh Mc Greal is an economist and human rights consultant currently working with Stephen Donnelly TD on Budget 2015 and other policies.
Poll: Should we offer more supports to less productive indigenous firms?

Poll Results:
Yes - but hand-in-hand with measures to attract FDI from a wider range of countries (768)
Yes - it would be slower, but safer, option than relying on FDI (313)
No - we can't afford to wait for their development (203)
The floor is yours. Let us know what you think in the comments…