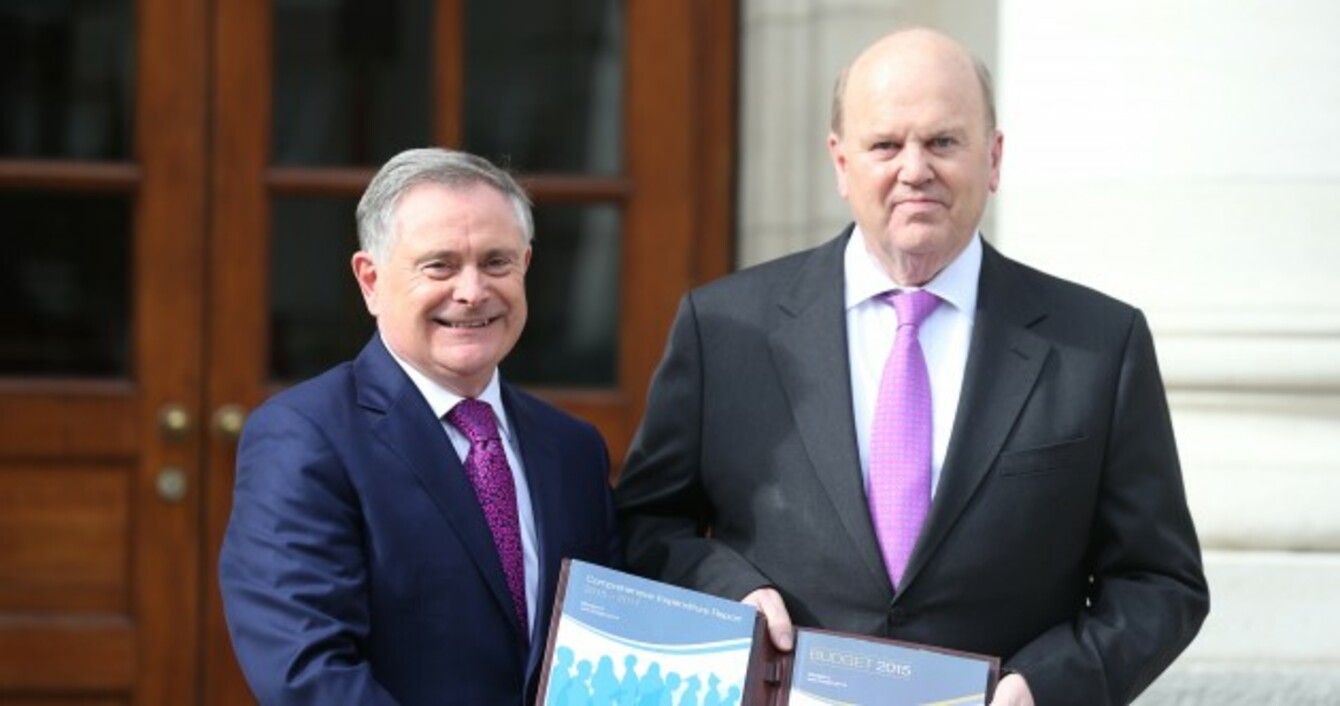 Image: Leon Farrell/Photocall Ireland
Image: Leon Farrell/Photocall Ireland
IT'S BEEN LABELLED as the first non-austerity Budget in almost a decade with some measures announced to reward the Irish people for their 'incredible effort'.
Finance Minister Michael Noonan revealed how his department plans to raise funds in taxes, while his colleague in the Department of Public Expenditure and Reform explained how he intends to spend the money that is available.
Here are the main details of Michael Noonan's speech
USC
The 2% rate of USC will be reduced to 1.5%
The 4% rate of USC will be reduced to 3.5%
The entry point to the USC has been raised to €12,000. This will mean about 80,000 low-income workers will be removed from the charge altogether.
Increase in the entry point to the 3.5% rate from just over €10,000 to just over €12,000 and the upper ceiling on that rate will move from €16k to just above minimum wage.
There will be a new 8% USC rate for those earning more than €70,000
A new 11% rate for self-employed people earning more than €100,000
The exemption from the top rate of USC will be retained for medical card holders and those over 70 earning less than €60,000
Income Tax
The top rate of income tax reduced from 41% to 40%
Increase of €1,000 to €33,800 for the single person's income tax standard rate.
VAT
9% VAT rate for the tourism sector has been retained. These lads will be happy, at least. 
Pensions
The 0.6% pension levy will be abolished at the end of 2014. The additional 0.15% Pension Levy for 2014 and 2015 will expire at the end of 2015.
Corporation Tax
The 12.5% corporate tax rate will not change. 
A Knowledge Development Box will be introduced for companies, based on similar Patent Boxes that are seen in other economies, such as the UK. This allows companies to benefit from corporate tax exemptions on innovations. Learn more about it here.
The Double Irish loophole will be abolished from 1 January 2015 for new companies, with existing firms getting a transition period until 2020.
Extension of the three-year corporation tax relief for start-up companies.
Cigarettes and Alcohol
Roll-your-own tobacco will increase by 20c tonight.
There are no changes to alcohol excises.
More relief for micro-breweries which will get more excise relief production capacity.
Motoring
There are no changes to motor tax, petrol, diesel or VRT. 
Water Charges
Income tax relief on the standard rate will be available up to a maximum of €500 per household. This will work out at about €100 back to households every year on what they are paying on water charges.
Incentives to encourage long-term leasing of land such as the removal of stamp duty on agri leases over five years and removing the current 40 years of age threshold for leasing relief.
Bloodstock sector will be helped with €6m over 3 years to horse racing and greyhound industry.
There will be help for farmers who have a second job to supplement agri income.
Changes to VAT registration for farmers.
Extension of farm restructuring support.
Home Renovation Scheme
Has been maintained and extended to include those in the rental market. 
It will apply to work done by the end of 2015.
Property
Removal of the 80% windfall tax on disposal or development of land which has been in the planning system since October 2009. This comes in next 1 January.
Removal of the Capital Gains Tax relief by end of 2014 on purchase of property – it's "no longer needed", according to Noonan.
First-time buyers will get a refund on DIRT on savings used to purchase homes (up to 20%) up until the end of 2017.
Film
The new Irish film tax credit scheme is due to commence in 2015.
SMEs
Improvements in the Foreign Earnings Deduction.
Here are the main details of Brendan Howlin's speech
General
Expenditure will be €50 billion, with social protection, education, health, justice and social housing benefitting. 
€210 million increase in the country's capital spend.
Social Housing
€2.2 billion will be spent on social housing in the next three years.
2,500 of the 6,700 units are due to be delivered in 2015, when €800 million is invested.
An additional €10 million will be provided for accommodation and related services for homeless persons, bringing amount to €55.5 million.
Public Private Partnerships will be used to invest €300 million into social housing units by 2017.
Child Benefit
Education and Arts
€8.3 billion allocated, the first increase since 2008.
No changes to class size. 
An extra 1,700 teaching posts – including 920 mainstream teachers, 420 new resource teachers and 365 new special needs assistants.
An extra allocation for Heather Humphries as Arts, Heritage and the Gaeltacht is awarded €212 million.
Health and Older People
€13.1 billion for the delivery of Health services in 2015.
€3 billion for older people and disabled services.
The Living Alone Allowance will be increased to €9 per week, benefitting about 180,000 older people. 
Water charges
All recipients of the Household Benefits Package will receive €100 payment towards their water bill.
Christmas Bonus
Social welfare recipients will receive a 25% bump in their holiday week payment in the form of the Christmas Bonus. 
Civil Service
The moratorium on recruitment has ended and recruitment will begin in a 'focused and targeted' way next year. 
Social Protection
€19.4 billion has been given to Social Protection.

There were no reductions to any Social Welfare payments announced.
Justice and Defence
€2.2 billion allocation to the Justice sector. Again, it's the first budget increase since 2008.
200 extra gardaí will be recruited and will start in Templemore Garda College
€10 million secured for over 400 new Garda vehicles
€885 million in defence funding
Jobs
€12 million for JobsPath initiative
JobsPlus scheme to get another 3,000 jobs.
A Low Pay Commission will be established.
International and Miscellaneous
A new border counties peace programme will be funded. 
€600 million for development and humanitarian aid.