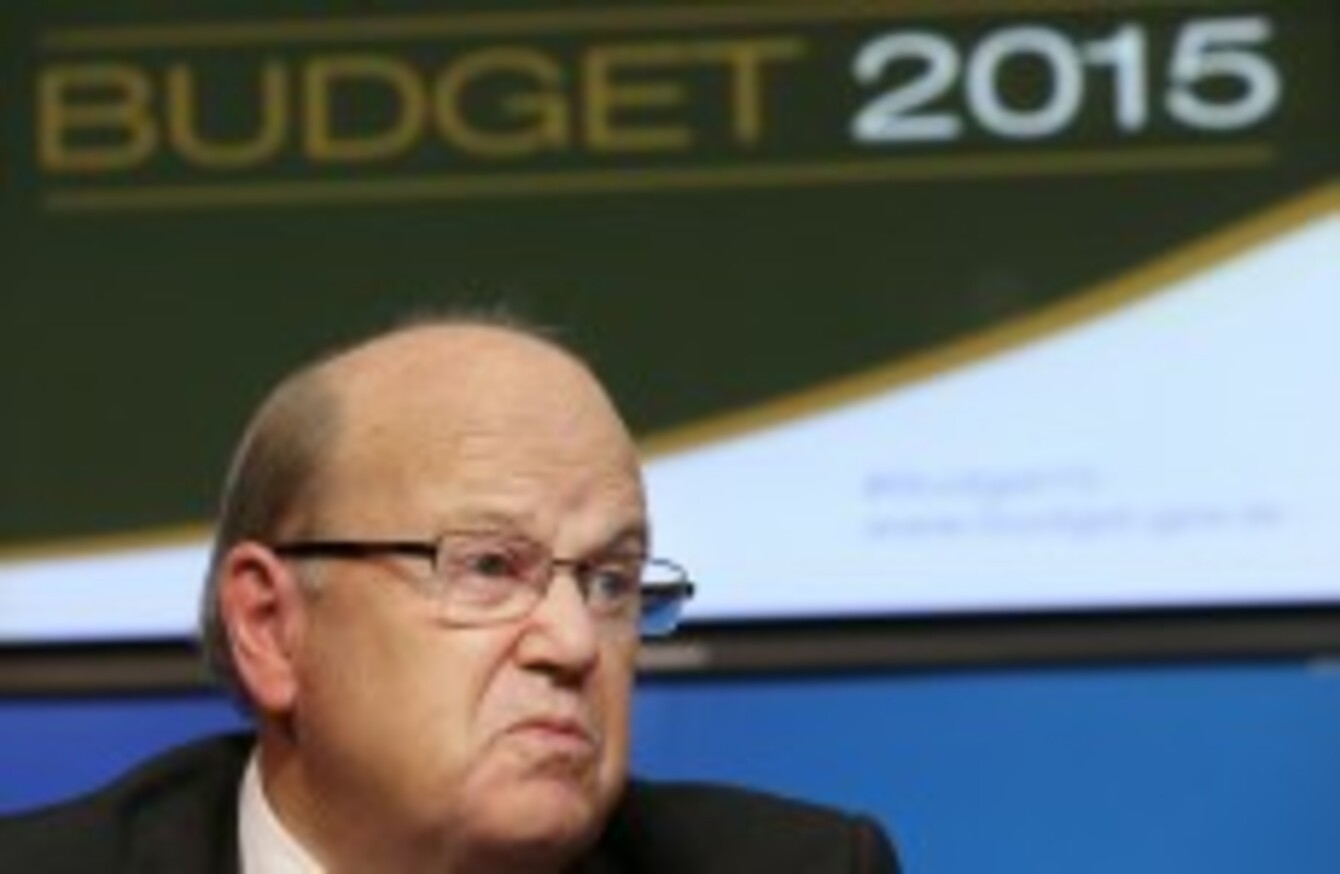 Michael Noonan
Image: Leon Farrell/Photocall Ireland
Michael Noonan
Image: Leon Farrell/Photocall Ireland
FINANCE MINISTER Michael Noonan has denied that the measures introduced in yesterday's Budget were a "PR exercise".
Speaking on Today with Seán O'Rourke, Noonan said that the Government was not interested in "a series of smart-alecky tricks".
Noonan and Public Expenditure and Reform Minister Brendan Howlin were answering questions from callers on the radio show this morning.
On the subject of water charges, Noonan that the tax relief measures would help 88% of households, adding: "We're examining how to reach the other 12%."
"We're trying to design the tax break so that it reaches the maximum number of people."
When a caller pointed out to Howlin that Labour was anti-water charges before coming into office, he said that he had been "convinced" they were necessary to provide an infrastructure that will give people quality water.
He added that if water charges were abolished, as has been suggested by Sinn Féin and a number of Independent TDs, public spending would have be reduced by €700 million, making it  "impossible in terms of providing decent services".
Housing
Noonan said that the extension of the renovation tax incentive to landlords would make available 5,000 bedsits in Dublin that are currently in disrepair.
He said that the building community was "whinging" about not getting the 9% VAT rate applicable to tourism-related activities.
"We can't afford that."
Howlin defended the fact that just €180 million of the €2.2 billion allocated to spend on social housing over the next three years would be spent in 2015.
It will take a while to actually have improvements on the ground, you cant build houses overnight.
Cigarettes
When asked by a caller why the Government had increased the price of a packet of cigarettes by 40 cent, both Ministers said that this was a health-driven, rather than fiscal measure.
"The increase wasn't done for tax raising reasons … it's another dis-incentive to smoking, especially for young people," Noonan stated.
Howlin added that "price is the single biggest factor that stops young people from smoking".
Another caller wanted to know if the Government had any plans to reverse the "inequality created by tax individualisation".
The caller said that the measure was brought in by "the Darth Vader of the Irish economy, Charlie McCreevy".
Noonan noted that, although he was against the move being introduced at the time, it is now "too integral to the tax system" to remove it.
"We can't undo everything in one fell swoop," Howlin commented.
On the subject of Christmas bonuses, which were partially introduced yesterday, one caller said this measure didn't go far enough.
#Open journalism No news is bad news Support The Journal

Your contributions will help us continue to deliver the stories that are important to you

Support us now
"Either give the full bonus and repay what was taken or just leave it, 25% doesn't amount to much," he said, adding: "What have politicians through the ages got against older people?"
In response, Howlin said that although the money received would be small, "most people won't thumb their noses at it".
Jobs
Howlin said that he is of unsure of how many civil servants will be recruited in 2015, but noted that about 1400 teachers and 350 special needs assistants would be recruited.
He said that savings made from the Haddington Road Agreement would be used in next year's civil service recruitment drive.
Howlin also noted that he would have "loved" to introduce a second year of free pre-school, but it would have cost €175 million.
"I didn't have it and that's the long and the short of it."
When Seán O'Rourke asked Noonan if the Government should have been more cautious in yesterday's Budget, the Minister said that the Irish Fiscal Council has predicted growth of 3-4% over the next five years.
However, he added: "There are always risks."
Originally published 4.05pm