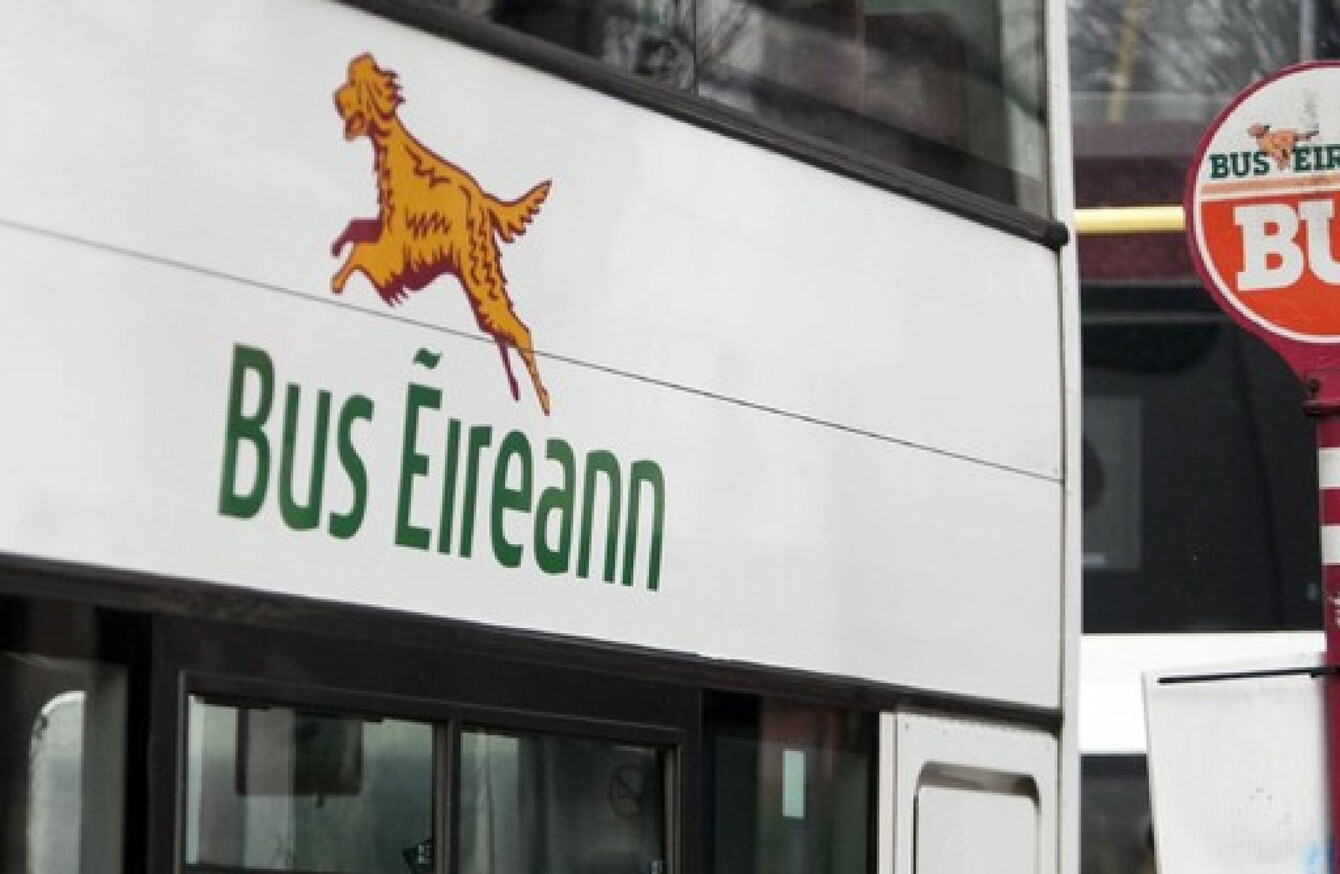 Image: Leah Farrell/Rollingnews.ie
Image: Leah Farrell/Rollingnews.ie
Updated at 5.55 pm 
AN IMMEDIATE ALL-OUT Bus Éireann strike is to begin tonight, the National Bus and Rail Union (NBRU) has confirmed.
The union said in a statement that representatives from all five unions met today in relation to a letter sent by Bus Éireann management to workers detailing cost cutting measures that were to be implemented immediately.
"The letter issued on 22 March by Bus Éireann Management is clearly the straw that has broken the back," said general secretary Dermot O'Leary.
The NBRU will now engage in an all-out indefinite strike from midnight tonight.
Union representative Willie Noone told Drivetime this evening that some workers at Dublin Bus or Iarnród Éireann may join the strike, as areas such as Phibsboro (Dublin) Athlone, Waterford, Limerick and Sligo have shared depots with Bus Éireann.
Noone said that some of those workers said that they weren't comfortable crossing the picket, and felt obliged to join the strike without prompt from the NBRU.
If they do this in large numbers, Dublin Bus and Iarnród Éireann routes could be affected by the strike action.
He added that for now, school buses would not be included in the strike.
Government staying out of it
Minister for Transport Shane Ross reacted to the announcement, saying he was "deeply concerned at the impact that this strike will have on the travelling public".
He said it was time for both sides to come to an "acceptable and fair agreement" that ensures the company's future.
The Minister for Public Expenditure Paschal Donohoe said this afternoon that the government wasn't going to make money available €200 million is already given by the government to Coras Iompair Éireannm, which in turn funds Bus Éireann.
He added that the only place a solution would be found would be at the Workplace Relations Commission.
Maeve McElwee, director of employer relations at Ibec, said that the "sensible path forward" is "to sit down and iron out a solution":
…everyone knows that the company is in a very severe financial situation. It is in no one's interest to follow a path of industrial action.
What's the problem?
The state-owned transport company is facing financial difficulty, with losses last year reaching almost €10 million. It says changes to employees' contracts are needed in order to keep the company viable.
These include job losses, changes to bus routes, cuts in overtime and a range of other measures.
A letter was sent by company management to worker yesterday outlining the changes that were being made at the company.
The unions have strongly resisted these changes, and state that savings can be made elsewhere. Talks collapsed 10 days ago between both sides at the Workplace Relations Commission.
Siptu sector organiser Willie Noone said in a statement that workers had been "forced to take this action" in relation to the strike.
"Our members know that there is no silver bullet that will provide a solution to the issues faced by Bus Éireann," he said.
However, in the absence of management presenting a sustainable or equitable plan for the future of the company, which is agreed with workers, it has left our members with no option but to commence strike action.
With reporting from Gráinne Ní Aodha