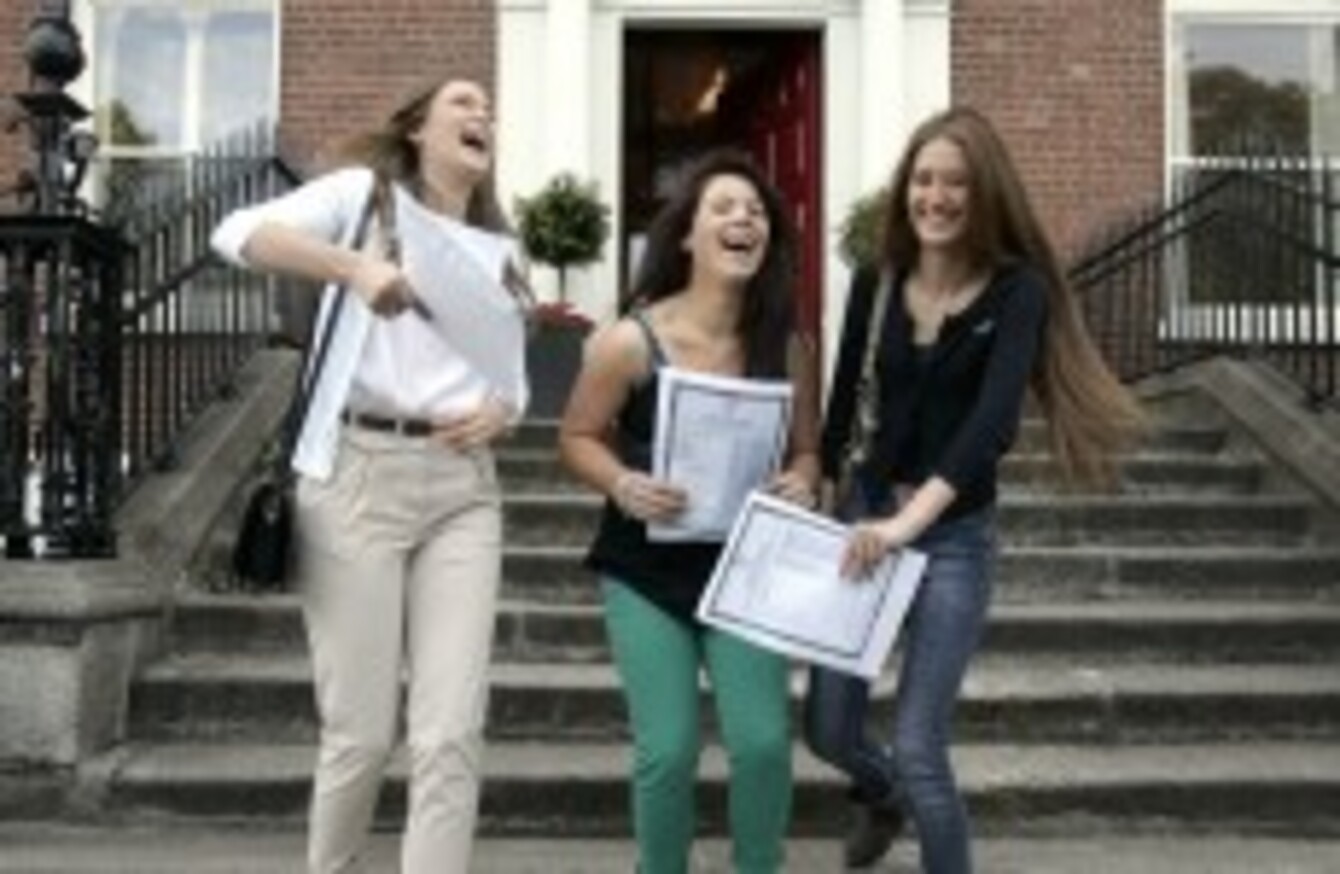 Students celebrate their results outside Loreto College in Dublin today.
Image: Mark Stedman/Photocall Ireland
Students celebrate their results outside Loreto College in Dublin today.
Image: Mark Stedman/Photocall Ireland
THERE HAVE BEEN calls for reform of the Leaving Certificate and the way in which third level education is funded following the publication of exam results today.
The Irish Business and Employers Confederation (IBEC) has said that major reform is needed of the Leaving Cert examination system after the latest figures showed the trend of results in Maths and Science was little changed on recent years.
It was reported earlier that results in Maths and Science continued to show disappointing results with a high failure rate in Maths where 4,367 students failed across all levels, including the 10 per cent of students who failed ordinary level maths.
Nearly 58,000 students have been finding out their results across the country today.
There were failure rates of 9 per cent for chemistry, 8 per cent for physics and 8 per cent for biology, according to figures from the State Examinations Commission.
Responding, IBEC said that reform of the Maths curriculum must continue. The Project Maths subject was trialled for a second year in 25 secondar schools and from next year will offer 25 bonus points to anyone who takes the subject with the hope that there will be more engagement.
IBEC head of education poliocy Tony Donohue said fluency in Maths was vital:
Less than 16 per cent of the 51,991 students that sat leaving certificate maths took the higher level paper. This is down from a high of 18.9 per cent in 2005 and is significantly out of line with other subjects.

By not sitting the honours paper, most students have automatically excluded themselves from many science, engineering and technology third-level courses

The Leaving Certificate can be a catalyst for a fulfilled and rewarding life, but only if it has created a desire for further learning. Unfortunately the current system is over-reliant on rote learning and may be having the opposite effect for a significant number of students.
Calls for reform were echoed by the Unions of Students in Ireland (USI) which said that the Leaving Cert was "in dire need of a major overhaul".
USI president Gary Redmond said:
For the past number of months, these students have been under an enormous amount of unnecessary pressure, studying intensely for an exam system that needs to be re-evaluated.

A new Leaving Certificate system of continuous assessment should be introduced for a fairer assessment of the performance of secondary school students over a longer period of time.

The high failure rate in the subjects of science and math in this year's Leaving Certificate also needs to be examined, and the question of why only 50 per cent of teachers are qualified to teach maths, needs to be looked at.
Meanwhile Chambers Ireland, the country's largest business network, has said that the Leaving Cert results should be seen as a gateway to "lifelong learning".
It called on the Minister for Education Ruairí Quinn to introduce a loan scheme for students to pay for third level education, something the Minister ruled out earlier this week.
Ian Talbot, CEO of Chambers Ireland, added:
Regardless of their satisfaction with today's results, all students should see the Leaving Certificate not as the finishing line, but as a gateway to lifelong learning.

Ireland's economy is changing rapidly and, in order to keep pace, re-skilling and up-skilling has become increasingly important.
Poll: Do you think the Leaving Cert results are important? >