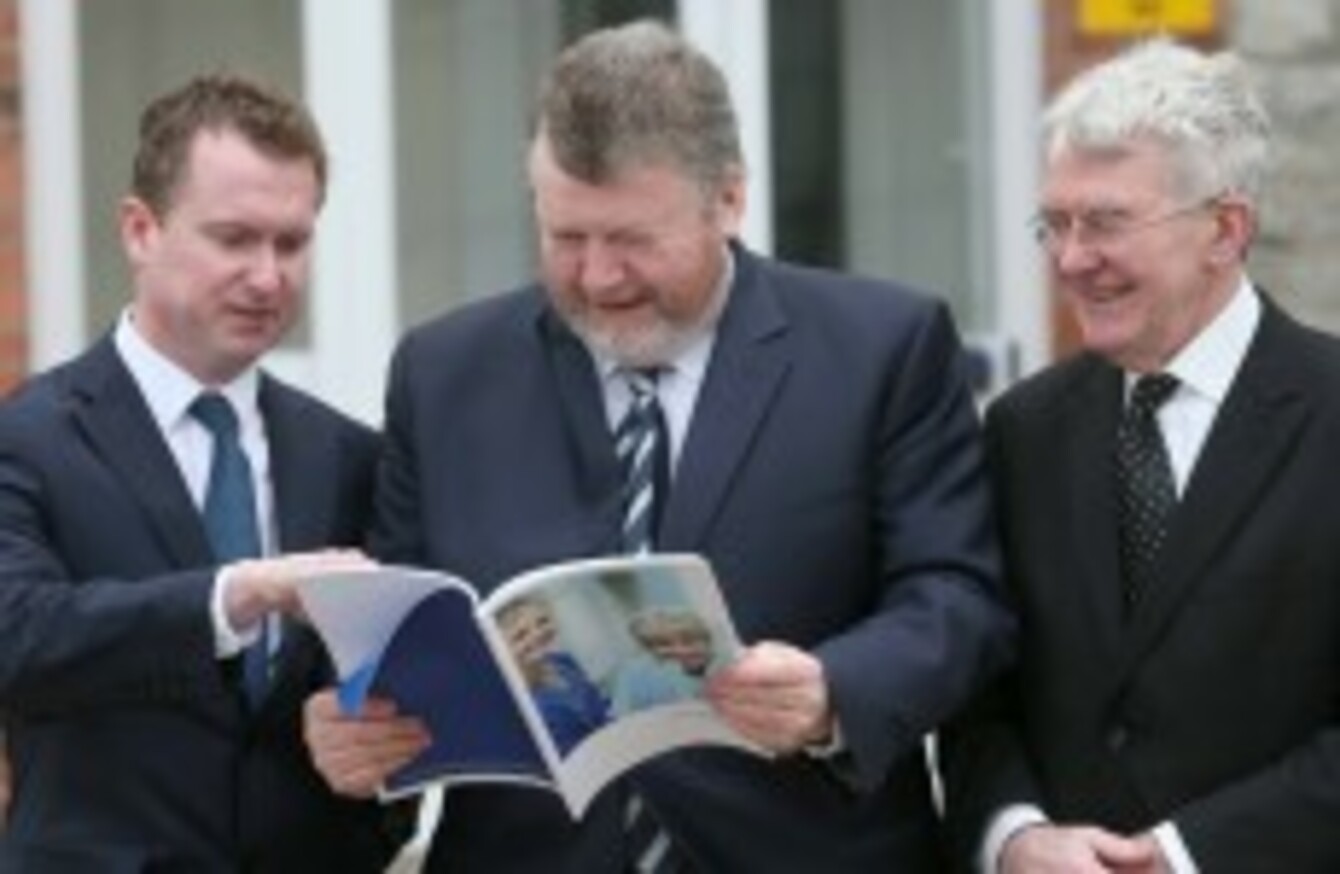 St James' Hospital CEO Brian Fitzgerald, Minister for Health James Reilly, and Chairman of St James' Hospital Prof Derry Shanley pictured at the report launch. (Left to Right)
Image: Laura Hutton/Photocall Ireland
St James' Hospital CEO Brian Fitzgerald, Minister for Health James Reilly, and Chairman of St James' Hospital Prof Derry Shanley pictured at the report launch. (Left to Right)
Image: Laura Hutton/Photocall Ireland
THE NUMBER OF cancer patients being treated in St James's Hospital for lung, oesophageal, malignant melanoma, prostate, head and neck cancers has increased 100 per cent over the past ten years, according to a new report.
The figure was revealed in the hospital's first ten year audit of cancer treatments between 2002 and 2012.
In a statement, the hospital said the audit showed "cancer outcomes across the spectrum of cancer at St. James's Hospital compares favourably with international benchmarks".
The most common kind of cancer treated by the hospital is lung,  in which it handles 27 per cent of the national workload.
Their research among these patients show that there is a similar level of occurrence of the disease between current and former smokers. 10 per cent of the patients had never smoked.
The average of age of those treated or diagnosed with cancer in the hospital was 60, with slightly more men than women.
CEO of the Hospital Brian Fitzgerald says the report is "essential element in driving quality improvement in cancer".
"The results of this audit will inform cancer care at St. James's Hospital, and our known outcomes and what it takes to achieve the best results internationally will remain a core objective and will inform strategy."
The data compiled in this audit across the cancer spectrum demonstrates that the treatment programme at St. James's Hospital has achieved stage-for-stage cure rates that benchmark favourably with outcomes from the best international standards.
Head of Surgery at the hospital Professor John Reynolds said that "these audit data enable us to provide actual rather than inferred outcome data to our patients – they will know stage for stage what the actual cure rate is in this Centre".