Updated at 7.05pm
MINISTER FOR HEALTH Simon Harris has announced the launch of a Health Information and Quality Authority (Hiqa) statutory investigation into the CervicalCheck screening programme.
Earlier today, the HSE confirmed that 17 women whose cases were reviewed as part of an audit into the CervicalCheck controversy have died.
Additionally, the probe carried out by the HSE's Serious Incident Management Team  has found that, of the 208 cervical smear result cases being scrutinised, only 46 women were told about the history of their smear tests.
The remaining 162 of the women were not told that they may have had a delayed diagnosis and could have benefitted from earlier treatment.
In a statement this evening, Harris said the Hiqa investigation will place a "particular focus on the quality assurance systems, clinic audit processes and the communications with patients".
"I will be asking Hiqa to identify within its terms of reference any implications that may apply to other cancer screening programmes," Harris said.
In addition, Harris is appointing an international clinical expert panel to "provide the women concerns with an individual clinic review".
"This clinical expert panel will also produce an overall report to inform Hiqa's investigation and the work of the international peer review group. A liaison nurse specialist will coordinate the work of the expert panel and will identify and ensure the provision of any required support for the women involved," Harris said.
Harris said that it is anticipated that the work of the expert group will be completed as soon as possible, adding that he intends to bring proposals to government next week to legislate for mandatory open disclosure for serious reportable events.
"It is my hope and expectation that these steps will ensure the integrity of the cervical screening programme at the same time as providing learning for all cancer screening programmes," Harris said.
208 affected cases
A total of 208 affected cases across 13 hospitals have now been identified, an increase on the previously reported 206.
The updated figures were provided by the HSE this afternoon after the team of experts sent in to examine the cases began their work over the weekend.
This 208 refers to the number of cases where the reviewed interpretation of the smears differed from the original result.
Of these cases, it was established that 175 would have led to a "different clinical escalation" of the care provided to the women.
In the remaining 33 cases, no escalation of the women's care would have been recommended but an earlier repeat smear test would have been needed.
Regardless of whether different care would have been recommended, the expert group had said that all 208 of the women should have been told that their smears had been reviewed, but that this did not happen.
"That's a fundamental commitment in healthcare we must abide by. If someone comes to us for a service, they must always know information that is pertinent to them," the HSE's Patrick Lynch said today.
Of the 17 women who have since died, the HSE has said that their cause of death had not been established.
It was also not known which of these women were told prior to their deaths that their smear tests had been reviewed.
The HSE's Serious Incident Management Team has said that it is not its role to establish whether the care for the women who died should have been different.
Instead, the expert group said that its role is to identify who was and wasn't informed about the review of their smear and to ensure they are now informed about this.
It is expected that all of the affected women will be contacted either today or tomorrow and offered an appointment to speak to a clinician about these results.
Of the women who have since died, the HSE says it will inform their next-of-kin.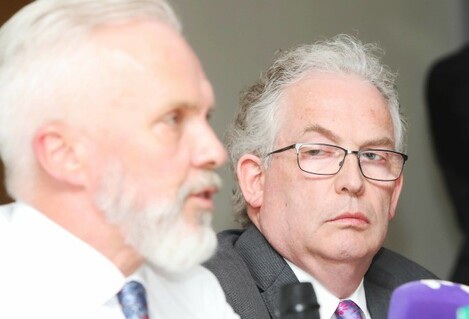 The HSE's Patrick Lynch (L) and Tony O'Brien (R). Source: Leah Farrell/RollingNews.ie
The HSE has also established a helpline so women can seek information themselves. This afternoon this HSE said this helpline had received over 6,000 calls, 2,000 of which came this morning.
The HSE's CervicalCheck Freephone Information line is:
From Ireland: 1800 45 45 55
From outside Ireland: +353 21 4217612
Screening
The HSE has also sought to encourage women to continue to use the CervicalCheck screening service and said that the issues being investigated do not relate to women being given an incorrect diagnosis.
Since 2008 1,482 cases of cervical cancer have been notified to the CervicalCheck, the country's national cervical screening programme. The HSE said today that 1.16 million women have availed of the service.
In the majority of these cases there has been no requirement for further review.
The CervicalCheck scandal was brought into the public eye following a court case by the terminally-ill Vicky Phelan, who was last week awarded €2.5 million over incorrect smear test results from 2011.
Speaking today, the HSE's director Tony O'Brien reiterated an apology to Phelan and all the women affected.
"On Friday-last I wrote to Vicky Phelan to offer an apology on behalf of the HSE, on behalf of CervicalCheck, and on a personal basis. For the circumstances in which she was not communicated with and to wish her well in her ongoing treatments," he said.
I also want to thank Vicky for the very clear encouragement she was giving, that women should not be deterred from availing of the screening programme.
O'Brien also said today that he was aware of the full extent of Phelan's case until he read about it in news reports.
On Saturday, CercivalCheck's clinical director Dr Gráinne Flannelly confirmed that she was stepping down from her position.
O'Brien this afternoon paid tribute to Flannelly's work in developing the screening programme.
With reporting by Hayley Halpin