Updated 21.10pm
THE PARENTS OF A child with Cerebral Palsy have made an appeal to the public after their car which contained their little girl's pink wheelchair and special adapted car seat was stolen.
Speaking to TheJournal.ie, Gavin Tracy said their house in Enniscorthy was broken into at about 2.30am on Thursday morning. The keys were taken and the car was stolen.
Appeal
"My daughter Lauryn's wheelchair was in the car and so was her specially adapted car seat. We are asking anyone with any information to come forward. We can replace the car, but Lauryn relies on her wheelchair and we need to get it back," he said.
The stolen car
He added:
Lauryn is just five years old and without her wheelchair she can't get around. We also had a special car seat adapted for her. This was very expensive and cost in and around €2,500. The wheelchair is very distinctive, it's bright pink.
Gavin said the wheelchair was reletively new, and it had taken over five months to get it imported in. The car was also just six weeks old.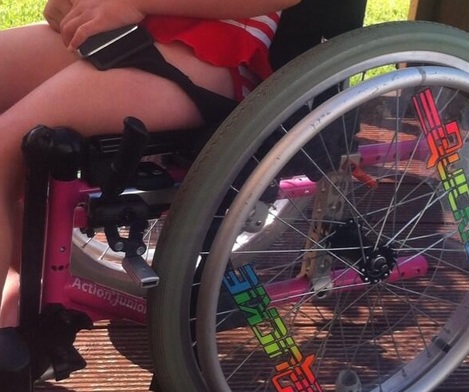 Lauryn's wheelchair
Lauryn recently appeared on TV3′s Ireland AM, as she is on the waiting list for the Irish Dogs for the Disabled and is waiting to get a stability dog to help her to walk.
Gavin Tracy added:
On the off chance that someone comes across the wheelchair, perhaps the people who took it dumped it somewhere – it could be anywhere – we would just like people to keep an eye out and if they come across it, please contact the gardaí in Enniscorthy.
First published 13.33pm