WHEN CAROLINE PARKER sings, she signs: as a deaf performer, she brings life to the words of popular songs by powerful divas using her face, hands and body.
Parker is bringing her stage show, Signs of a Diva, on tour around Ireland this month, and she told TheJournal.ie about breaking boundaries and what life is like as a deaf performer.
Dilemma
Signs of a Diva "is about a woman who faces a dilemma and the audience gets to see her story unfold through spoken word and signed song", explained Parker, who has been a performer for over 30 years and was awarded an MBE in her homeland of the UK.
Last year, she performed at the Paralympics, signing the song I Am What I Am by Beverly Knight. When she performs a song, it's not just about mouthing the words – she expresses what is felt in the lyrics, and feels the vibrations of the music in her body.
The protagonist is Sue, a quiet woman who runs a funeral parlour and secretly is a big fan of Divas – but nobody knows until she gets to show off her skills at a funeral.
Though you might think of Susan Boyle when you read about 'mousey old Sue', the show was commissioned back in 2005, so it's a coincidence that the two women may have similarities.
"We don't even sign songs the same way!" points out Parker of the differences between herself and Sue.
Signs of a Diva is produced by Graeae Theatre Company, who Parker says "always push the boundaries of expectations and create theatre people do not expect to see".
Parker is a boundary-pusher herself, and most certainly challenges stereotypes, particularly when it comes to music and performance.
"Audiences certainly are surprised that a deaf person can enjoy and work with music," she observed.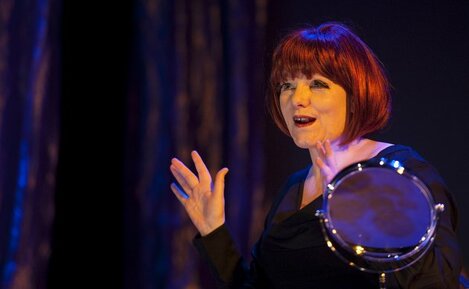 She's clear about the preconceptions or stereotypes about deaf actors or performers that she would you like to break:
That we cannot perform to a good standard because we use a different language to communicate with.
Parker was born deaf into a hearing family and didn't start to sign until she was 19 years of age.
"I came into the deaf signing community and saw a deaf performer Colin Thompson do his act signing to recorded songs such as Black Lace's 'Billy Don't Be A Hero'. This was my inspiration," she remembered.
She went on to train in mime and dance, and teamed these with acquired sign language to develop her own unique way of representing well-known songs.
"It's actually quite difficult to describe my cabaret act which inspired the show," admitted Parker, who is a very physical and expressive performer.
Building bridges
The show is accessible to all, and the screen "is part of the show, [as] opposed to something [that] has been added on as an afterthought", said Parker. For example, they use PowerPoint for the captioning, adding images and different fonts.
I do say I'm like a bridge, making music accessible to deaf people and sign language accessible to hearing people.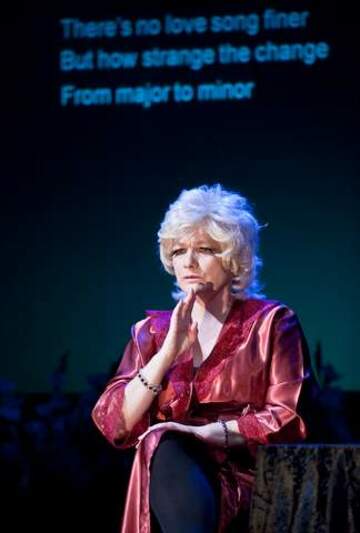 Parker describes it as "challenging performing alone on stage" – but also "liberating facing an audience on my own". She does, however, miss the rapport of other actors on stage.
In her three decades as a performer, Parker has seen things change for deaf people.
"There is more work for deaf actors with deaf-led and deaf-friendly companies such as Deafinitely Theatre and Fingersmiths, more non-deaf companies like Red Earth employ deaf actors too," she said.
As for deaf audiences, access is becoming more creative with PowerPoint captioning and inclusive interpreters on stage so we feel more a part of the whole experience, [rather] than feeling like we are sitting in a doorway with the action in one room and sign language interpreters in another.
When interpreters are placed at the side of the stage, she described it as "like watching tennis bouncing between the actors and interpreters".
What would she like to see?
"More inclusive interpreting and creative captioning could be taken on board and more deaf actors on stage.  It would be lovely to be cast in a role that is not deaf but as a character in any play."
Signs of a Diva will tour Ireland his month, playing axis: Ballymun on 18 February, An Grianan in Letterkenny on 20 February, Ballina Arts Centre on 22 February, and Mill Theatre Dundrum on 25 February.
All pics: Patrick Baldwin