Updated at 4.30pm
POLICE HAVE SEALED over half of the 2,315 polling stations in the region by midday today to stop an independence referendum from taking place, the Spanish government said, as separatists remained determined to fight for their right to vote.
Teachers, parents, students and activists in this wealthy northeastern region have leapt into action to defend the vote slated for tomorrow, defying Madrid's warnings of repercussions by occupying more than 160 schools designated as polling stations, it said.
Enric Millo, the central government representative in Catalonia, told reporters 1,300 polling stations had already been sealed off.
He said that 163 of those had already been occupied when they were sealed off, which meant those inside were allowed to leave but no one could go in.
AFP reporters, however, visited several schools occupied by parents, students and locals where people could go in and out freely, indicating there may be more occupied buildings that have yet to be sealed off.
The standoff between the central government and Catalan leaders over an independence referendum opposed by Madrid has morphed into one of the biggest crises to hit Spain since democracy was restored after the death of dictator Francisco Franco in 1975.
As such, it has Spaniards the country over worried.
In Spain's major cities, Madrid, Barcelona, Sevilla, Santander, Alicante, Valencia and Malaga, thousands protested for Spanish unity.
"We shouldn't have got to this point. We've arrived at a point of no return," said Fernando Cepeda, a 58-year-old engineer, a Spanish flag tied around his waist in front of Madrid's city hall.
Irish citizens warned
Several European countries have urged nationals in Catalonia to exercise caution ahead of the slated weekend independence referendum, which has been banned by Madrid.
"Since 20 September a number of political demonstrations, and confrontations between protesters and police, have taken place in Barcelona; it is possible that there will be further events of this nature in the weeks ahead," the latest advisory from the Department of Foreign Affairs here says.
It adds:
You should avoid such demonstrations, monitor local media and follow the advice of your tour operator and local police.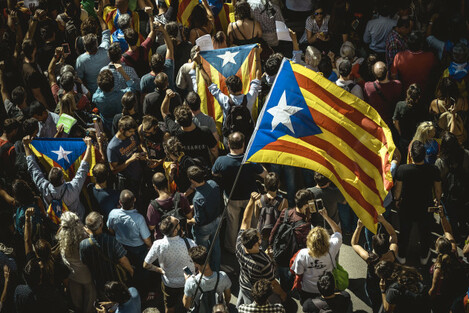 Hundreds of Catalan separatists protest earlier this month. Source: Matthias Oesterle
The German foreign ministry told travellers that major demonstrations could be expected at the weekend, particularly in Barcelona, the regional capital.
"An escalation cannot be ruled out," the message said.
The ministry said it was advisable to "follow local media reports, avoid large gatherings of people and absolutely obey the instructions of security forces".
The Dutch foreign ministry warned of "demonstrations and protest actions".
The demonstrations "could continue in the days to come and disrupt transportation," the foreign ministry in Paris said, calling on French nationals to heed any advice given by Spanish authorities.
Spanish police have for days been seizing electoral items such as ballot papers as they follow orders to stop the referendum from taking place, after courts ruled it unconstitutional.
Opinion polls show Catalans are split on the issue of independence, but a large majority want to vote in a legitimate referendum to settle the matter.
Catalonia's separatist executive has vowed to go ahead despite Madrid's ban.
- With reporting from AFP