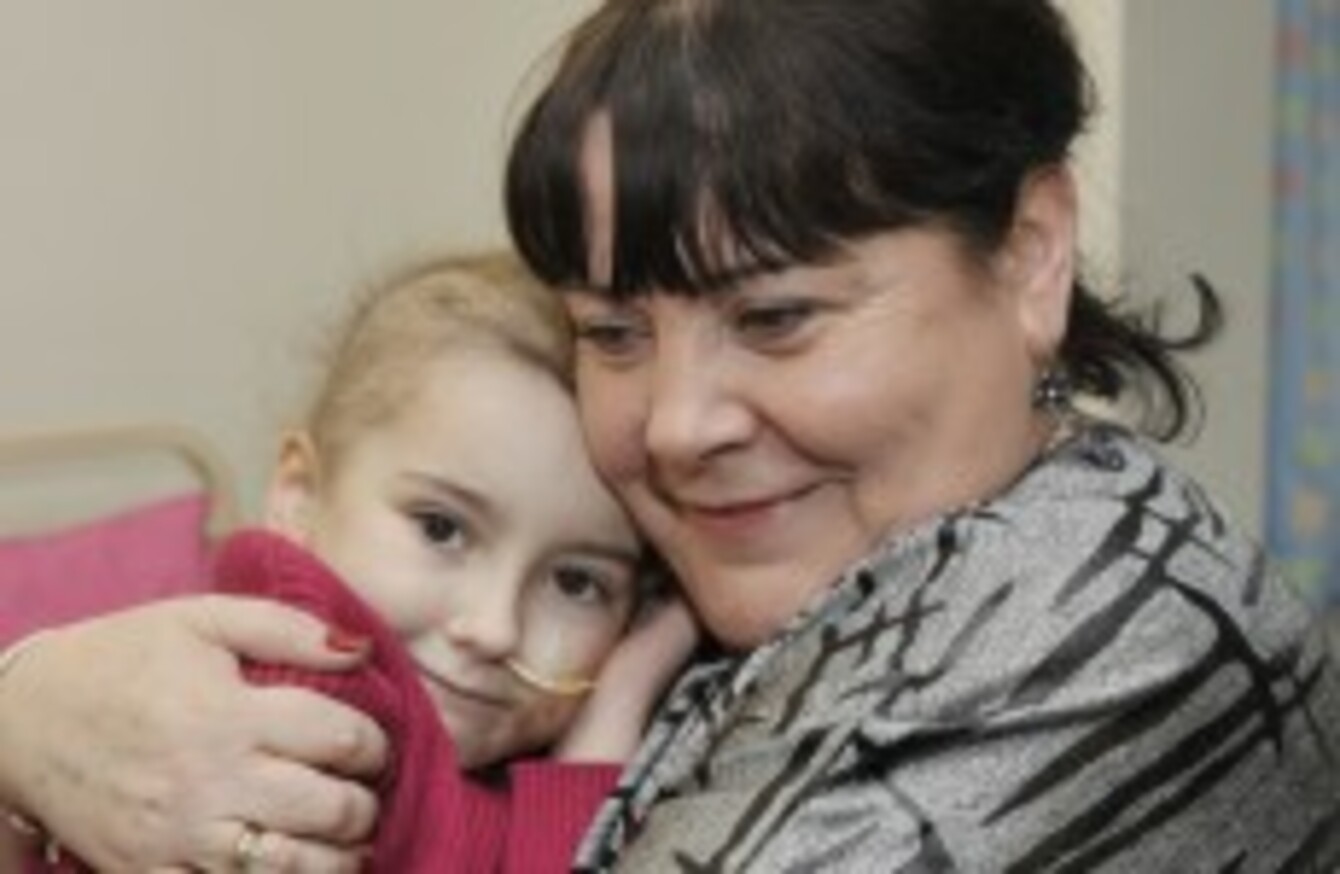 X Factor star, Mary Byrne from Ballyfermot visits Mary-Kate Osmonde during a previous visit.
Image: Sasko Lazarov/Photocall Ireland
X Factor star, Mary Byrne from Ballyfermot visits Mary-Kate Osmonde during a previous visit.
Image: Sasko Lazarov/Photocall Ireland
THIS CHRISTMAS DAY, almost 100 children will be at Our Lady's Children's Hospital in Crumlin, unable to spend the day at home.
But thanks to some very familiar faces, they will be getting a boost this Christmas time.
This afternoon sees the hospital's Heinz Celebrity Ward Walk take place, with more than 30 Irish celebrities taking part to brighten up the lives of the sick children there this festive season.
Both the children and their families were extremely excited about the event, which is the ninth annual Heinz Celebrity Ward Walk. It has been organised each year by Valerie and Gary Keating, inspired by their own experiences.
Valerie told TheJournal.ie:
We started it off 10 years ago and this is the ninth ward walk. We came up with the concept after I was in hospital for seven weeks before I had my first child. It was at that time I was thinking, 'my God what must it be like for parents and children', and when my son was born healthy I said we're going to give something back, and we came up with this idea.
Keating said that the celebrities "are just delighted to come to the hospital" and that from the very start there has never been "any fuss" with the relaxed event.
The celebrities visit on a voluntary basis, chat with the children and parents, and get photos taken.
The three celebrities who take part every year are Brian Ormond, Brendan O'Carroll and Jenny O'Carroll. "The celebs are amazing – they love to meet them and have their photos taken," said Valerie.
"For a few moments they might forget what's going on," she said of the patients, adding that the children and parents love having the photographs to look back on later.
The event will begin today with a sing-song before the 35 celebrities are broken up into four different groups to go visit different wards. The big number of celebrities this year means they can visit even more children.
It's just brilliant. For us the most important part of it is that the parents and the kids have a bit of fun today and they get a bit of cheering up.
Heinz, who are the sponsors of Ward Walk, also made another generous donation which will go towards funding the day's activities for children and families at the hospital.
Celebrities visiting the children today include Brendan O'Carroll, Rosanna Davison, Pippa O'Connor, Holly Carpenter, Ruby Walsh, Laurence Kinlan, Mary Byrne, Brian McFadden and Vogue Williams.
Geraldine Regan, Deputy CEO & Director of Nursing, said that around 100 very ill children will spend this Christmas in the hospital.
"We do try to get as many children as we can home for Christmas," she said. "Having a child with a serious illness puts a lot of strain on families, particularly at this time of year. That is why coming up to Christmas we try to have some fun in the hospital."
She said they are most grateful to Valerie and Gary Keating and Heinz  for their continuous support.