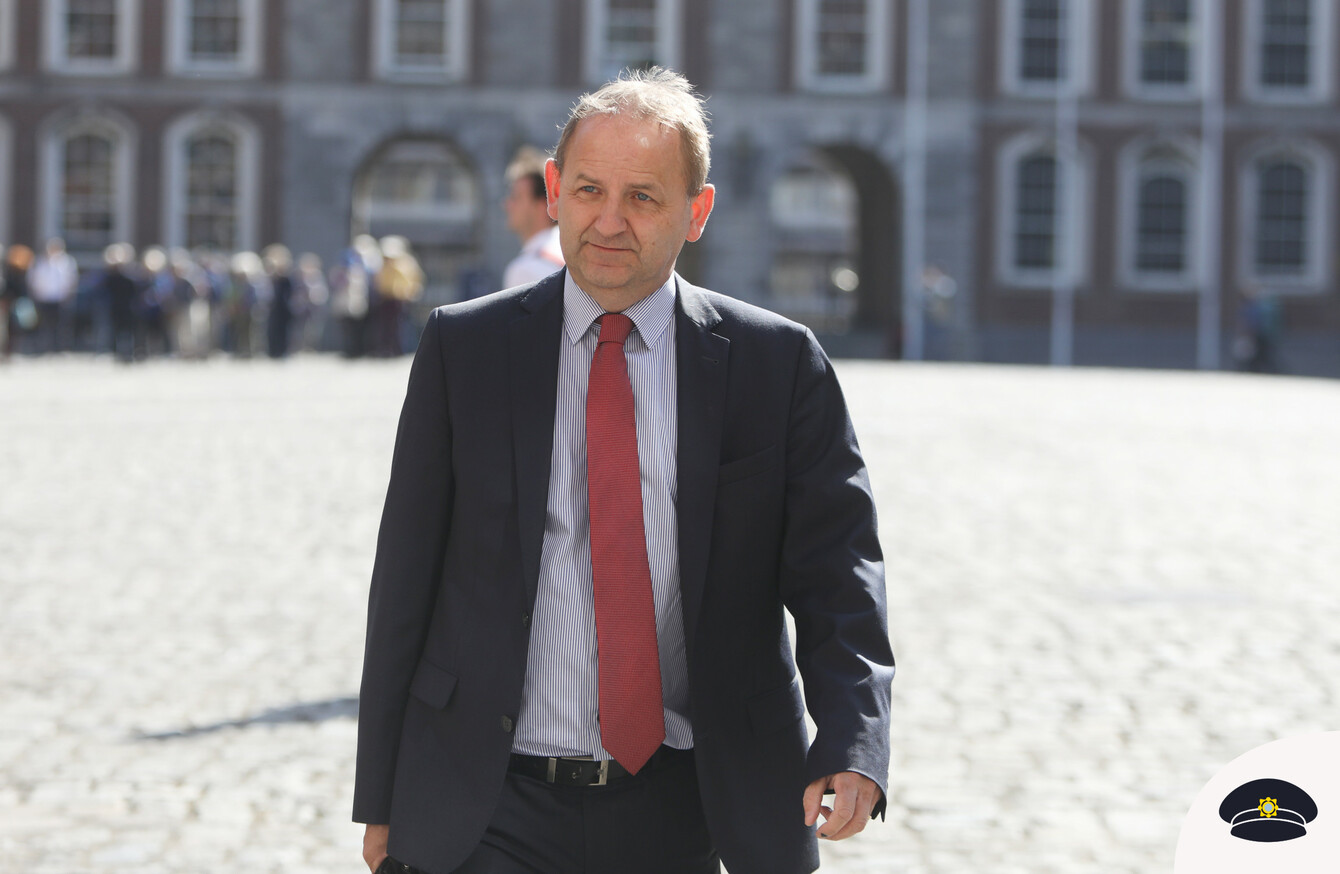 Sergeant Maurice McCabe
Image: Leah Farrell/RollingNews.ie
Sergeant Maurice McCabe
Image: Leah Farrell/RollingNews.ie
THE CHAIRMAN OF the Disclosures Tribunal has said it is not conceivable based on the evidence he has heard so far that journalists were negatively briefed about whistleblower Sgt Maurice McCabe by senior garda officers.
"I regard it as not conceivable that there was any such communication on the state of evidence as it now exists," Mr Justice Peter Charleton said.
This morning, on day 92 of the inquiry, the tribunal heard evidence from two Irish Examiner journalists who both claimed privilege in relation to any conversations they may have had with confidential sources.
Security correspondent Cormac O'Keeffe told the tribunal that he felt obliged to claim journalistic privilege.
"My overriding obligation is not to do anything that could endanger the flow of information from sources to journalists either now or in the future," Mr O'Keeffe said.
The chairman said he felt "disturbed" that a journalist could refuse to answer questions at the tribunal about what sources said, and could write an article the following day based on what sources said.
"This is a bit like a crossword puzzle spending the whole morning trying to work out what people are saying to me," Judge Charleton said.
Gossip
The tribunal is looking at allegations by Supt David Taylor that he was directed when he was garda press officer to smear McCabe in relation to a false allegation of sexual offending. Former commissioners Martin Callinan and Nóirín O'Sullivan deny there was any smear campaign.
The DPP directed no prosecution after a garda investigation into allegations by Miss D in 2006, saying no evidence of a crime was disclosed.
O'Keeffe said he believed he had heard "bits of gossip" about Sgt McCabe around February 2014, when he first wrote about the penalty point scandal.
"There was no reference to a child. The first reference was in relation to a sexual allegation generally," Mr O'Keeffe said.
Asked if he had heard rumours from anyone other than journalists, Mr O'Keeffe said he was unable to comment on anything that may or may not identify a source.
"My reaction initially was to be very cautious about this snatch of information that I heard," O'Keeffe said.
O'Keeffe said there was still an obligation on a journalist not to reveal a source, even when an alleged source had waived any privilege or confidentiality.
O'Keeffe said there was also a danger that if a journalist confirmed somebody was not a source, then that narrowed down who a source could be, which could lead to identification.
John Ferry BL formally put it to O'Keeffe that his client Supt David Taylor had negatively briefed O'Keeffe about Sgt McCabe.
"I'm unable to say anything that may or may not identify a source," O'Keeffe said.
John Fitzgerald BL, on behalf of former commissioners Callinan and O'Sullivan said it was unfair to his client that O'Keeffe refused to answer questions.
Correct the record
Earlier, Irish Examiner political correspondent Juno McEnroe said he wanted to "correct the record" about a letter sent to the tribunal last year in which solicitors said he did not have any information relevant to the terms of reference.
McEnroe said the letter was incorrect, and should have stated that he would be claiming privilege and could not confirm or deny he had any information of relevance to the tribunal.
"All I can say is that the letter is incorrect and sent in error. I sought advice and it was close to deadline for sending in, and I regret that it was sent," McEnroe said.
In an interview with tribunal investigators in April 2018, McEnroe said he had no knowledge of any involvement by former commissioners O'Sullivan or Callinan or any other senior member of An Garda Síochána in negative briefings.
McEnroe said a commissioner or assistant commissioner would be senior officers, and that he would not have regarded a superintendent as a senior officer.
Kathleen Leader, BL for the tribunal asked McEnroe if he had any evidence of a senior member, including a superintendent, discrediting Sgt McCabe.
"In relation to Supt Taylor I cannot answer questions in relation to that for fear of disclosing information relating to a source, or sources," McEnroe said.
McEnroe said he had not become aware of sexual allegations against Sgt McCabe until after July 2014. The tribunal chairman said that Supt Taylor was no longer press officer after June 2014.
The chairman said that it therefore followed "as night follows day" that Supt Taylor did not brief McEnroe.
David and Goliath
McEnroe said that when Sgt McCabe came to Leinster House to give evidence to the Public Accounts Committee it was unprecedented, and a "David and Goliath moment".
"I do remember around that period, and this was more gossip, prattle, that somebody raised a question mark over Sgt McCabe," Mr McEnroe said.
"I then endeavoured to look into that, and I was satisfied that he was a credible person," McEnroe said.
"I just remember there were question marks raised, is he a trustworthy person," McEnroe said.
McEnroe said that sources were "the bread and butter" of journalism. "If we don't have those sources it's much more difficult to get stories," McEnroe said.
"I believe it's the right of the journalist to maintain that privilege even above the right of the person who waived it," McEnroe said.
Miss D story
Later, a senior Independent Newspapers editor said that she advised against the publication of a draft article with the woman who alleged that her complaint against McCabe was not properly investigated.
Dearbhail McDonald, the Group Business Editor with Independent News & Media, told the tribunal she was asked to review and "stress test" a story by journalist Paul Williams in March 2014 by editor Stephen Rea.
The article was based on an interview with the woman, identified only as Miss D, who made sexual offence allegations against Sgt McCabe in 2006. The DPP ultimately directed no prosecution after a garda investigation into the allegations, saying no evidence of a crime was disclosed.
McDonald testified that she advised against publication of the story. She said the article published in April 2014, which did not name McCabe or Miss D, contained material differences from the draft she had seen.
McDonald said she was asked to look at whether the article was fit for publication "in terms of being legally and factually robust". McDonald said her background as legal editor meant she would have knowledge of legal and defamation issues and was often asked to give an opinion, although she was not a lawyer.
McDonald said that she made her own inquiries about the story, and wrote a memo over which she was claiming professional privilege.