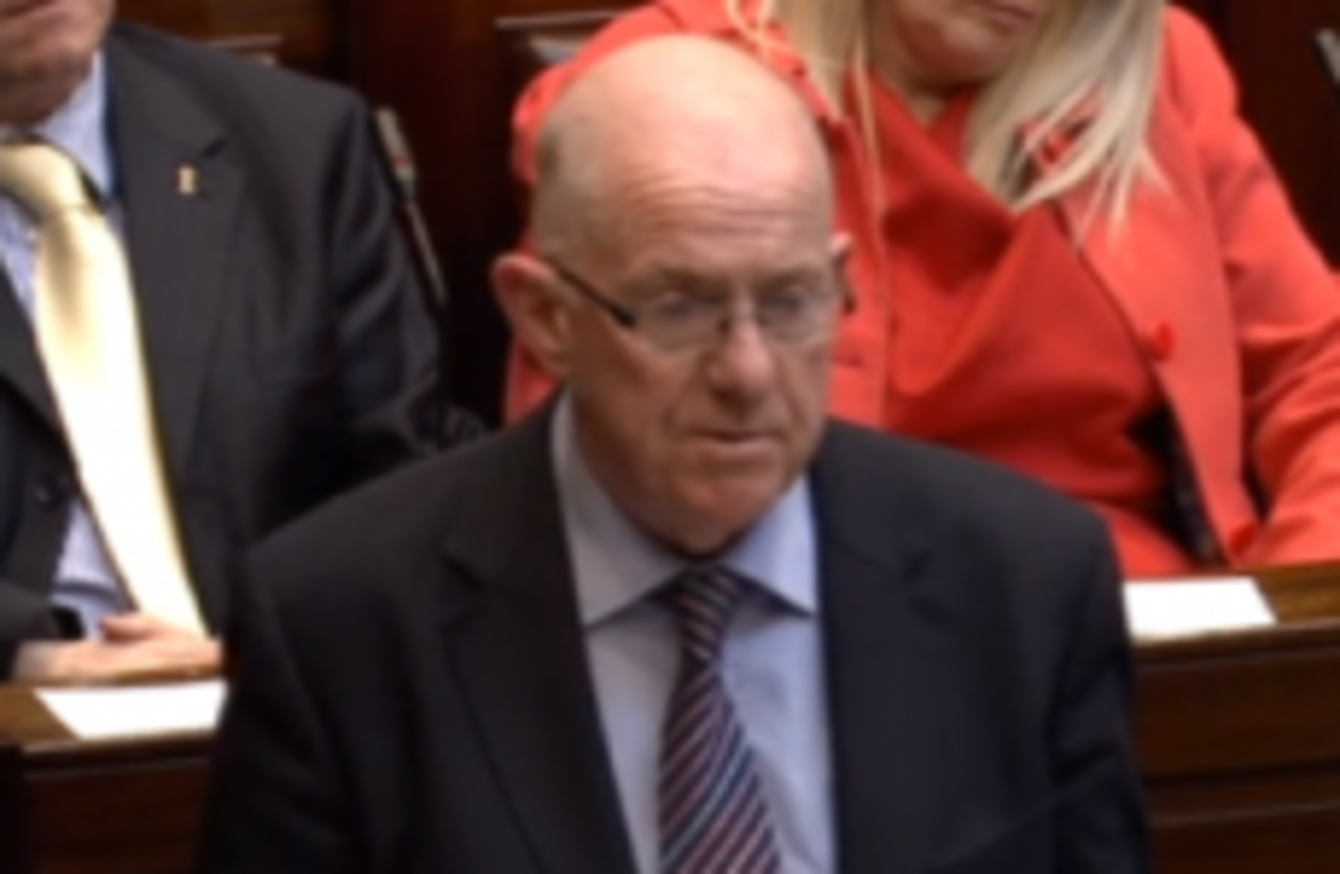 Charlie Flanagan
Image: Screengrab/Oireachtas TV
Charlie Flanagan
Image: Screengrab/Oireachtas TV
NEW CHILDREN'S MINISTER Charlie Flanagan has committed to reviewing the adoption process for step-parents.
He admitted that a number of "anomalies" existed in the 1952 Adoption Act and were "further consolidated" in the 2010 Adoption Act.
The issue was raised in the Dáil this afternoon by Deputy Shane Ross.
He asked Flanagan why his Department had failed to address a legal anomaly in relation to step-parent adoption, including the requirement for a natural parent to adopt their own child.
A new birth certificate is then created, recognising the newly-adoptive parents and possibly removing the recognition of a birth parent.
Flanagan said it was timely to undertake a review of adoption in Ireland as such issues were "causing anxiety and upset, and indeed trauma, for many parents".
He said that Dr Geoffrey Shannon, Chair of the Adoption Authority of Ireland, would oversee the review.
The new minister noted that the Children and Family Relationships Bill 2013 would attempt to address other issues, such as paternity, surrogacy and same-sex adoption.
Ross described Flanagan's response as "lukewarm and less firm in its commitment than your predecessor [Frances Fitzgerald]".
It is not enough for those parents who are waiting in limbo … give us some sort of a guarantee.
Flanagan said there was "no cooling of" on the issue, but added that he was unable to give a time-frame in relation to any reform.
When Ross claimed the issue was "solvable today", Flanagan hit back: "This isn't something, as you know, that can be solved with the stroke of a pen. Legislation doesn't work like that."
St Patrick's Institution
Flanagan said that transferring young offenders from St Patrick's Institution to a facility in Oberstown, north Dublin "will be top of my agenda".
He said he would be visiting the detention centre, which is currently being re-developed, tomorrow.
Flanagan said that building work on the facility was "well advanced", noting that all 16 year old offenders in question had been moved, while all 17 year old offenders would be transferred in 2015.
Meanwhile, Fianna Fáil's Robert Troy described the uptake of the government's after-school childcare programme CETS II as "abysmal".
The scheme was introduced last year and, as of the 2 May, some 40 out of 6,000 places have been filled.
"It's not fair to have a go at you on your first day … but this scheme has been an absolute disaster," Troy said.
The scheme is open to parents who have one or more children aged between 4-13 years in primary school, and are in receipt of Job Seekers Allowance and take up employment or increase the numbers of days they currently work.
Flanagan admitted that demand for the scheme has been "less than expected" but said some €7.5 million of the €14 million earmarked for it could now be re-allocated to other areas.
He noted that many parents choose to opt for full-day and half-day schemes, rather than after-school programmes.
When Sinn Féin's Caoimhghín Ó Caoláin said that preschools should be exempt from paying commercial rates, Flanagan said he could not commit to this but noted that there had been "considerable discussion" between departments on the subject.
It was Flanagan's first time answering questions in the Dáil since being appointed Children's Minister last week.