THE FIRST SHIPMENT of chemical material has been removed from Syria under a deal to rid the country of its chemical arsenal, the joint mission overseeing the disarmament said today.
The removal was carried out as the head of Al-Qaeda's Syria affiliate, the Al-Nusra Front, called for an end to four days of clashes between rebels and the jihadist Islamic State of Iraq and the Levant in which at least 274 people were killed.
"A first quantity of priority chemical materials was moved from two sites to the port of Latakia for verification and was then loaded onto a Danish commercial vessel today," the joint United Nations-Organisation for the Prohibition of Chemical Weapons (UN-OPCW) mission said in a statement.
It added that the boat had sailed for international waters.
The removal of the chemical material from Syria's coastal Latakia comes after a planned 31 December deadline for the operation to begin was missed.
Tuesday's shipment "initiates the process of transfer of chemical materials from the Syrian Arab Republic to locations outside its territory for destruction," the UN-OPCW statement said.
The material taken from Syria today will be held at sea until additional chemicals arrive. The shipment is being escorted by Chinese, Danish, Norwegian and Russian vessels, the mission said.
Syria agreed last year to a US-Russian deal to hand over its chemical weapons.
The agreement came after the United States threatened military action in response to an August 2012 chemical weapons attack outside Damascus that killed hundreds of people and was blamed by Washington on the Syrian regime.
Under the plan, the chemicals taken from Latakia will be transported to an Italian port and transferred onto a US vessel, where they will be destroyed.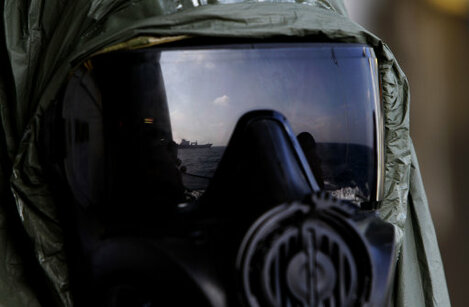 A crew member of the Danish warship Esbern Snare wears a protective mask as they escorted the Syrian chemical weapons. (Pic: AP Photo/Petros Karadjias)
The mission has a June deadline to complete the dismantling of Syria's chemical weapons programme, which includes the deadly nerve agent sarin and mustard gas.
At OPCW headquarters in the Hague, director-general Ahmet Uzumcu said the first removal was an "important step".
"I encourage the Syrian government to maintain the momentum to remove the remaining priority chemicals, in a safe and timely manner, so that they can be destroyed outside of Syriaas quickly as possible," he said in a statement.
Continued clashes
Elsewhere in the country, clashes continued between members of the jihadist Islamic State of Iraq and the Levant (ISIL) and a coalition of moderate and Islamist rebels.
The Syrian Observatory for Human Rights reported heavy fighting in Raqa, the only provincial capital to fall from regime hands and a one-time ISIL stronghold.
The fighting comes after months of tensions over alleged abuses by ISIL, which has been accused of kidnapping and killing civilian and rival rebels.