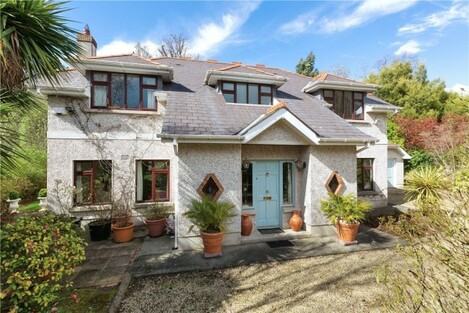 Source: Daft
CHESTNUT END is part of an exclusive enclave of bespoke luxury family homes in Enniskerry Demesne, just minutes from Enniskerry village and Powerscourt gardens. 
The property is a five-bedroom, four-bathroom detached home and is on the market for €1,050,000. Surrounded by mature gardens, it has been owned by the same family since it was built in 1996. The current owners have planted over 100 trees on the property, creating a private, leafy oasis.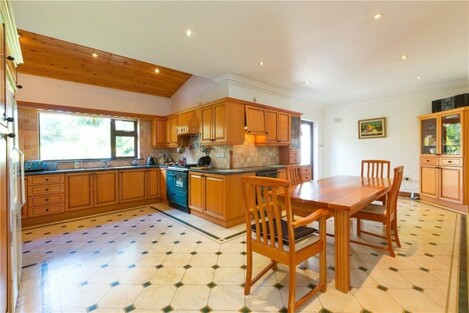 Source: Daft
A central gallery hall and stairwell leads to a formal dining room and large open plan L-shaped kitchen, complete with Stanley cooker. The other side of the hall offers two interconnected reception rooms, each with open period-surround fireplaces.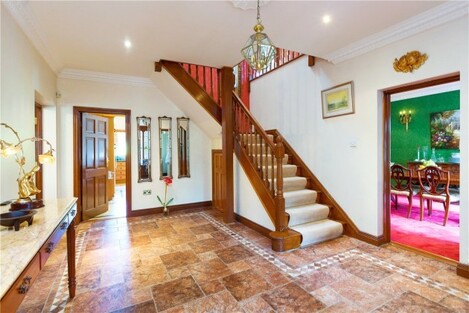 Source: Daft
Upstairs, there are five bedrooms and three bathrooms; two of the bedrooms are en suite.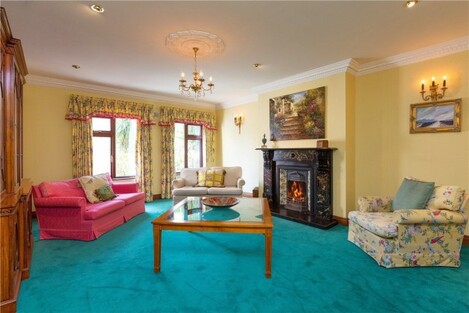 Source: Daft
Outside, there is a separate garage, as well as a large terrace/patio area. The extensive gardens provide a year-round variety of profuse colour. Features include a semi-sunken gravel al fresco dining area, a rockery, a pumped water-feature, and a little wooden bridge. 
Source: Daft
For days out, Wicklow's scenic spots are within an easy drive, including Powerscourt gardens and waterfall, and Roundwood lakes. You can take a quick journey to picturesque east coast beaches, or the harbours at Bray and Greystones. 
Source: Daft
Enniskerry is easily connected to Dublin via a Bray DART feeder bus service and direct city buses via Dundrum. By car, you'll find yourself on the M50 via the M11/N11, and Dublin airport is reached in under an hour, depending on traffic. 
Chestnut End, 8 Enniskerry Demesne, Enniskerry, Co. Wicklow is on the market for €1,050,000 through Sherry Fitzgerald via Daft.ie. 
Want more of these articles? Get our weekly property magazine emailed to you