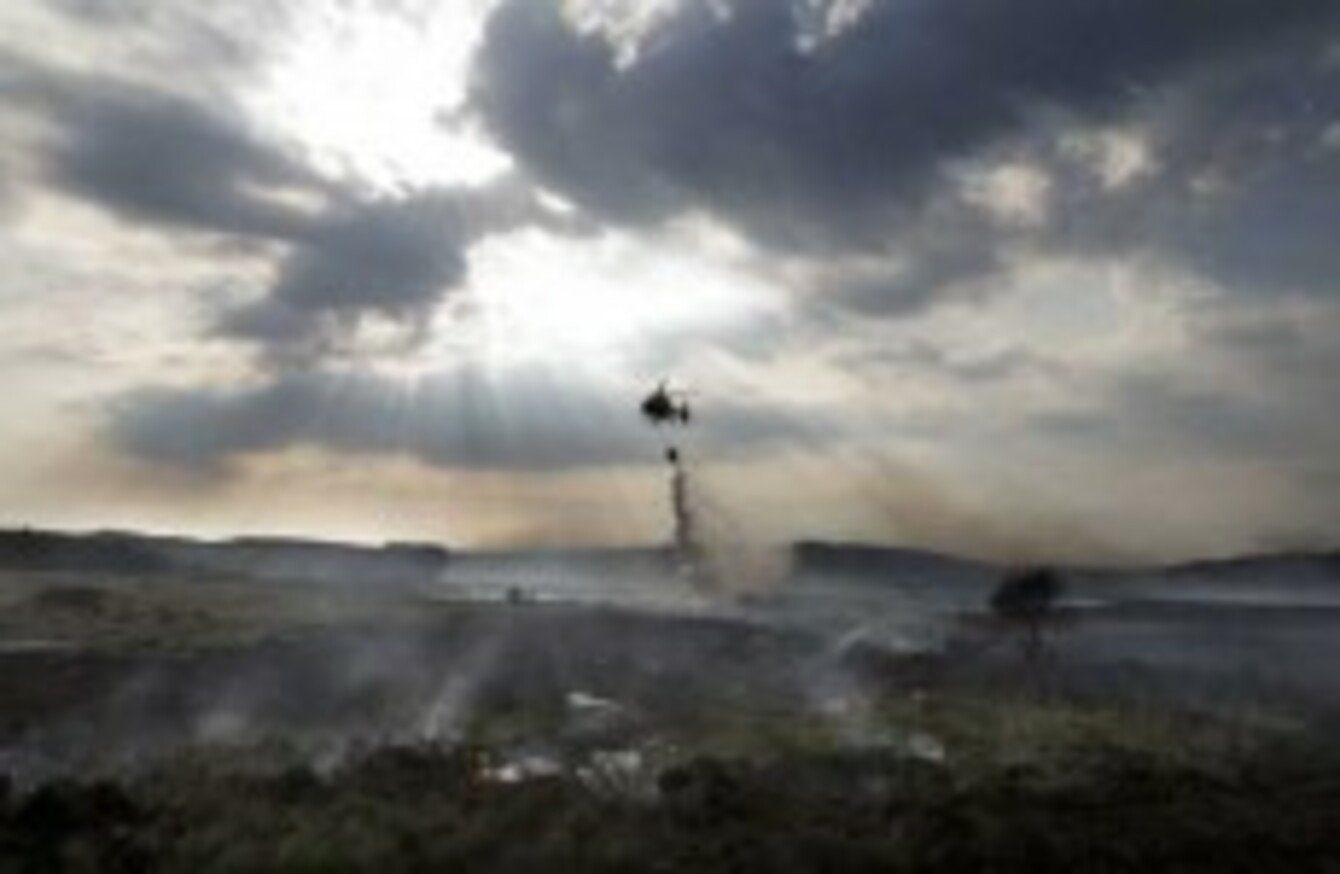 A helicopter drops water on a gorse fire outside Pontoon, Co Mayo at the weekend
Image: Eamonn Farrell/Photocall Ireland
A helicopter drops water on a gorse fire outside Pontoon, Co Mayo at the weekend
Image: Eamonn Farrell/Photocall Ireland
THE IRISH CHIEF Fire Officers' Association has described the rash of forest, gorse and bog fires that they battled in 13 counties at the weekend as "unprecedented".
Adrian Kelly, vice-chairman of the CFOA and Chief Fire Officer in Clare said that the geographical spread of the fires had put a huge strain on national fire services. He said many of the weekend fires were now under control or extinguished and that there is hope that a forecast of rain in the next 48 hours in affected areas will be a big help. He said:
A combination of strong winds and the continuing dry conditions exacerbated the situation by causing fires to spread, particularly across Donegal.
The CFOA condemned anyone who had started a fire deliberately.
Such reckless actions have places the lives of both members of the local community and also firefighters at risk. These fires have also destroyed hundreds of acres of gorse land, forestry and bogs, with negative consequences for property, tourism and wildlife.
An unbelievable 13 counties suffered wildfires at the weekend: Donegal, Leitrim, Monaghan, Sligo, Longford, Cavan, Roscommon, OFfaly, Louth, Westmeath, Clare, Galway and Mayo.
The fires that raged across County Mayo at the weekend were captured in these stark and stunning images by Eamonn Farrell of Photocall Ireland:
Scorched Earth

The sun sets over a smoke-darkened sky at Lough Conn, Pontoon, Mayo

Water bomb

A helicopter drops water on a gorse fire outside Pontoon

Fuel for the fire

A gorse fire almost reached this stack of turf in Mayo before the blaze was extinguished

Pressurised situation

A sign for the location of the Shell Corrib Gas pipeline, just 500 yards from where a gorse fire raged at the weekend

Smouldering

Gorse and forest still smoke after a day of fires near the beauty spot of Lough Cullin, Mayo.

Black and blue

The landscape outside Pontoon in Mayo is charred after a weekend of fires

Threatened

The tourist spot of Lough Conn is just a few miles from where fires raged on the hills of Co Mayo at the weekend