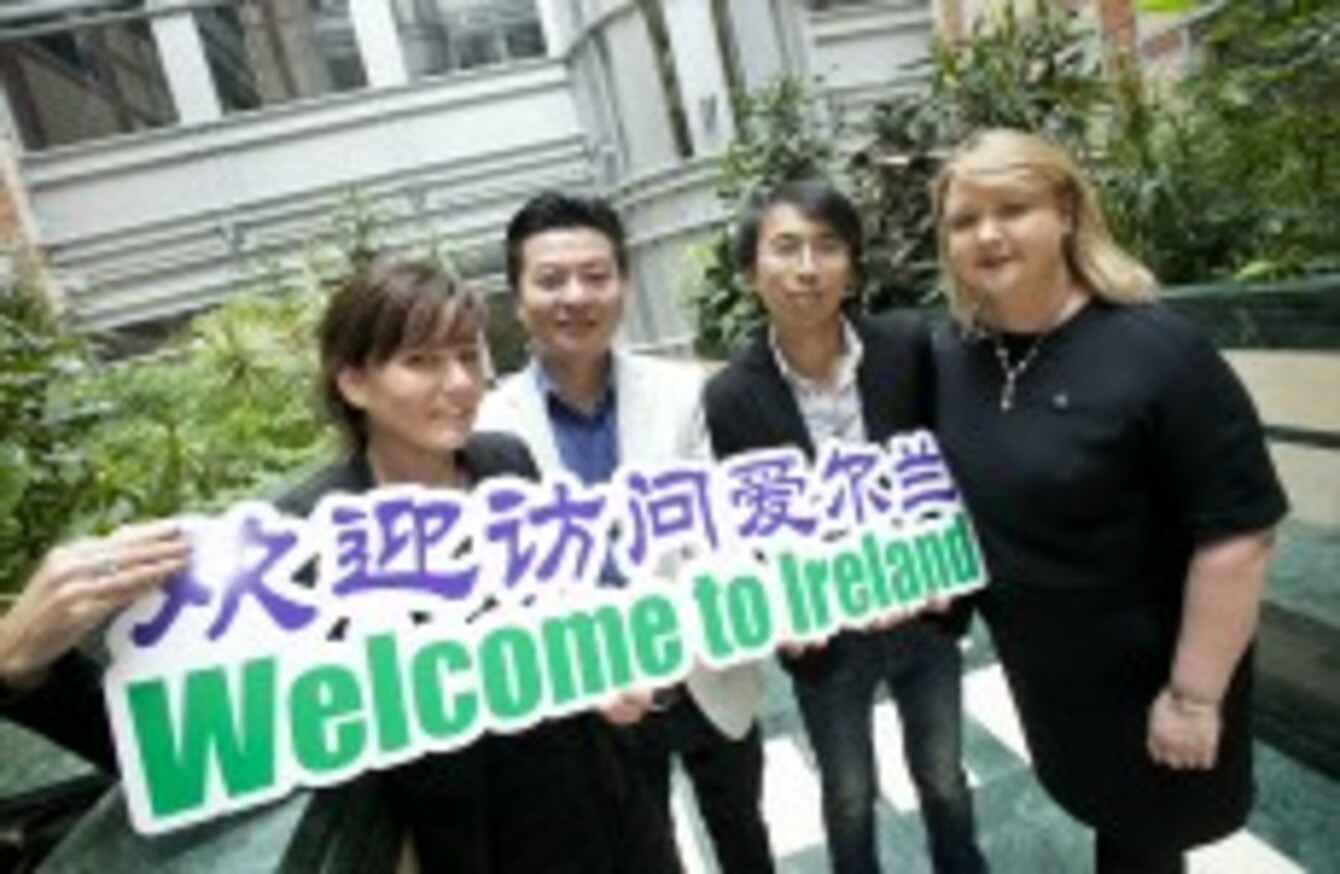 Fiona Herald from the Guinness Storehouse, Ya Luo from Wiiya International, Alex Li from E G Travel and Amanda Burns from Tourism Ireland
Image: Chris Bellew/Fennell Photography
Fiona Herald from the Guinness Storehouse, Ya Luo from Wiiya International, Alex Li from E G Travel and Amanda Burns from Tourism Ireland
Image: Chris Bellew/Fennell Photography
A MAJOR PUSH is being made by Tourism Ireland to increase the profile of Ireland to potential visitors from China.
A sales mission has been organised for later this month and will see 18 Irish companies visit Beijing, Shanghai and Guangzhou. The trip will involve the companies meeting with Chinese travel agents and tour operators.
The purpose? To influence travel trade professionals to give Ireland more coverage.
Inclusion in travel guides for 2015 is laid out as a specific aim.
Companies taking part in the sales drive include Brown Thomas, the Guinness Storehouse, Limerick Travel, Stena Line, The National Trust/Giant's Causeway and Titanic Belfast.
Speaking to TheJournal.ie Fiona Herald, business development manager for Guinness Storehouse, said:
We very much see China as an emerging market with a lot of opportunity for tourism into Ireland. We have certainly seen Chinese visitor numbers to the Storehouse increase year on year.
There has been a sharp increase in the number of visitors from China over the last number of years. In 2012, around 17,000 visitors came into the country. Last year, the figure rose to more than 30,000.
Tourism Ireland hopes that over 50,000 visitors from China to visit annually.
CEO of Tourism Ireland Niall Gibbons, said: "The sales mission will give our Irish tourism partners a platform to inform and influence the Chinese travel trade on all that Ireland has to offer."
Last year the Chinese version of Ireland.com was launched as part of efforts to tell people about what the island has to offer.
The trade mission will take place from the 15th to the 19th of this month.