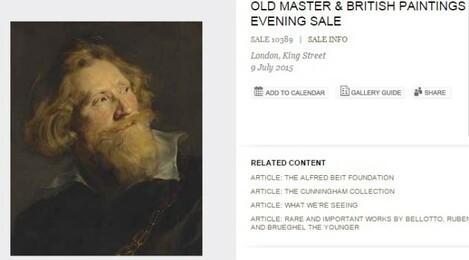 Head of a bearded man - estimated value £2m-£3m Source: Screengrab Christie's London
CHRISTIE'S HAS FORMALLY withdrawn the seven of the Russborough paintings that were due to be auctioned next month.
A spokesperson for Christie's Auction House in London told TheJournal.ie that "six pictures scheduled to be sold in Christie's 9 July Old Master & British Paintings Sale (lots 18-23) and the one picture scheduled to be sold in the Old Master Drawings Sale on 7 July (lot 53) on behalf of the Alfred Beit Foundation have been withdrawn."
The seven pictures, include works by Rubens and Guardi, had a total estimate of €7 million to  €10 million.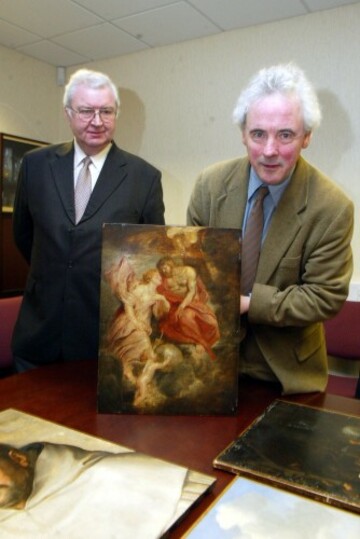 Source: Gareth Chaney/Photocall Ireland!
Irish art
Alfred Beit and his wife Lady Beit donated the house and its art collection to the charitable foundation in 1976 for the "enjoyment" of the Irish people.
Christie's added the withdrawal of the paintings followed a request by the Beit Foundation to postpone the sale of the works in order to explore philanthropic alternatives before October 2015. 
The sale of the paintings has caused controversy in recent weeks, with members of the arts community critical of what they called a "fire sale" of some of Ireland's most precious artworks.
On Tuesday the board of the Alfred Beit Foundation said it had decided to postpone the sale of paintings from its Russborough House collection.
Postpone the sale 
The postponement comes following a proposal from private Irish donors for the possible purchase of the artworks, said the board, who unanimously decided to postpone the sale in order to explore the offer made to the Foundation.
The board also decided if the current proposal or other proposals do not reach a satisfactory conclusion by October 2015 and Russborough is otherwise unable to raise the required funds, the sale of the artworks via auction will be resumed.
The board said it is seeking a further meeting with the Minister for the Arts, Heritage and the Gaeltacht, Heather Humphreys and Simon Harris, Minister of State at the Office of Public Works to establish the Government's support for Russborough for the future.
The Foundation continues to endeavor to put in place an endowment fund of up to €15 million in order to underpin Russborough's long term financial stability.
Last week, the Minister Heather Humphreys came in for some criticism in the Seanad, when it looked like the painting could be sold.
Senator Terry Leyden had harsh words for the minister, questioning why we even had an arts minister if she was not aware of something this serious.
Meanwhile Seantor David Norris said people would be calling Christie's "stinkers" if they decided to apply a penalty fee for the withdrawal, which the Beit Foundation indicated would be €1.4 million.
There has been no suggestion the fee has been applied.