CHRISTMAS MAY BE synonymous with being a time for family but, for the thousands of people across the country getting up again to go to work today, any festive celebrations are set to be put on hold.
The public service features prominently on the list of workers required on Christmas Day, but private sector staff are also required in numerous areas.
From hospitals to hotels, from gardaí to taxi drivers, there are still plenty of people out and about while the rest of us unwrap presents.
TheJournal.ie spoke to some of them to find out what it's like to work on Christmas Day.
Taxi driver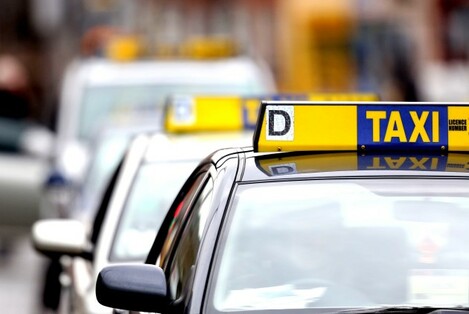 Source: Wanderley Massafelli/Rollingnews.ie
Alan's been driving a taxi for over two decades.
As he's self-employed, he is certainly not obliged to go to work on Christmas Day but has chosen to do so more and more over the last few years.
He told TheJournal.ie that there are plenty of financial incentives to go out on Christmas Day.
"A lot of taxi drivers do it for the money, because of course you make extra money on Christmas Day," he said.
It wouldn't be unreasonable to earn around €600, €700 if they work around an eight or ten hour day.
Alan said that, unlike a lot of other days, the work is constant, and there's little to no traffic around.
"It starts with people leaving or going to work," he said. "You know, security guards, nurses, stuff like that. You get a lot of people going to graveyards on Christmas mornings. Then you've got people going to relatives. And then there's those who go to army barracks or golf clubs because bars open there on Christmas Day."
The motivations for working on Christmas Day, however, are not purely financial.
Alan said: "There are a lot of drivers who are divorced. It can be a very lonely time of year.
Going out to work is the only way they may be able to see anyone on Christmas Day. I'm divorced myself. I'd be waking up with no decorations around me. You just get out to meet people.
He said that it's important to try and get it into your head that it's a normal work day, even if you may not feel it.
"There's no point having a sour head on you," he added. "People get in the car full of good cheer and you don't want to put a downer on their day. You put a face on and get on with it."
Midwife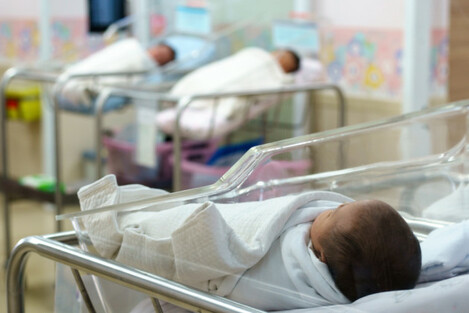 Source: Shutterstock/sukanya sitthikongsak
Emily is a midwife based in Dublin. She is married and has three young children.
She told TheJournal.ie that everyone who works in her section keeps a keen eye on the roster from early October, with most of them keen to see what time they have off over the Christmas period.
"You would request to work certain days, but not everyone can get the days off they want, she said.
It's kind of like an unwritten rule that if you worked Christmas one year, you'd be off the next year. That can be a big bone of contention.
Emily said she's worked at least six Christmas Days at this stage, with some of those being night shifts.
She said that the atmosphere around the wards can be slightly different around Christmas time, with people doing their best to get in the festive spirit.
That doesn't mean that it's any less busy, however.
"In terms of the labour ward, it can be very, very busy," she said. "If someone's water broke, it's not like you can tell them to wait till tomorrow because it's Christmas.
You mightn't want to be there, but these people need to be looked after. So you do your job… Honestly, going in on Christmas Day, I would feel a bit of dread but once you get in it's grand. Everybody is in the same boat. Once you're in you get on with it.
Emily said that one of the hardest things about having to work today is missing out on seeing the children open their presents after Santa has been to visit.
"I know one of the midwives who's working today has arranged for Santa to visit on Christmas Eve," she said. "And they even have their Christmas dinner on Christmas Eve too. It can hard, that's for sure. But it's about making the most of it."
Just because she has children, however, Emily doesn't feel that she should get any special treatment when it comes to rostering at this time of year.
"A lot of expectation can be unfairly put on the younger girls who maybe don't have kids to work around this time of year," she said.
But that's not fair. Everyone has family and deserves to spend Christmas with them. Everybody deserves to have their Christmas off if they can.
Radio DJ
Source: Shutterstock/GikaPhoto By waraphot
Walter is a radio DJ and works a Christmas Day shift every year.
In fact, he's a DJ with Christmas FM but he told TheJournal.ie that he never gets tired of the songs.
"You wouldn't volunteer here if you didn't like the songs," he said. "I've done the Christmas Day 12pm to 2pm shift for the past 10 years."
He said that, just before he leaves, he puts the turkey in the oven and it's usually nice and crispy by the time he gets back.
Due to the nature of the job, Walter said it's actually a great thing to be working there on Christmas Day.
He said: "You'd have to be in the studio to understand how amazing it is in there on Christmas Day. It's an upbeat station anyway. It's all about the family and goodwill, and all the things we aspire to have in ourselves.
We get so many emails and texts from people wishing to send their Christmas wishes to people that we read out on air. Could be messages from one of the country to the other, or as far from Australia and the United States. You become a conduit for other people's goodwill.
Walter said that he has no problem leaving his family on Christmas Day to go working, and it's down to this sense of goodwill.
"So I live close so I actually walk to work," he said. "And you see people out and about enjoying themselves and Christmas lights in all the windows, families seeing each other and things like that. And then when you get in you get hundreds and hundreds of messages. It's brilliant."
The station even gives special shoutouts to the others that are working this Christmas Day and he added that it's a way for people to show their appreciation for those who are working to keep us all safe and cared for on the day.
And as for his favourite Christmas song? Walter didn't hesitate before he said: "I love Driving Home for Christmas by Chris Rea. It reminds me of my dad a bit. I really get that whole vibe.
I really love Sleigh Ride by the Ronettes. It's got the words "jingle-ing, ring-ting tingle-ing" in it. How could you argue with that?
You can find out how to listen to Christmas FM here.