FRESH FROM RECEIVING word that €16.8m would be made available for storm damage repairs in the county, Clare has been told to brace itself for coastal flooding this weekend.
This time the alert comes from Clare County Council which is warning that a tidal surge, high spring tidal conditions and high winds could spell danger for the coastline.
The danger period is the 36 hours between Sunday morning and Monday evening.
The Clare coast getting a battering on 1 February last. Image: Laura Hutton/Photocall Ireland.
A council spokesperson said: "While conditions are not expected to deteriorate to the extent experienced in early January and early February, there is a potential for coastal flooding.
We are continuing to liaise with Met Éireann and, if required, further advisories will be issued during the course of the weekend.

In the meantime, caution is urged over the coming days in all areas where coastal flooding has previously occurred.
The cost of storms to Co Clare this past season – from December to February – is estimated at a whopping €36.8m. Atlantic coastal areas were badly affected and so were some locations on the Shannon estuary, especially at the beginning of February.
There is currently a status yellow marine warning in place, according to Met Éireann. Moderate winds are forecast for tomorrow along with bouts of heavy rain in parts of the west and north of the country.
Sunday morning is expected to see southerly winds freshen but it should be fairly dry. By lunchtime, however, rain will hit the west coast, spreading inland. Wintry showers and moderate southwest winds will blow up on Monday morning, although the weather is expected to die down come Monday night.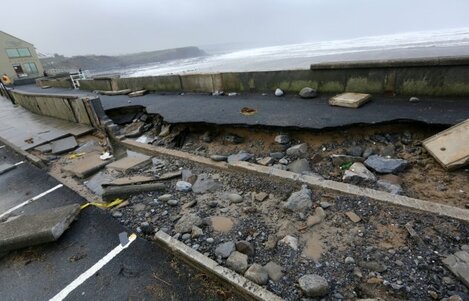 After the storm… The damage to the Lahinch promenade this year. Image: Laura Hutton/Photocall Ireland.