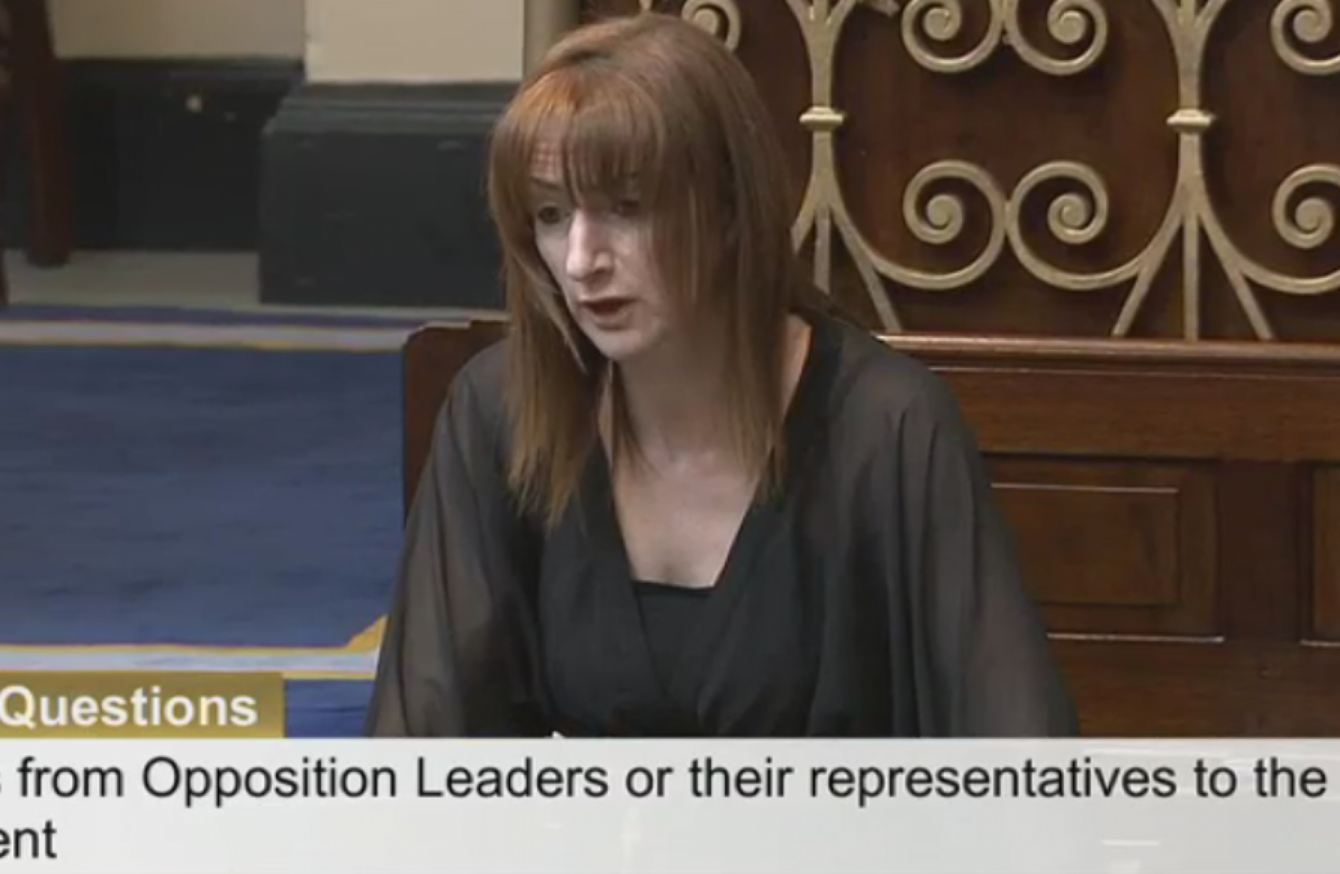 YESTERDAY, DURING LEADERS' Questions in the Dáil, Independents4Change TD Clare Daly raised claims about a 14-year-old she said suffers from narcolepsy, and said that he had been denied documents under discovery by the HSE.
She said that the HSE had previously indicated that it would voluntarily disclose documents, but then went to the High Court last week to "obstruct this boy and people like who are seeking documents under discovery".
Taoiseach Enda Kenny replied that he was unaware of the details of the case but promised that he would look into it as the matter "deserves immediate analysis".
Suffering
Clare Daly detailed the experience of the 14-year-old narcolepsy sufferer and the difficulties she said he had experience since being diagnosed with the disease.
"He can fall asleep without warning and has done so," she said. "He has smashed his teeth and broken his bones.
He experiences terrifying hallucinations in a state of sleep paralysis. He has to be given expensive anaesthetics so that he can get a few hours' sleep. He has developed joint and muscle pain.
The condition limits "every aspect of his daily life" and it will continue to do so for the rest of his life, the TD for Dublin North said.
This "avoidable catastrophe" was caused by the swine flu vaccination Pandemrix, she said.
This boy and 80 others like him were affected, according to Daly.
In 2014, a link between the vaccine and narcolepsy was confirmed in Ireland.
HSE
Daly said that, despite the HSE saying it would voluntarily disclose documents, it and "the State Claims Agency went into the High Court last week unnoticed and undocumented to obstruct this boy and people like him who are seeking documents under discovery".
She wants to know why the HSE decided to purchase Pandemrix even after she said "it knew it was dangerous and untested".
Poland, Switzerland and the US did not give a licence to Pandemrix, but Ireland gave GlaxoSmithKline (GSK) full indemnity against its harmful side effects.
She asked the Taoiseach if the Minister for Health, in 2009, was made aware of the safety profile of this vaccine compared to others and why the "least safe vaccine" was chosen.
She also called on the Taoiseach to introduce a no-fault vaccine damage payment scheme.
"A serious matter"
Kenny said that this was a matter that deserved "immediate analysis" and he didn't have answers for Daly at that moment, because he was not aware of the details of the case.
He said: "Deputy Daly said the situation was avoidable given the information that was available to the company. A court case is ongoing."
The Taoiseach did say that a centre of excellence was in the process of being set up at St James's Hospital, and that the programme for government included a commitment to examine supports for people harmed by vaccines.
He acknowledged that it was a serious matter and said he would work with Minister for Health Simon Harris to see that this case was followed up as soon as possible.
Daly added that the case was "one of the biggest public health scandals in recent years".
She said knowledge on the dangers of these vaccines was known a decade ago, and that this case had been on the agenda as a priority in the Minister for Health's first briefing a year ago.
She concluded by saying that the State Claims Agency would return to court on 23 May, and asked the Taoiseach to instruct it to bring forward the documentation to "assist people in their fight for justice".