CHINA AND THE US, two of the world's leading carbon producers, have agreed a deal that will see the two work towards lowering greenhouse emissions.
In secret talks, US President Barack Obama and Chinese President Xi Jinping each announced that their countries were realigning their targets on climate change.
Obama announced a new target to cut net greenhouse gas emissions 26%-28% below 2005 levels by 2025 and Xi announced targets to peak CO2 emissions around 2030, with the intention to try to peak early, and to increase the non-fossil fuel share of all energy to around 20 percent by 2030.
Source: Andy Wong
The new US goal will double the pace of carbon pollution reduction from 1.2% per year on average during the 2005-2020 period to 2.3-2.8% per year on average between 2020 and 2025.
The European Union pledged last month to reduce emissions by at least 40 percent by 2030 compared with 1990 levels.
But efforts to make meaningful progress on climate change will by stymied unless the US sets "a concrete and ambitious" goal to reduce its greenhouse gas emissions, Connie Hedegaard, EU climate commissioner, said in October.
Why it's important
The deal itself won't solve climate change. In fact, it has already been criticised for not being ambitious enough.
But the two countries are the two largest producers of carbon dioxide. Without them, a meaningful worldwide action on climate change is impossible.
With China now emitting more CO2 than the EU per capita, their agreement to cut emissions is a major step.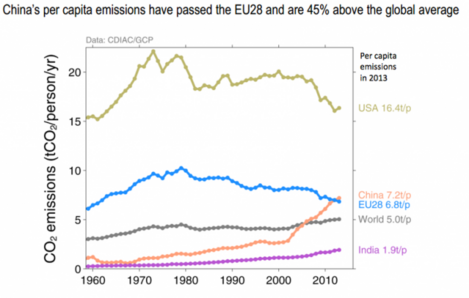 Source: Global Carbon Project
The World Resources Institute, a US-based environmental group, hailed the Obama-Xi pact as a breakthrough.
"It's a new day to have the leaders of the US and China stand shoulder-to-shoulder and make significant commitments to curb their country's emissions," the institute's president Andrew Steer said in a statement.
The deal marks a break in a long-standing showdown between the two countries over the issue. It also gives Obama cache when he returns to Washington. Many US politicians believed that acting on their own emissions was pointless unless China pledged to do the same. However, new Senate majority leader Mitch McConnell has already poured cold water on the plan, saying it will make utilities cost more and cost jobs.
The agreement could signal a new move to a global agreement on climate change. With the world's two de facto superpowers on board, a move to draw up a successor to the Kyoto Protocol could be realised by the 2015 deadline.
When the UN meets in Peru in December and in Paris at the end of next year.
While it won't in itself make climate change a thing of the past, it does signal a shift in policy making from two massive countries.