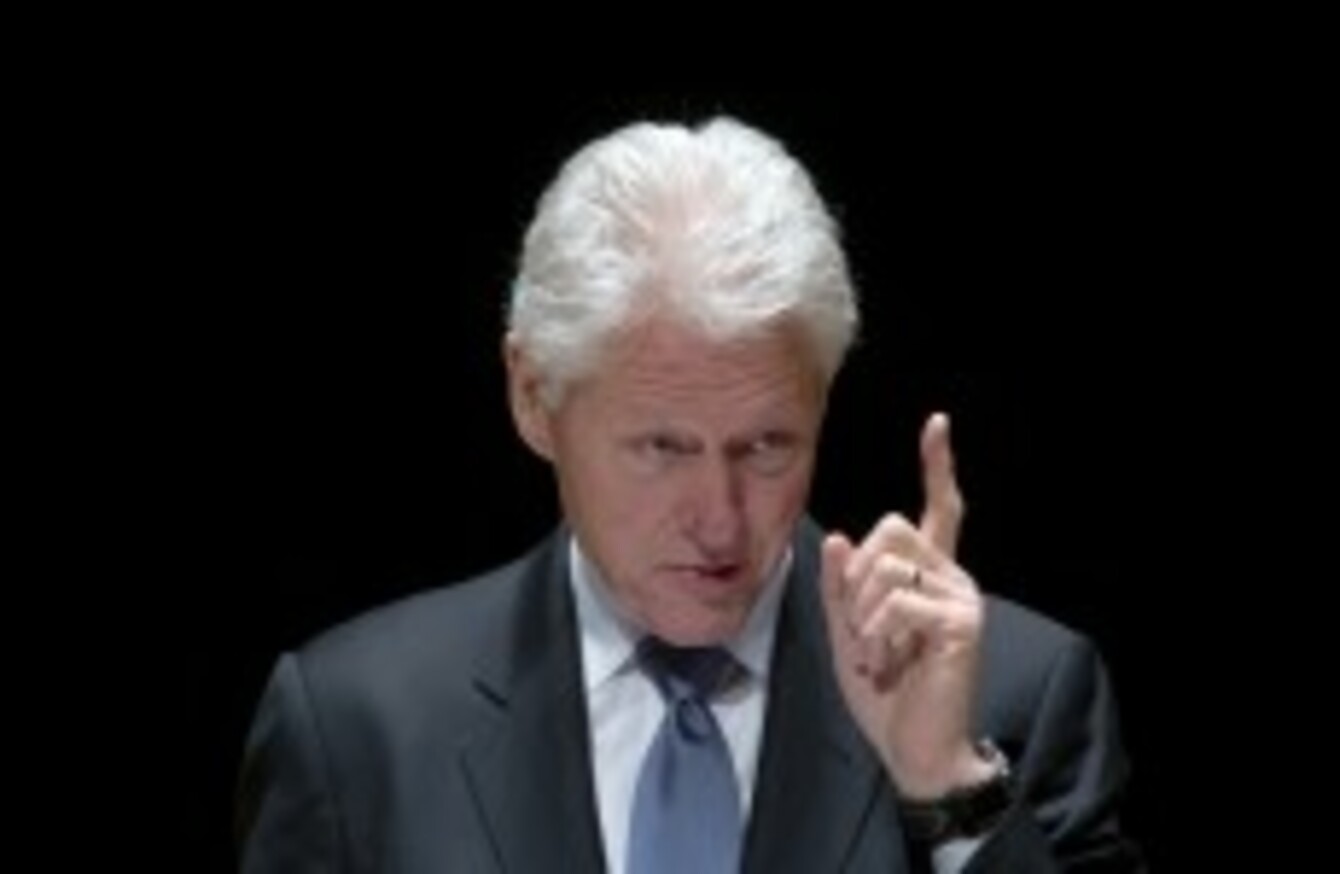 Image: Matt Rourke/PA Wire
Image: Matt Rourke/PA Wire
US PRESIDENT BILL Clinton asked advisers for more information on Osama bin Laden in 1998 after flagging a newspaper story, according to records from the Clinton White House that were released today.
The records also detail consideration of military action in Haiti in 1994 and preparations for Supreme Court nomination hearings.
The National Archives released about 1,000 pages of previously restricted documents from Clinton's two terms, part of about 20,000 pages of Clinton records that have been disseminated since February. The papers, which are stored at the Clinton Presidential Library in Little Rock, Arkansas, have received interest as former first lady Hillary Rodham Clinton considers another presidential bid.
The latest batch also covers the Supreme Court nominations of Justices Ruth Bader Ginsburg and Stephen Breyer, the appellate court nomination of future Supreme Court Justice Sonia Sotomayor, security planning for the 1996 Summer Olympics in Atlanta and the 2000 presidential campaign of Al Gore, the then vice president.
Here are some of the key details from the documents:
Bin Laden
In one file referencing bin Laden, Clinton urgently asked his top national security aide whether the CIA overstated the involvement of the terrorist leader in the August 1998 bombings of U.S. embassies in Kenya and Tanzania. In his April 1999 scrawled note, Clinton referred to a New York Times story from that month that suggested US intelligence officials had gathered no first-hand evidence of bin Laden's involvement.
"If this article is right, the CIA sure overstated its case to me — what are the facts?" Clinton asked national security adviser Samuel "Sandy" Berger. Clinton's note prompted a flurry of replies from Berger, counterterrorism coordinator Richard Clarke and aide Daniel Benjamin, but those responses were withheld, apparently for national security concerns.
Government prosecutors later indicted bin Laden among a group of al-Qaeda leaders and operatives for their involvement in the simultaneous bombings, which killed 213 people in Nairobi and 85 in Dar es Salaam. Six terror associates were convicted and are serving life terms in US prisons.
Bin Laden, the mastermind of the Sept. 11 attacks, was still under indictment when he was killed by US forces in Pakistan in May 2011.
Haiti 
In 1994, Clinton's team weighed taking action in Haiti to restore democracy and to remove military leaders who staged a coup. Congress opposed any intervention and Clinton's aides debated how to act without lawmakers.
"The operation is likely to involve low intensity and short conflict. Given the consent of President (Jean-Bertrand) Artistide and the limited capability of the Armed Forces of Haiti, such action does not intrude upon the power of Congress to declare war," national security aide Tony Lake wrote to White House counsel Lloyd Cutler.
In another memo, Lake, Cutler and Pat Griffin urged Clinton to take action without congressional approval. They said that simply informing Congress immediately before military strikes was sufficient.
Clinton deployed armed forces in September 1994. As some US military members were in the air en route to the island, Haitian military leaders agreed to step down and they left the country in October. Aristide resumed power.
1996 Summer Olympics
A June 1996 memo from top aides to Clinton and Gore detailed White House efforts to oversee security in Atlanta for the Summer Olympics Games — as well as to lay plans for Clinton administration efforts to tap into the heavily televised events' successes.
Saying the federal government had a "considerable" stake in the events, the aides wrote that the Olympics "will be a daily focus at the White House." In a nod to the growing importance of instant media and communication responses, the aides devised daily meetings of communications aides to respond to good-news developments. "The key is to be able to be spontaneous in celebrating successes at the gates by planning for such 'spontaneity,'" wrote White House chief of staff Mack McLarty and Gore aide Ron Klain.
The 1996 games proved to be a mixed success. A record 197 nations participated, but there were complaints about crowding and commercialism. A bomb set off in Atlanta's Centennial Olympic Park caused two deaths and 111 injuries. Eric Rudolph, an anti-abortion activist, pleaded guilty in 2005 to the bombing and is serving a life prison term.