SOME OF THE most expensive coffee in the world is being produced by a herd of elephants.
In northern Thailand, the herd of 20 are eating beans and then the same beans are plucked a day later from their dung.
The coffee, which has been called "earthy" in flavour and "smooth" on the palate, is also among the world's priciest , setting you back €850 per kilogram or €390 per pound.
For now, only the wealthy or well-travelled have access to the cuppa, which is called Black Ivory Coffee.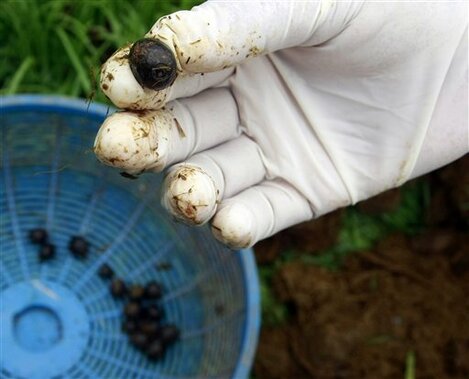 A coffee bean picked from elephant dung. (AP Photo/Apichart Weerawong)
"When an elephant eats coffee, its stomach acid breaks down the protein found in coffee, which is a key factor in bitterness," said Blake Dinkin, who developed the coffee. "You end up with a cup that's very smooth without the bitterness of regular coffee."
Meena, a 12-year old elephant, eats coffee beans mixed with fruits. (AP Photo/Apichart Weerawong)
Would you spend €40 on cup of 'elephant coffee'?

Additional reporting - AP