Updated 5.51pm
ROBOT PROBE PHILAE bounced twice after its historic comet landing, probably ending up with one leg dangling in space, in the shadow of a cliff that could prevent it fully charging its battery, ground control said today.
In the 24 hours since its pioneering deep-space contact, the lab has sent home a slew of data and photographs from the surface of comet 67P/Churyumov-Gerasimenko — though from a mystery location thought to be hundreds of metres off target.
Harpoons were meant to anchor Philae to the low-gravity comet 510 million kilometres from Earth and zipping towards the Sun at 18 kilometres per second.
The harpoons failed to deploy, but this has not prevented Philae sending information to Earth via its orbiting mothership, Rosetta.
"We have a better understanding of how we got there, but we still do not really know where," lander manager Stephan Ulamec said in a press conference webcast live from European Space Agency (ESA) ground control in Darmstadt, Germany.
"We could be somewhere in the rim of this crater," he added, pointing to a surface shot on which deep crevices lie in permanent, pitch-black shadows.
"We are not standing parallel to the surface," said Ulamec — an evaluation gleaned from the angle of photographs Philae has sent to Rosetta to be relayed to Earth.
Eight of the washing machine-sized Philae's 10 onboard science instruments and cameras have kicked into action as planned — a highlight achievement in the ESA's flagship 1.3-billion-euro ($1.6-billion) project.
The data from some of these revealed that the first bounce, "a huge leap" according to Ulamec, lasted about two hours and moved the probe a kilometre (0.6 miles) from its target site, followed by a second, smaller rebound.
There are fears that Philae may not be able to use the drill with which it was equipped to take sub-surface comet samples for chemical testing.
"We are almost vertical — one foot probably in open space" and two on the comet surface, said mission scientist Jean-Pierre Bibring.
And Philippe Gaudon of France's CNES space agency earlier said the probe was "likely on a steep slope".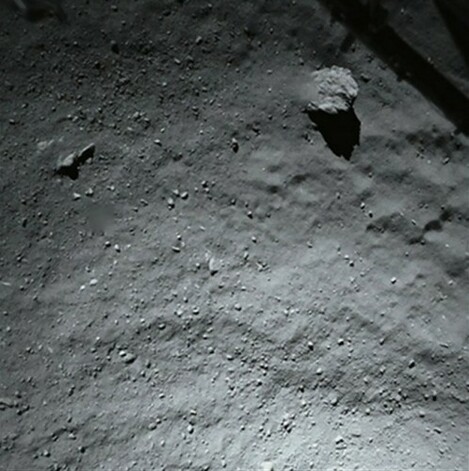 The image was taken by Philae's down-looking descent ROLIS imager when it was about 40 meters above the surface Source: AP Photo/Esa,Rosetta,Philae
Trying to activate the drill, or even the harpoons, without knowing the lander's location and orientation could be dangerous.
"We may just tip over our lander," said Ulamec, adding Philae may not have enough power for "a dedicated jump out of the hole in which we may be."
The probe's battery will only last about 60 hours, and given its awkward position, Philae was not getting enough sunlight for a full recharge — receiving only 1.5 hours per day instead of the six or seven required.
- © AFP 2014, additional reporting by Paul Hosford. Originally published 1.15pm