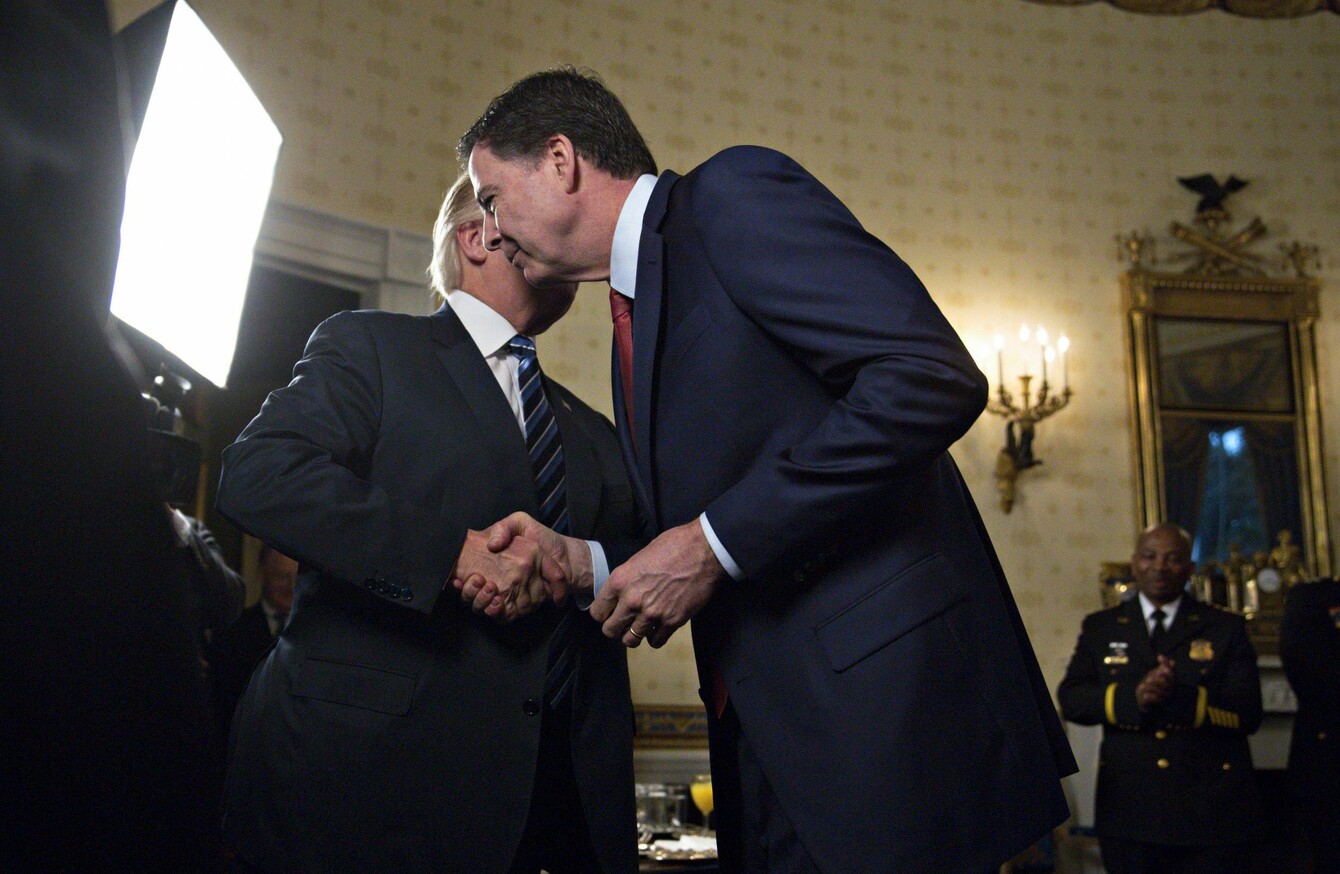 Image: SIPA USA/PA Images
Image: SIPA USA/PA Images
FIRED FBI DIRECTOR James Comey has confirmed in a statement that US President Donald Trump urged him to drop an investigation into his former national security advisor Michael Flynn, then under scrutiny for his Russia contacts.
"I hope you can see your way clear to letting this go, to letting Flynn go. He is a good guy," Comey quoted Trump as telling him on 14 February as they sat alone together in the Oval Office.
"I had understood the president to be requesting that we drop any investigation of Flynn in connection with his false statements about his conversations with the Russian ambassador in December," Comey said in a statement for the record ahead of his appearance before the Senate Intelligence Committee tomorrow.
He said it was "very concerning" when Trump told him to back off the investigation of Flynn.
"The president said, 'I need loyalty, I expect loyalty.'
I didn't move, speak, or change my facial expression in any way during the awkward silence that followed," Comey said.
The statement will be Comey's opening one when he appears before the committee tomorrow.
Loyalty
In the statement, Comey said he and Trump dined together privately in January. During the meal, he said Trump asked him if he wanted to remain on as FBI director. Comey said he replied that he wanted to serve out his ten-year term and "was not on anybody's side politically".
Comey said Trump then made his statement about loyalty. Comey replied that he could offer his honesty, and that when Trump said he wanted "honest loyalty," Comey paused and said, "You will get that from me."
In his statement, Comey said creating written records after meeting with Trump was his general practice from their first meeting.
He said he had had nine one-on-one conversation with Trump in four months. In contrast he spoke just twice alone with former President Obama during his term.
"In neither of those circumstances did I memorialize the discussions," he said in his statement.
"Cloud"
In one of these conversations, Comey said that Trump had told him that the FBI's investigation into alleged Russian interference in the 2016 presidential election was creating a "cloud" over his presidency.
And Comey says the president asked him what they could do to "lift the cloud".
Comey also says Trump told him that he "had nothing to do with Russia" and "had not been involved with hookers in Russia."
Comey says he told the president that the bureau was investigating the matter as quickly as possible.
He said that he told Trump that he was not under investigation personally.
Trump abruptly fired Comey last month. He will testify tomorrow evening in front of Congress.
With AP and reporting from Cormac Fitzgerald