EVERY SATURDAY MORNING we take a look at all the best comments left on the site by our readers over the past seven days.
This week there was a lot of talk about Christmas, Antonio Martin and vegan diets.
So here are the standout comments from the week that was.
The 7 most popular comments this week
1. Sometimes the more succinct, the more popular the comment. Denis Reidy got 2,916 thumbs up for this.
Lets face it people, politics in this country is a disgrace
2. Following yesterday's High Court ruling, John Everyman got more than 2,515 (at last count) thumbs up.
Some dignity at last.
3. Helen Ryan makes a good point about St Stephen's Day sales. More than 1,962 readers (and this writer) agreed with her.
Christmas is Christmas – family time & a few days off; think of the unfortunate staff who have to work til 11pm on Christmas Eve to prepare the sale stock & then come in onSt Stephens Day – cant it wait a few more days & let them have a proper Christmas with their families.
4. Tom Red is a little hyperbolic, and gets 1,604 green thumbs.
This whole sad Irish Water fiasco must rate as one of the worst F**k ups by any government,
in the history of F**k ups by any government worldwide?.
5. On the Antonio Martin shooting, Michael Mctague collected 1,518 thumbs up for his take:
Man shot dead by police after drawing gun at petrol station would be a more accurate headline, rather than trying to drum up more hate for the police before really knowing what's happened. Already crowds on the scene and shops burning ?? Didn't see any riots after the two police officers were murdered?
6. Conor and 1,513 others took issue with Sky News coverage of the Glasgow bin truck crash.
Sky are the lowest of the low. Asking witnesses to describe people lying on the pavement. Ghouls.
7. This weather forecast from Mark Malone got him 1,396 green ones.
I saw a swallow peck at worms arse while facing south, after the full moon, it's going to be a cracking summer.
The top 6 articles which received the most comments this week
Source: Speaking of I.M.E.L.D.A./YouTube
1. Pro-choice activists tie pair of giant red knickers to Dáil gates (306 comments)
2. Poll: How will you vote in the same-sex marriage referendum? (298 comments)
3. 'Bad choices were made': Clashes as police confirm black teenager shot dead near Ferguson (229 comments)
4. Doctors told they can withdraw life support for clinically dead pregnant woman (223+ comments)
5. Amid claims of drunkenness, the Seanad has voted to pass the Water Services Bill (221 comments)
6. 'A vegan diet won't help cure cancer': Doctors warn against 'bogus' medical claims (198 comments)
Laugh of the week
Source: Tony Cuddihy/YouTube
Did you know powdered curry sauce was as popular as this in Ireland (and, hence, in Canada)? That one was lost on us.
Standout comments of the week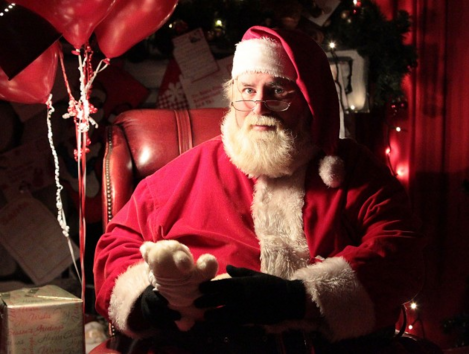 Source: Profile Events
We met Dan Young, the St Stephen's Green Shopping Centre Santa, last weekend. We also introduced him to more children. Laurie Berry said:
He is the best! We saw him today and my 7 year old hasn't stopped talking about him since! Thanks Santa, you are what it's all about, thanks journal for posting this, otherwise we would have missed this fantastic experience.
Santa himself shared lots of pearls of wisdom with us and was grateful for all the nice comments he received:
Oh Wow.Thanks everyone so much for your kind words. You don't know what it means to me. Yes, it can be taxing at times and doing it 7 days a week can be exhausting. But once again I face my last day of the season and I already miss it. Thanks again and I hope I have a chance to see you later.See you all in two sleeps. You just won't see me because you'll be asleep. ( Christmas Eve, remember?)
Meanwhile, our Emer over at DailyEdge.ie used Santy in a headline. Some people were not happy.
Joe Cocker passed away on Monday and Pontius Pilatus had this tribute.
Legend. Could rock n roll with the best of them and switch over to heavy soul music without a second thought. One of a handful of seriously good white soul artists throughout the years, and all the more exceptional that he made his name at a time when the best soul singers and musicians the world will ever see were at their peak alongside him.
At Christmas, we remember loved ones but some families go through a different type of grief, as Geraldine Mulpeter describes.
I can relate to the author's loss. This is the first year that my mam will spend in a nursing home. So it's just my dad and myself. In a way it's been three years since we really had her as that's the length of time she has been suffering from the dreaded alzheimers. Back in the good days when Christmas morning comes she would turn on every musical santa, snowman, whatever, to get me out of bed :) Of course Dad and I will visit her Thursday but it just won't be the same. Grief comes in all shapes and sizes. This Christmas I will grieve my lovely mammy.
And Niamh May reminded us it is not easy for a lot of families, for various reasons.
I remember a couple of years ago I hadn't a penny for Christmas. We managed to scrape a bit together for our own kids. It came to present swapping time in my mams and I hid, crying in the front room. This year, thankfully, we're a bit better off. I'll have something small to give my nieces and nephews on Christmas morning!!! I'm not dreading Christmas for the first time in years.
See any good comments? Send them on to sinead@thejournal.ie