Liveblog
It's Thursday and the hump has officially been cleared.
We'll be with you until 9am bringing all the traffic and travel info you need to get you through the day.
Good morning, everybody.
Cormac fitzgerald here on yet another bright and sunny morning bringing you all the traffic, travel and weather you need to get you through this day.
Let me know if you see if anything on your travels today: tweet me @cormfitz, email me cormac@thejournal.ie or leave a message in the comments (but do none of these while driving).
Okay, let's get started.
Right, we'll start where we normally start – with the weather.
So Met Éireann are saying that it will be a dry day with some hazy sunshine.
However, it will be a bit cloudier in the south and there will be some patchy light rain in the southwest.
Temperatures will be between 12 to 16 degrees and it will be warmest in the northwest and west.
So, all in all, maybe not as good as yesterday but certainly nothing to be sniffed at.
Now for traffic.
Sothe AA are reporting that it's getting busy already around Guild Street heading southbound.
No surprises there – here's how it was looking at about 7am:
The AA also have traffic building on the Swords Road inbound.
Google Maps traffic cams has it green (for not too bad) as of yet but some orange is creeping in.
To Dublin city centre, and it's moving slow across the north quays already – traffic looking like it's moving back as far as Benburb Street.

Speaking of Benburb Street, that's right beside the Croppes Memorial Park in Dublin where good aul Anna Livia lives: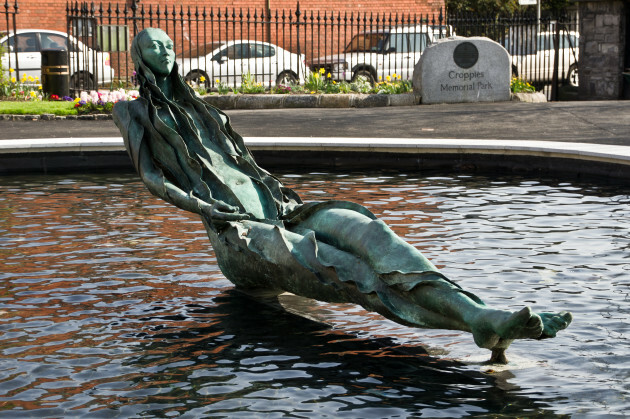 Source: William Murphy via Flickr
A better monument than the Spire? What do you think?
And of course, building Swords Road traffic means that it's probably already backed up in Drumcondra Road. Here's how it was looking as of 7.23:
The AA are also reporting that it's busy on the Phibsborough Road heading into town.
As many commuters will attest, Phibsboro is an endless stream of car engines and beeping in the mornings: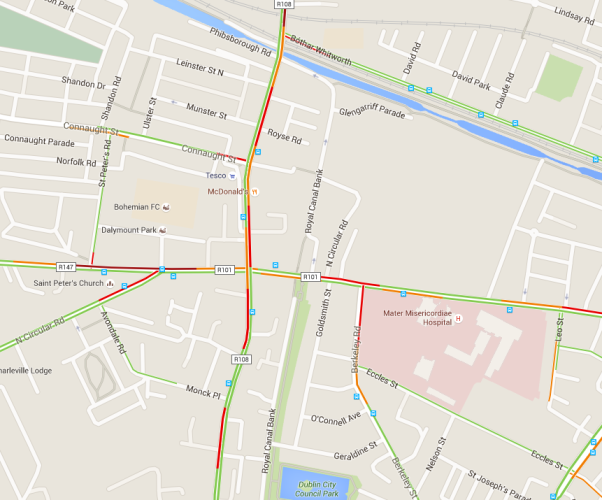 How are things looking where you are? See anything interesting on your commute?
Tweet me@cormfitz, email cormac@thejournal.ie or comment below with anything you have (not while driving, naturally).
The AA are reporting an incident at the junction of the Boot Road and N7 Naas Road in Clondalkin.
Careful on approach.
This coming in from Christina Foran – the M50 southbound from Lucan looking like a car park. Not a great thing to hear at 7.40 in the morning.
This would tie into what the AA are saying – busy on the M50 from J7 Lucan to J10 Ballymount.
Stepping outside of Dublin:
In Galway the AA are reporting that it's busy southbound on the N17 on the approach to Claregalway.
It's busy on Ballybrit Crescent too at the Galway Technology Park.
Things should be moving okay in Galway city at the moment.
Are they? Let me know – cormac@thejournal.ie, @cormfitz or leave a comment below.
In Cork, the AA are reporting that it's getting busy both ways on the N28 Ringaskiddy: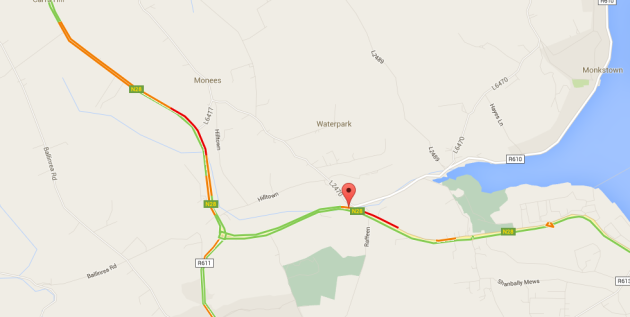 Source: Google Maps
It's also busy in Cork city centre: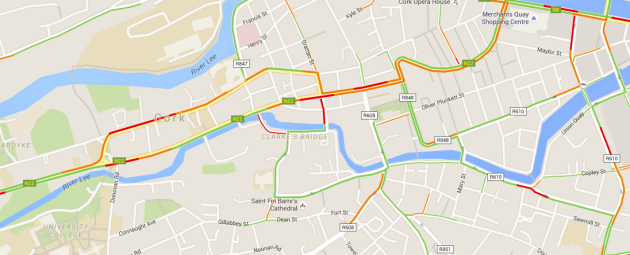 Back to Dublin, and the AA have traffic heavy eastbound on Kevin Street.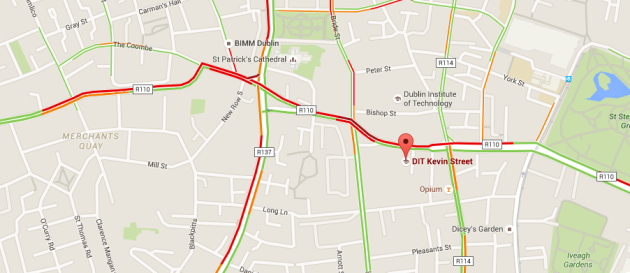 Might be best avoiding there if at all possible.
The AA report that the collision at the junction of the Boot Road and the N7 Naas Road has been cleared.
Traffic is heavy all along the the Grand Canal coming on from Harold's Cross.
Also busy in Rathmines and bumper to bumper coming onto Camden Street.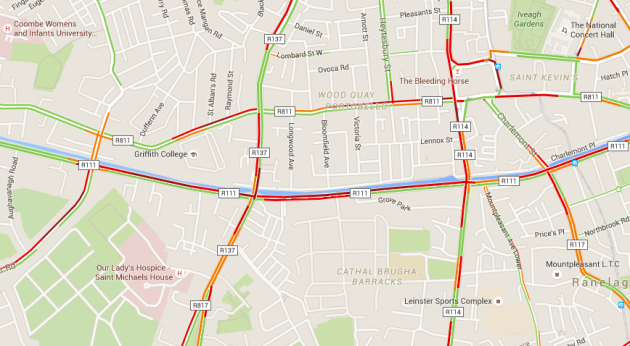 Traffic is busy now inbound at Fairview, all along Fairview Park and stretching back to Clontarf.
Busy on the Swords Road inbound and onto Drumcondra Road where traffic has really built up.
Still busy on the Phibsboro Road – stretching back towards Botanic Road.
Very busy all around.
On the M50, it looks like traffic is busy heading southbound, according to the AA.
Dublin city traffic cameras has it busy at Lucan: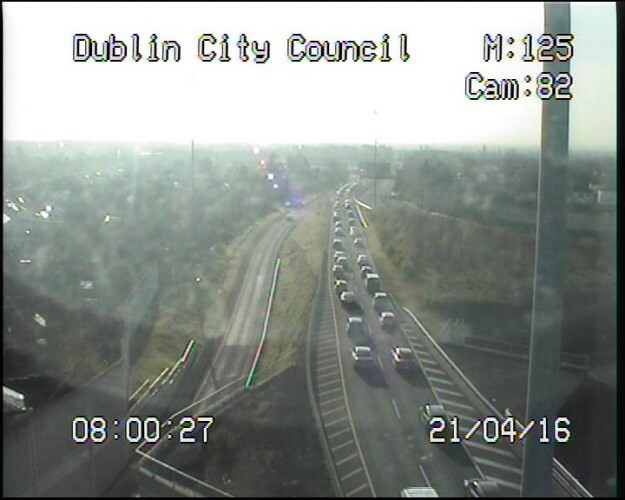 Also at the Red Cow, the cars look like they're bumper to bumper.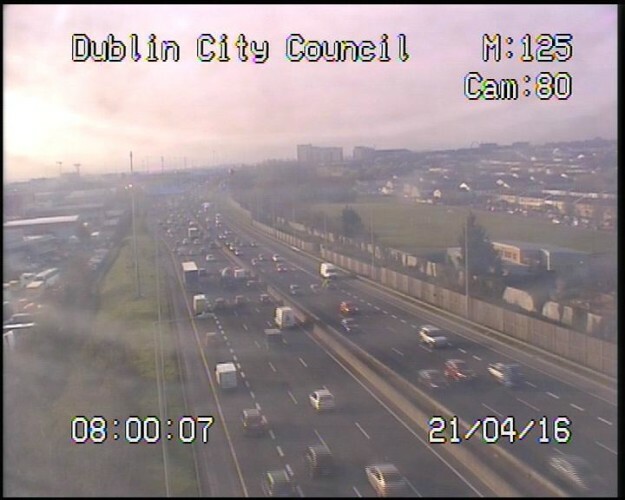 It's looking very busy on the N32 Malahide Road heading inbound.
Irish Rail are saying that the Belfast to Connolly train is being delayed by 30 minutes due to a mechanical issue.
Commuters are told to expect knock-on delays at all intermediate stations.
Irish Rail say it's actually the Connolly to Belfast that's delayed, not the other way around.
Back to traffic.
In Dublin.
The AA are saying that it's busy inbound on the N4 Lucan Road.
Still busy on the Rathmines Road Lower – inbound.
Also slow on the Stillorgan Road inbound.
Live Drive reporting a collision on the M50 northbound after Junction 12 Firhouse.
They're reporting it's in the auxiliary lane.
That crash is likely to slow things down even more on the M50.
Traffic already backed up there this morning.
Well, it's now officially 55 days since the general election and as of yet there is no government in Ireland.
Isabel Hayes has some great examples of things that have started and finished quicker than our elected politicians have formed a government.
They include:
The siege of Constantinople (53 days).
The recording of the Beatles' sixth studio album.
The entire filming on Wayne's World.
Yep.
The AA reporting that the crash on the M50 has been moved to the hard shoulder.
Still delays remain in passing Junction 12 Firhouse.
Taking another look at Cork.
The AA are reporting:
Delays both ways on the Wilton Road.

It's busy now in Cork centre.
There are delays on the N27 South City Link Road.
Delays on the Rochestown Road westbound.
Right, one more round up of today's traffic before I get lost for another day.
It's slow on the M50 now in both directions.
That earlier crash at Firhouse will lead to further delays: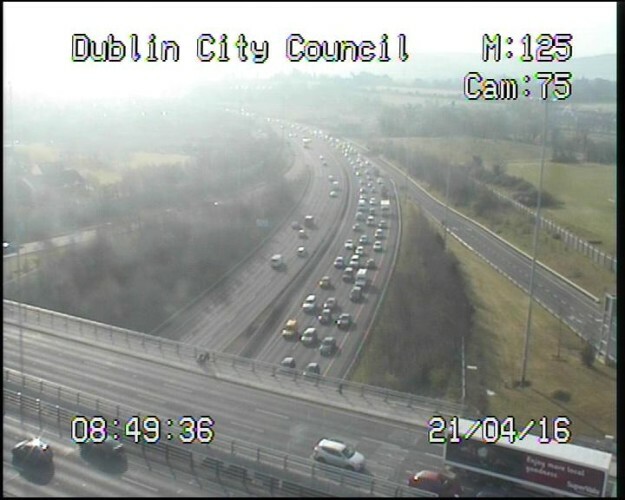 It's slow on the Rock Road also heading in.
Still slow on the Drumcondra Road and the Swords Road heading into the city centre also.
The AA have it busy still on Guild Street at the Docklands heading south.
It's also slow all along the North Quays in Dublin.
Well, another day, another round up of traffic completed.
Hopefully you're all where you need to be or at least close to getting there (which is all we can ever really ask for).
Have a great day. Back again tomorrow with traffic, travel and the morning news.
I'll leave you with this little-known Thursday track called, well, Thursday.
Source: mattaki/YouTube
Contribute to this story: