Source: Kelvin Ma/PA Images
THIS MORNING, MIXED Martial Arts champion Conor McGregor was charged with three counts of assault, and one count of criminal mischief.
The charges relate to an incident at the Barclay's Centre in Brooklyn at 1.30pm New York time, where a bus was damaged and two UFC fighters were injured.
It's a big story – the incident has led to the UFC cancelling three of its 13 fights scheduled for the weekend (two because of injuries, one because of the alleged involvement of one fighter in the attack). There are videos taken from the scene from a number of people all telling different stories.
So naturally, the world's media are interested. Here's what they've been reporting.
BBC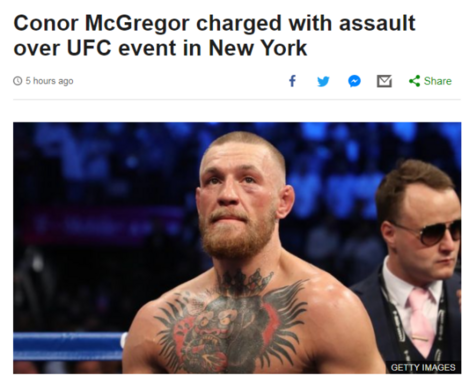 Source: BBC
The BBC reported that one of the fighters on the bus Michael Chiesa received "several facial cuts" and said he was "devastated" not to be able to face Anthony Pettis.
It also reported:
UFC released a statement saying Ray Borg had "multiple cornea abrasions" and would not be fighting Brandon Moreno.
Artem Lobov, who was due to take part in a featherweight bout with Alex Caceres, was also removed from the card due to his alleged "involvement in the incident", UFC said.
ESPN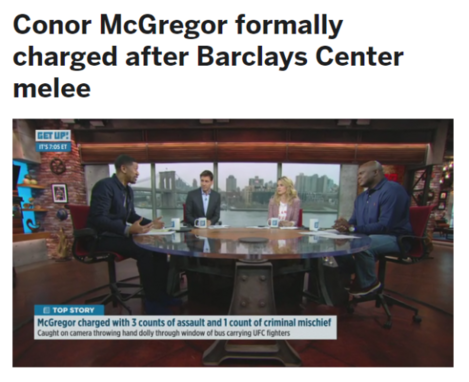 Source: ESPN
US sports channel ESPN had a round table discussion of the allegations, asking if the incident was just a part of the culture around the sport.
But UFC president Dana White also told ESPN that this was "the most disgusting thing that has ever happened in the history of this company".
Reuters

Source: Reuters
In a short piece, Reuters described the videos that circulated of the incident:
Video of the fracas circulated on social media showed objects being thrown at the van, and [there] were injured [from] glass fragments as windows were smashed.
The New York Times

Source: New York Times
The New York Times did a straight, bare-bones report of what happened, including quotes from Dana White and the UFC. They also included this paragraph at the end of McGregor's actions outside the arena:
"McGregor, 29, has not fought since August, when he held his own but lost in a boxing match against Floyd Mayweather Jr that was a ratings juggernaut.
Since then, he has picked up a $540 fine for going 98mph in a 62mph zone; told those who have threatened his life to "come and get me"; and jumped into a UFC cage to celebrate the victory of a friend, confronting and shoving a referee in the process.
A spokeswoman for McGregor did not immediately respond to an email from the NYT seeking comment.
TIME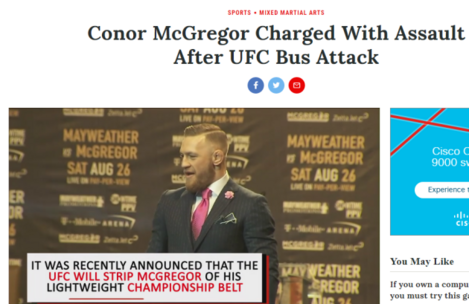 Source: TIME
TIME reported the event with a bit of context; juxtaposing his great achievements with this ruckus:
"But just 18 short months after McGregor headlined the most important night in UFC history", McGregor is charged with allegedly attacking a bus "filled with UFC fighters in a New York City loading dock, and was in police custody Thursday evening".
It continued to say that McGregor has been charged with "assaulting the sport that made him millions".
Independent.co.uk
The UK's Independent wrote a feature-style piece about the incident:
It is testament to the frankly unsustainable level of influence that McGregor holds over the UFC that the first sign his career could be in some form of mild peril was… when White finally decided to stop defending the superstar he has backed to the hilt on so many previous occasions.
His message was clear: McGregor has to sort out this mess on his own.
Comments have been closed as charges have been made