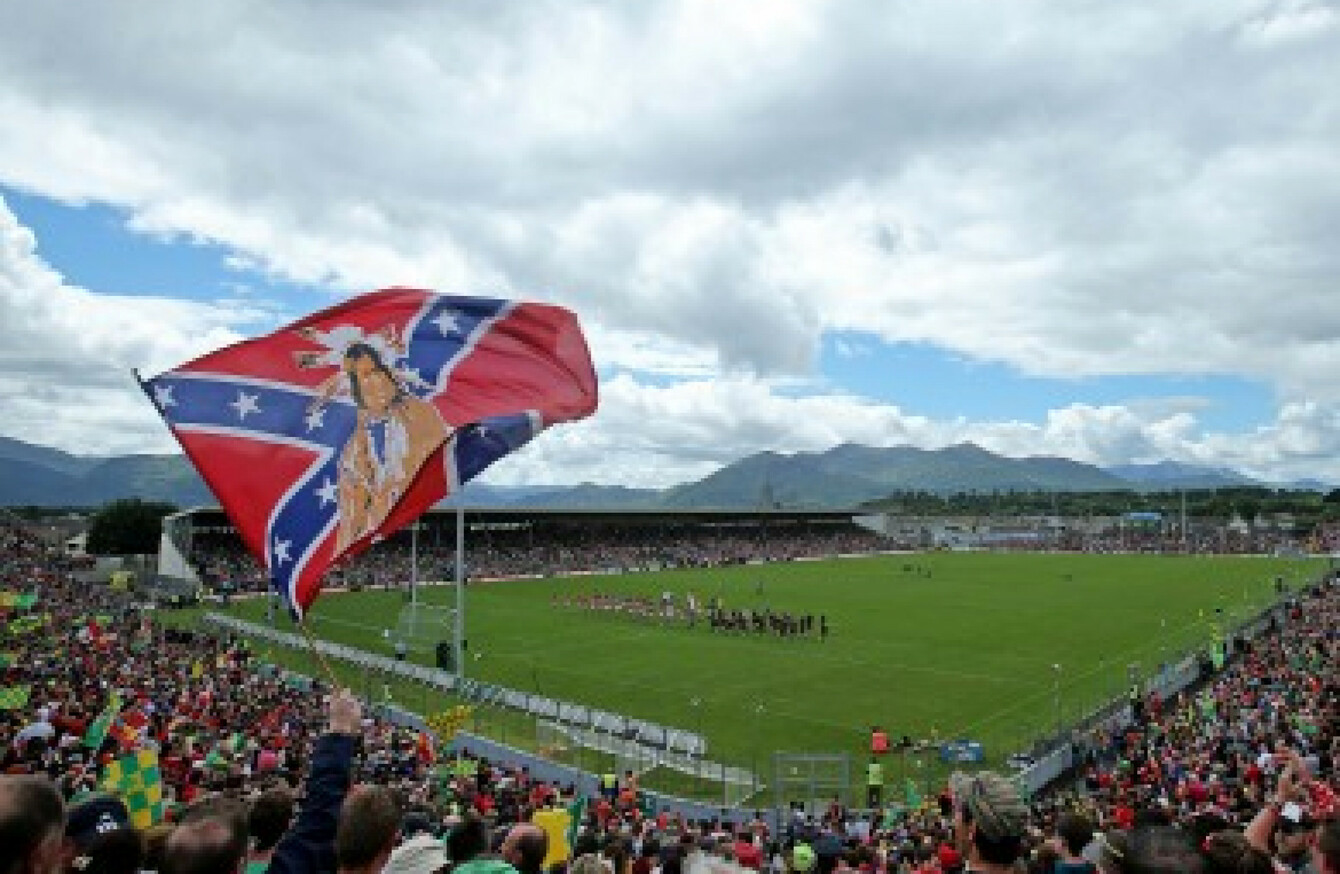 Cork fans have adopted a range of different flags.
Image: Donall Farmer/INPHO
Cork fans have adopted a range of different flags.
Image: Donall Farmer/INPHO
AT THE END of a week that saw a woman killed while protesting against Confederate flag waving white supremacists in Charlottesville, Virginia, the contentious flag again appeared amongst Cork supporters at Croke Park yesterday.
The Leesiders have a lengthy tradition of adopting all manner of flags. USA and Turkey flags are regularly seen amidst Cork crowds, while flags bearing the image of Che Guevara and even the Rising Sun flag, of the Imperial Japanese army, are also popular with the rebel faithful.
For several decades the Confederate flag has featured in this mix. However in recent years, as the full, problematic, context of the flag got a thorough airing, there have been increased appeals for Cork supporters to ditch the flag, which the National Association for the Advancement of Colored People in the US describe as a symbol of "hate and racism".
One group has said that while there may be no malice intended by the Cork fans who bring the flag, questions should be asked about the use of the symbol at GAA matches.
In the summer of 2015 GAA president Aogán Ó Fearghaíl urged the rebels to be vigilant in their use of the flag after it appeared at two Cork games shortly after mass murderer Dylann Roof killed nine people in a racially motivated attack on a church in South Carolina.
Pictures on Roof's Facebook page showed him posing with the flag while brandishing weapons.
However speaking at that time Munster GAA Chairman Jerry O'Sullivan dismissed the idea that the flag was problematic and said people can go too far with "political correctness".
"I'm no spring chicken and have seen those flags on terraces at venues throughout the country," O'Sullivan said to John Fogarty of The Irish Examiner.
"I don't think they are carried with any political message. I think we can go too far with political correctness as well. The only reason they're being held is because they are red and white."
Brian Killoran of the Immigrant Council of Ireland agrees with O'Sullivan that there is no malice in the intentions of the Cork supporters carrying the flag.
"From our point of view as an organisation we recognise that it doesn't come from a position of malice," he told TheJournal.ie today.
The use of the Confederate flag by Cork fans is something that comes from their own unique perspective being from Cork and it's not intended in any racially motivated way, it's not intended with any malice.
"But what I'd say is looking at the context of that flag internationally, how it's being used on a completely contemporary basis, today and yesterday and over the weekend.
"In places like the US, the history and the context and the use of that flag is really problematic.
"Now is an opportunity to reflect on the use of that flag and kind of say 'is this something that we want to keep doing?'"
So that's the kind of reflection we'd urge people to do. Look at the context of it and reflect on whether or not it's appropriate any more.
Cork County Board's Public Relations officer, Donal Leahy, said the board is meeting on Tuesday night and the matter will be discussed.
Charlottesville was the scene of violence and death over the weekend as white supremacists and neo-nazis marched to protest the planned removal of a statue of Confederate General Robert E. Lee.
Counter protester Heather Heyer was killed and 19 others were injured when a car rammed their anti-racist demonstration.
With reporting from Sean Murray.