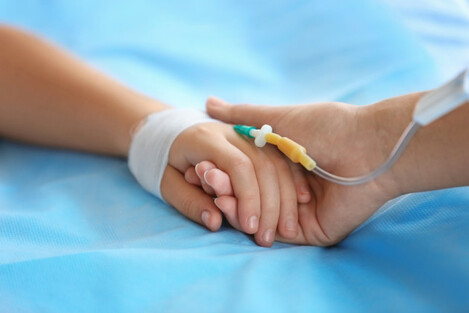 Source: Shutterstock/Africa Studio
For parents, the prospect of losing a child to illness is intensely painful and frightening. Sometimes, parents use me as a sounding board because with so much emotion in the mix, it can be hard to maintain clarity of thought and to make decisions that are true to their values.
DR AIDAN MCKIERNAN is a Senior Clinical Psychologist at the LauraLynn Children's Hospice, the only hospice service in the country for children.
There are almost 4,000 children in Ireland who have a life-limiting illness, and half of those children have palliative care needs. The children they care for have a broad range of illnesses, he says, from cardiac problems, cancer, congenital problems, or a high level of physical or intellectual disability.
There are a range of complex medical needs that form part of these children's long-term care; added to that is the mental and emotional strain that they and their families go through.
Part of McKiernan's role is to offer talking therapy to parents, siblings and other family members free of charge as part of the LauraLynn Hospice. Over the years, he's been in all kinds of scenarios in attempts to facilitate what families need during a very stressful period – from one-on-one sessions to group sessions, to sessions at hospital or in the family home.
One in four or five families will be interested in availing of psychological support, he says.
Having a sick child can really put a strain on relationships. So I listen to the caregivers, perhaps a mam or a dad, and talk through the very intense feelings they're having. Talking through things can help process those feelings. And this brings some relief.
"Sometimes my work is about helping families to speak more openly with each other. It can be hard for a family to talk openly about the seriousness of the child's condition."
He says that there are some things that help almost all families caring for a child who is seriously ill.
"One of the main things is to take support where they can get it, and that can be hard for some families – to ask for support."
Accepting help when it's offered can then help free up space for the family for themselves, as there's a "huge unpredictability" when a child is sick and the routine of the family can get disrupted, "which is difficult for the whole family, siblings in particular".
"Try to break up the continuous nature of the stress by find something in the week, or the month even, that is light and enjoyable. Find something in the week or month that gives you the opportunity to feel a positive emotion."
He says that faith can be a great comfort for some families too, others less so. Whatever the source, he says that it is important to find meaning which is about seeing and feeling that "there's more to life than tending to one task after the next – that we are part of something bigger, be it nature, community, the divine".
"To set personal goals, however modest, and be able to achieve them within some framework or scaffolding can also be helpful."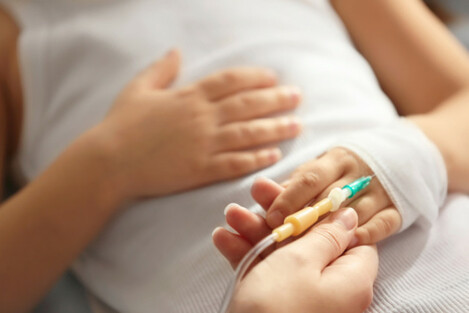 Source: Shutterstock/Africa Studio
Fathers
In McKiernan's experience, is there a difference between how open fathers are about their feelings, compared with mothers?
"Broadly speaking there is – men and women have different communications styles. Women use communication to nurture their relationships and to support each other, while men are more inclined to speak to impart information.
"When I explain this to a group with parents, I tell them: 'A man and a woman come back from holiday, and the woman will talk about the vibe in the place, and the good food options, and the feeling and what stood out. Whereas a man will talk about the price of the food, the practicalities, etc.
But when men do talk about their feelings they've a good ability to do that. Also people have the right to or to not talk.
The important thing is to let men who are going through this to know that you're there to talk if they want to open up, he said.
Siblings
He said that siblings can sometimes need space to themselves to talk about where they're at and what their concerns are.
When asked if they're sometimes left out of the loop because parents are trying to protect them from getting upset, McKiernan says things have changed in the last 5 years and there's a greater emphasis on being open and transparent within the family.
He says that studies have shown that children's capacity to understand death evolves over time, and that simple age-appropriate language can help involve them. Of course, the time and place must be right.
"So for example, you could say: 'Sarah has a problem with her heart, it doesn't beat fast enough. Medicine won't make her better and Sarah will die. And when she dies, her body won't feel anymore pain and we will never forget Sarah."
He says that for teenagers, they will understand a bit clearer that death is forever, but that it's important to stress with them that they are well and that perhaps the condition is quite rare and the same problem won't affect their health, if this is the case.
Usually what I look at with siblings is: are they holding their own in school? Are they continuing to show interest in their hobbies and friends? Do they feel like they have some say?
Parents' main concerns
The main concerns that parents have are the care demands that are on them, and a good number will talk about how their home can have "a clinical feel on account of the medications and equipment required", McKiernan says.
"They talk about their grief at the idea of losing a child, the impact on the siblings, their financial concerns… Very often families are not getting enough support, and there's a very high care burden on them."
McKiernan says that he talks to many parents about the feeling of guilt they experience.
"More than sadness, fear and anger, guilt is the feeling I hear most about from parents.
It's important for families to understand what these emotions are communicating. In the case of guilt, this probably evolved as a way of making us safe by keeping our behaviour in check. Back then, if we behaved in a way that the group disapproved of we'd be ousted and we'd perish. So, guilt keeps us in line.
But grief is also triggered when a situation is bad. Often parents describe to me this gnawing, intense experience of guilt. What we see is that the situation is 'wrong'. It's not fair or just, but not their fault.
He adds that it's important for families to look after themselves.
"In families with a child with a life-limiting illness, there's a high level of distress and relationships can come under strain. There are often stress-related problems and mental health issues including anxiety and depression, so it's important to talk through the issues if you can."
This week is Children's Hospice Week – you can find out more about it here.