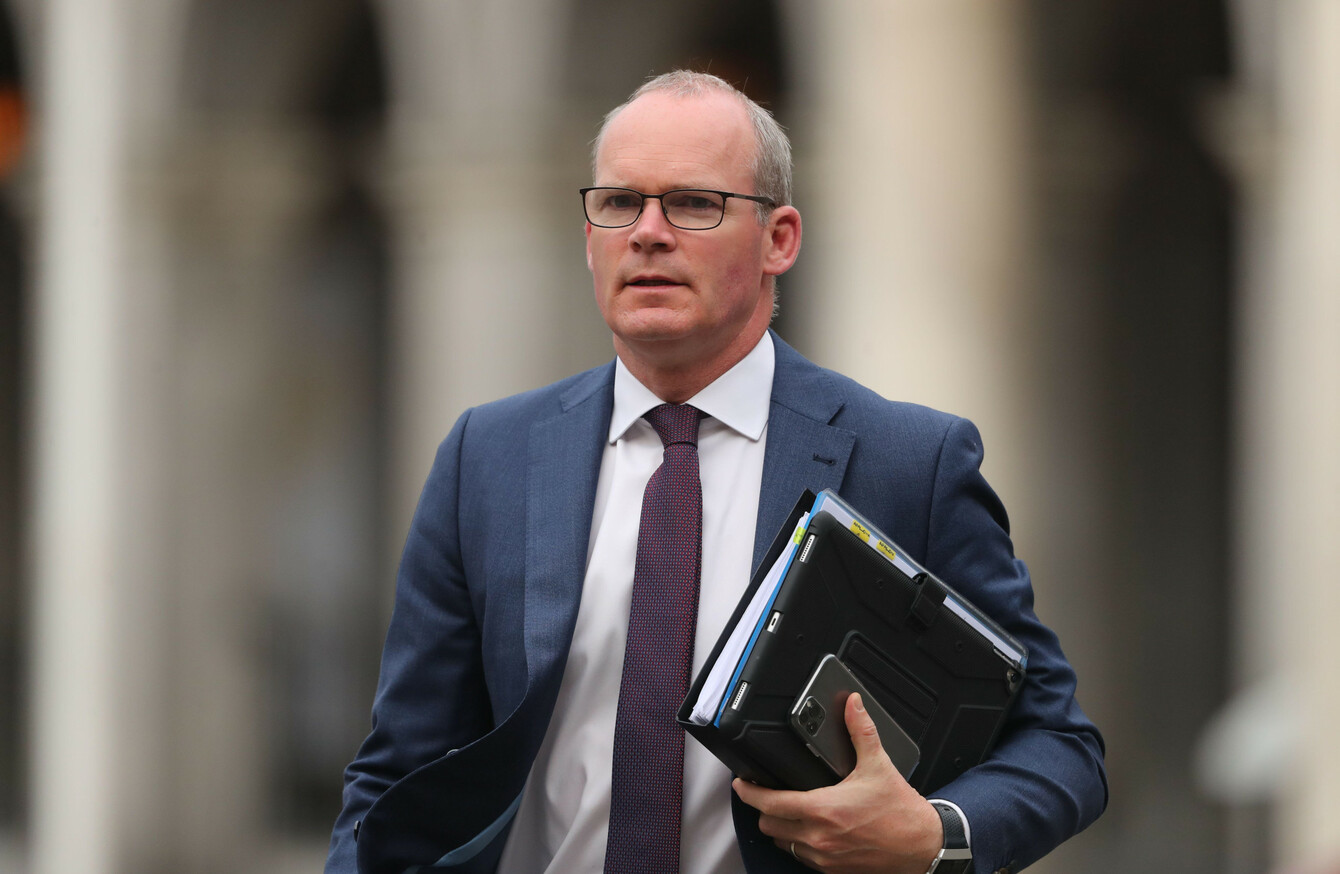 Foreign Affairs Minister Simon Coveney (file photo)
Image: Alamy Stock Photo
Foreign Affairs Minister Simon Coveney (file photo)
Image: Alamy Stock Photo
Updated Sep 7th 2021, 1:00 PM
FOREIGN AFFAIRS MINISTER Simon Coveney has apologised for mistakes he made in relation to the abandoned appointment of former Minister Katherine Zappone as a special envoy to the UN.
Coveney appeared before an Oireachtas Committee today where he was grilled further on the controversy, following an initial appearance last week. 
Speaking to the foreign affairs committee, Coveney said: "The first thing I want to do is apologise to all the committee members for creating the circumstances that require a second hearing in a week, on the same issue of the appointment of a special envoy.
"Due to the sloppiness of some of my answers to your legitimate questions last week, we are back here again in order to, I hope, bring clarity to any outstanding issues once and for all."
The Department of Foreign Affairs yesterday published 111 documents pertaining to the planned appointment of Zappone.
They showed that the former minister texted Coveney to thank him for "this incredible opportunity" in early March, months before the Cabinet signed off on the part-time position in controversial circumstances in late July.
Coveney today said the issue has "rumbled on for far too long and should have come to an end on the basis of a clear and credible explanation before now".
He told the committee that Zappone "did not ask me for a job, at any stage".
He continued:
"She did text me for advice, on 22 February, about the possibility of working with USAID on women, gender equality and LGBTQ issues, and whether I could make an introduction for her. That's all she looked for from me at that point and I didn't respond."
The documents released yesterday showed Zappone texted Coveney in February seeking an introduction to USAID's Irish-American administrator Samantha Power. 
Coveney said: 
"Secondly, the idea of Katherine Zappone playing a role for the Irish Government came about from a short conversation I had with my Secretary General on the 24 February after a meeting, when I raised the question as to whether she might be of use to our team at the UN.
"I hadn't spoken to Katherine at that stage. The Secretary General responded positively, but said he wanted to take some time to think about it. I told Katherine of that conversation in a phone call on the 26 February and agreed to come back to her when the Secretary General had any update.
"Niall Burgess subsequently came back to me a few days later – as he confirmed to this committee last week – to say that the Biden Administration would be appointing a Special Envoy for LGBTI+ Rights and that he was interested in the Department exploring the benefits of such a role for Ireland.
"So it was in that context that I raised the possibility of a special envoy role with Katherine Zappone and asked her if she'd be interested in such a role should the Department develop and recommend it.
"That phone call was on the 3 March and triggered a text to me from Katherine the following day enthusiastically thanking me for the opportunity. But it wasn't a job offer at that stage, as I made it very clear that the concept needed to be developed by the department, which is exactly what subsequently happened as the files show."
SF John Brady now asking about what discussions were had between Coveney and Paschal Donohoe.

Coveney says there was an 'informal' discussion in late Jan/early Feb with Donohoe.

Donohoe said he may get contact from Zappone on taking advice about working with the UN in NYC

— Christina Finn (@christinafinn8) September 7, 2021
Coveney added: "Looking back now, I should have been clearer with Katherine on the extent of the work needed in the Department before a formal role could be offered to her."
He told the committee that in hindsight, he should have responded to Zappone's "enthusiastic" texts, saying that she was "excited" about the possibility of the role. 
He added that it would have been helpful for him to clarify, by replying to her text in which she thanked him for the opportunity, and telling her that it was not a job offer at that point "but rather a concept".
Coveney said he should have got back to her and said "look there is no done deal here, we have to go through a process".
The minister said at "no point" did he go back to encourage Zappone, stating that if anything, he didn't correspond with her about the role, and left the matter with the department.
He said he didn't speak to Zappone again until 19 July, "despite the fact that she had been looking for updates, and that brief conversation was just to confirm her meetings with Niall Burgess in Dublin to try to finalise matters".
The minister admitted he "made mistakes in recent weeks, in failing to convincingly explain how this role came about, and therefore contributing to what has become a political embarrassment for the Government".
He added: "But despite that, I hope that the documents before you today will confirm the department's due diligence on the potential benefits of this role for Ireland and the clear suitability of Katherine Zappone for the job proposed.
"My department is now reviewing the role and appointment process of special envoys for the future. I agree with the Taoiseach that from now on, should a special envoy be recommended, we should ensure an open competitive process to fill any such position."
Questions 
When asked today about Zappone seeking an introduction to Samantha Power, Coveney said that he did not know Power well enough to make such an introduction, nor did he see it as appropriate, so he didn't do it. 
Social Democrats TD Gary Gannon asked Coveney today why – at the time – he thought it might be worth going off to examine a possible role for Zappone, despite believing her message two days previously seeking an introduction with Power was inappropriate. 
"I thought she was a suitable candidate," he said.
Fianna Fáil Senator Catherine Ardagh said she found the narrative that Zappone "misunderstood" what was being offered to her in March "beggars belief", and asked why an experienced former minister "would get the message wrong".
She asked if anyone had spoken with Zappone about the whole controversy in recent times. 
Coveney said he had called her last Sunday as a "courtesy" to say the Department would be releasing an extensive file of documents on Monday.
#Open journalism No news is bad news Support The Journal

Your contributions will help us continue to deliver the stories that are important to you

Support us now
The minister said it wasn't a long conversation. 
Zappone asked Coveney what was being released, and he went through the texts she had sent.
Dealing with the issue of his deleted text messages, Coveney told the committee that he does so when a conversation about a matter has ended but that he does not delete messages about official business. 
"Anything to do with government business is the property of the Department, and I certainly do not – and will not – clear messages that relate to government business on my phone. I'm talking about other interactions that I have; when issues are closed I simply move on."
Coveney added that he was "very pleased" that Tánaiste Leo Varadkar released his text messages last week about the Zappone role and the Merrion Hotel event as he didn't have them on his own phone, having deleted them.
The minister's deletion of texts is partly the reason for the scheduling of today's second committee hearing on this issue. 
Speaking last week he admitted he had deleted a number of text messages exchanged with Zappone and Varadkar in relation to the role and the Merrion event.
He later said that he clears his phone on a regular basis because it has previously been hacked.
The government was accused by the opposition of bringing Freedom if Information legislation "into disrepute" in the wake of his admissions. 
With reporting by Adam Daly and Órla Ryan