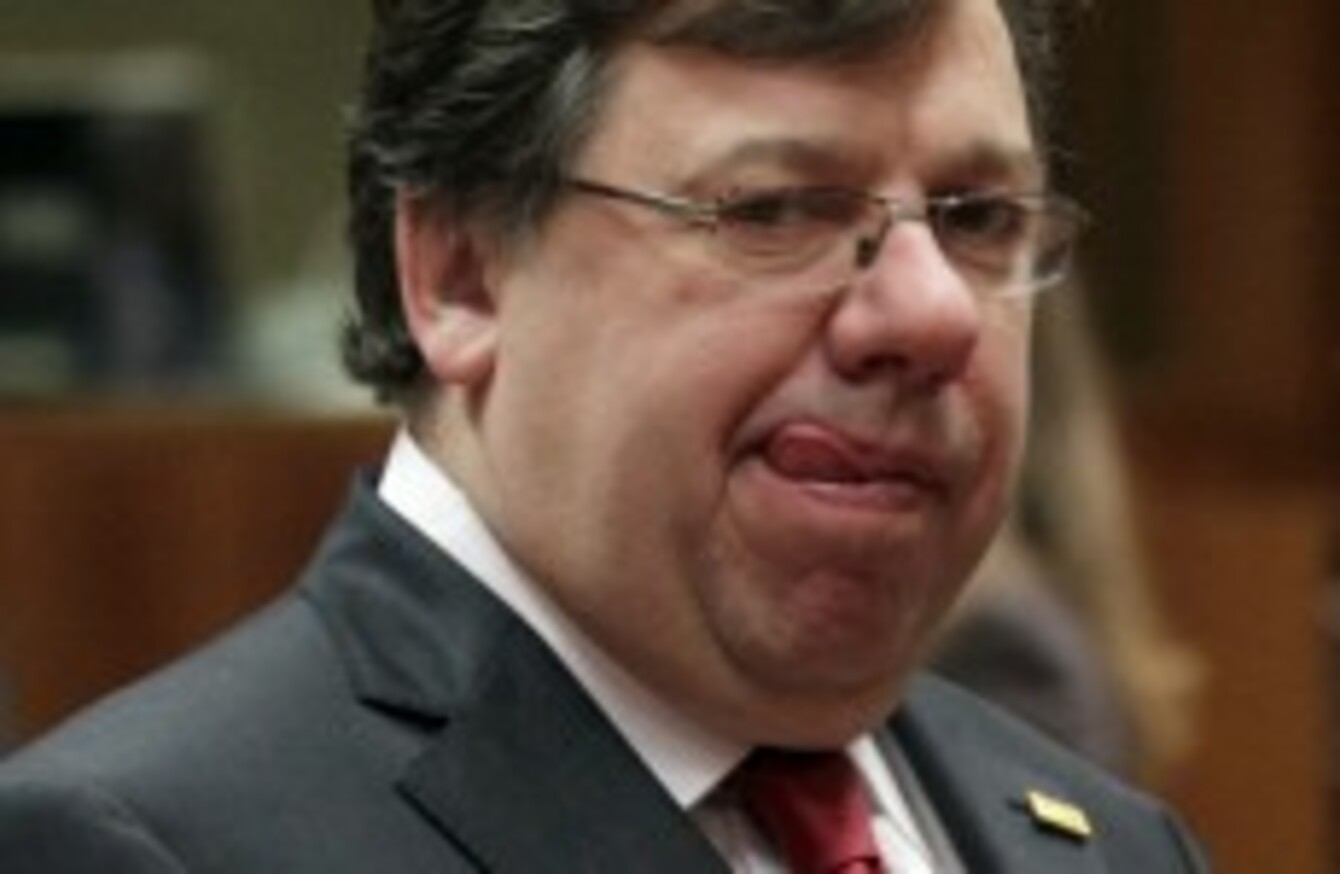 Image: Yves Logghe/AP
Image: Yves Logghe/AP
BRIAN COWEN has tonight insisted that there was no 'impropriety' on his part in his meetings with former Anglo chairman Seán FitzPatrick, ahead of the publication of a new book including interviews with the former Anglo chief.
In a statement issued late tonight, Cowen insisted that although he had met FitzPatrick for a game of golf in July 2008 – just weeks before the government was forced to issue its blanket bank guarantee – there had been no discussion of the bank's affairs.
"I want to take this opportunity to utterly refute any suggestions of impropriety on my part arising out of the recent publication of a book about Seán FitzPatrick," Cowen's statement read.
"As I confirmed this weekend, I did attend a golf outing in July 2008 organised by a friend Fintan Drury which Mr FitzPatrick also attended. I am quite clear that no discussions regarding Anglo Irish Bank took place.
"It was a social outing in full public view. There was nothing untoward, no hidden or secret agenda and no concessions, favours or interventions requested or granted. Certain people are drawing inferences for political and other motives, they are malicious, unfounded and have no basis in fact."
Cowen continued:
The second issue being discussed is a phone call I took from Mr FitzPatrick while in Asia during the St Patrick's Day period of 2008 when I was Minister for Finance. This phone call related to concerns Mr FitzPatrick had about the market situation in relation to the bank's shares.

As I confirmed in the Dáil as far back as February 2009, as Minister for Finance, I had been informed by the Governor of the Central Bank in early March 2008, that a situation was developing in regard to the contracts for difference issue in Anglo Irish Bank. The exact scale and detail of the difficulty was not known at that point.
The statement goes on:
Prior to talking to Mr FitzPatrick, I spoke with the Governor. Having listened to Mr FitzPatrick I told him I would refer the issue to the Governor of the Central Bank. The Central Bank and the Regulator subsequently followed up on the issue at a meeting with Anglo Irish Bank which I understand was held in the Central Bank Headquarters on Good Friday the 21st March 2008.

The continuing attempt to suggest that the Government's approach to the affairs of Anglo Irish Bank was influenced by political or any inappropriate considerations is utterly without foundation. The facts in this instance demonstrate that as do the findings of the independent review carried out by Professor Honohan which similarly found that "there is no evidence or hint of corrupt regulatory forbearance.
Earlier this evening, the Green Party had confirmed that Cowen would be giving a "comprehensive statement" in the Dáil on Wednesday morning, outlining the exact nature of his relationship with FitzPatrick.
Cowen and FitzPatrick's now infamous golf game was first reported in yesterday's Sunday Times, taking excerpts from a new book of interviews given to the paper's writers, Tom Lyons and Brian Carey.