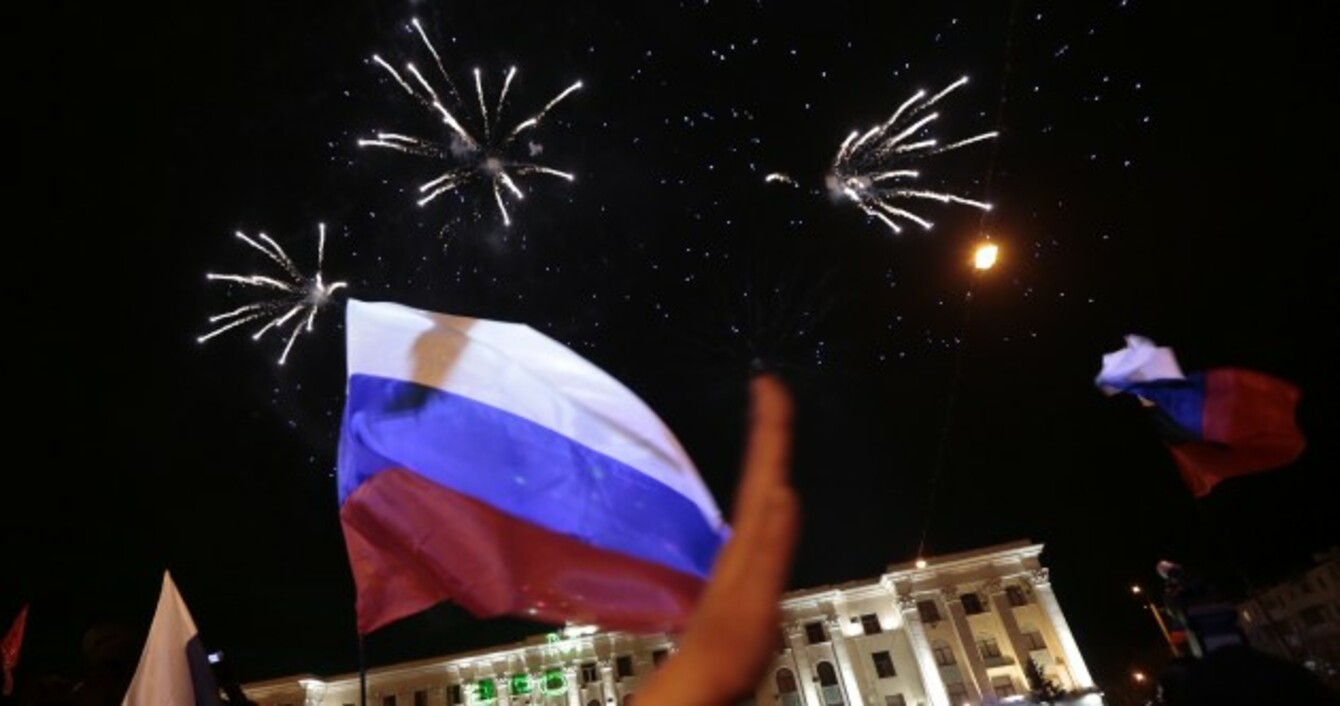 Pro-Russian people celebrate in Lenin Square in Ukraine last night
Image: AP Phoo/Ivan Sekretarev
Pro-Russian people celebrate in Lenin Square in Ukraine last night
Image: AP Phoo/Ivan Sekretarev
Updated 2.45pm
THE EUROPEAN UNION and Washington have sanctioned top Russians and Ukrainians deemed responsible for a breakaway vote in Crimea that has fanned the worst East-West standoff since the Cold War.
Official results from Sunday's disputed referendum showed 96.77 per cent of voters in the mostly Russian-speaking region of Ukraine had opted for Kremlin rule in what would be the most radical redrawing of the map of Europe since Kosovo's 2008 declaration of independence from Serbia.
Crimea's lawmakers have today formally asked to join Russia and vowed to disband Ukrainian military units stationed across the region — a move that threatens to inflame the raging security crisis on the European Union's eastern frontier.
The head of Crimea's Russia-backed leader Sergei Aksyonov gestures in Lenin Square in Ukraine last night (Pic: AP Photo/Max Vetrov)
The joint response from the European Union and Washington was both swift and tough.
EU foreign ministers unveiled travel bans and asset freezes against 13 Russian officials and eight Ukrainian officials from Crimea, but did not identify them.
Lithuanian Foreign Minister Linas Linkevicius tweeted that there would be "more EU measures in (a) few days".
(@LinkeviciusL/Twitter)
The group was officially targeted "for undermining the sovereignty of Ukraine". Crimea has been under effective control of Russian troops and pro-Kremlin militia since the start of the month.
Reprisal
The EU's punitive measures were followed minutes later by a White House announcement that the United States was imposing financial sanctions on seven top Russian government officials and lawmakers in reprisal for the Kremlin's incursion.
The White House said Ukraine's ousted pro-Kremlin president Viktor Yanukovych, a former top adviser and two "separatist" officials in Crimea would also face punitive steps.
Pro-Russian people celebrate in Lenin Square in Ukraine last night. (AP Photo/Ivan Sekretarev)
Russian media said others on the US list included upper house of parliament speaker Valentina Matviyenko and Deputy Prime Minister Dmitry Rogozin — responsible for overseeing Russia's military and industrial sector.
The Western allies have tried to put up a united front against Russian President Vladimir Putin's blunt attempts to stamp his authority on post-Soviet regions he views as part of Moscow's historic domain.
'Illegal' referendum
The White House said US President Barack Obama warned Putin on Sunday that "in coordination with our European partners, we are prepared to impose additional costs on Russia for its actions."
Pro-Russian demonstrators crowd around Ukrainian police during a rally earlier today. (AP Photo/Andrey Basevich)
Diplomats in Brussels also said EU and Ukrainian leaders would on Friday sign the political portion of an Association Agreement whose rejection by the old pro-Kremlin team in November sparked the first wave of Kiev protests.
Most of the international community has rejected the Crimea referendum as illegal because Russia had vowed to respect its neighbour's territorial integrity under a 1994 agreement that saw Ukraine renounce its Soviet-era nuclear arms.
But the government in Crimea followed up with a series of measures to sever ties with Kiev — including seizing Ukrainian institutions and even plans to push the peninsula two hours forward and put it on Moscow time.
Troops
Ukraine's interim president Oleksandr Turchynov denounced the vote as a "great farce" and watched from a podium as agitated lawmakers approved a partial mobilisation of the army aimed at countering Russian troops' effective seizure of Crimea at the beginning of March.
A pro-Russian solider stands outside a Ukrainian military base earlier today. (AP Photo/Vadim Ghirda)
The ex-Soviet nation's acting defence minister Igor Tenyukh also told reporters that the "troops deployed (in Crimea) will stay there".
Putin has signalled he has no intention of turning back on what he describes as his defence of ethnic Russians who — according to Moscow — have come under increasing attack from Ukrainian ultra-nationalists since last month's ouster of Yanukovych by a far more nationalist but Western-leaning team.
Special address
The Kremlin said Putin "emphasised" to Obama that the referendum "was fully in line with the norms of international law and the UN charter".
Foreign ministers Urmas Paet of Estonia, William Hague of Britain, and Laurent Fabius of France, during the EU foreign ministers council in Brussels today. (AP Photo/Yves Logghe)
It said Putin pointed out "the well-known precedent of Kosovo" — a mostly Muslim region of former Soviet ally Yugoslavia whose independence is backed by Washington but not recognised by the Kremlin.
Putin on Tuesday will make a special address on the crisis that will be attended by lawmakers from Russia's two houses of parliament. Crimea's self-declared leader Sergiy Aksyonov also said he was flying to Moscow Monday for talks.
Russia's lower house of parliament is expected to debate legislation on Friday simplifying the process under which the Kremlin can annex another part of a sovereign state.
Assets seized
The overwhelming margin of victory for the pro-Kremlin camp underscores the mistrust the heavily Russified southeast of Ukraine shares for the European leanings of those who rose to power on the back of three months of deadly protests in Kiev.
Pro-Ukrainian activists outside the EU Council meeting in Brussels today. (AP Photo/Gert Vanden Wjingaert)
But not everyone in Crimea was happy with the result.
Some ethnic Ukrainians expressed bewilderment at a referendum that presented them with only two choices: join Russia or go back to a 1992 constitution under which Crimea became a de facto sovereign state.
The status quo or better terms with Kiev were not options — a reality that along with the massive presence of Russian troops across the region prompted British Foreign Secretary William Hague to call the vote a "mockery" of democracy.
Economics
One of the greatest uncertainties hanging over Crimea itself is how the economically devastated region that relies on Kiev for everything from energy to water can survive in the span it would take to formally be accepted as a part of Russia.
Volunteers line up outside the parliament building in Kiev today. (AP Photo/David Azia)
Crimea's self-declared leader Aksyonov tweeted that the region had received a 15-billion-ruble ($410-million, 295-million-euro) aid package from Moscow.
Crimean lawmakers also claimed rights to the pipelines as well as offshore oil and natural gas platforms of Ukraine's state-owned Chornomorneftegaz and Ukrtransgaz energy firms.
Russia's finance ministry meanwhile suggested turning Crimea into a temporary low-tax zone aimed at helping the region deal with the transition.
But more nationalist voices in Ukraine are calling on Kiev authorities to cut off Crimea from basic supplies in effort to get its leaders to reverse course.
- Additional reporting by Christine Bohan
Originally published 7.21am