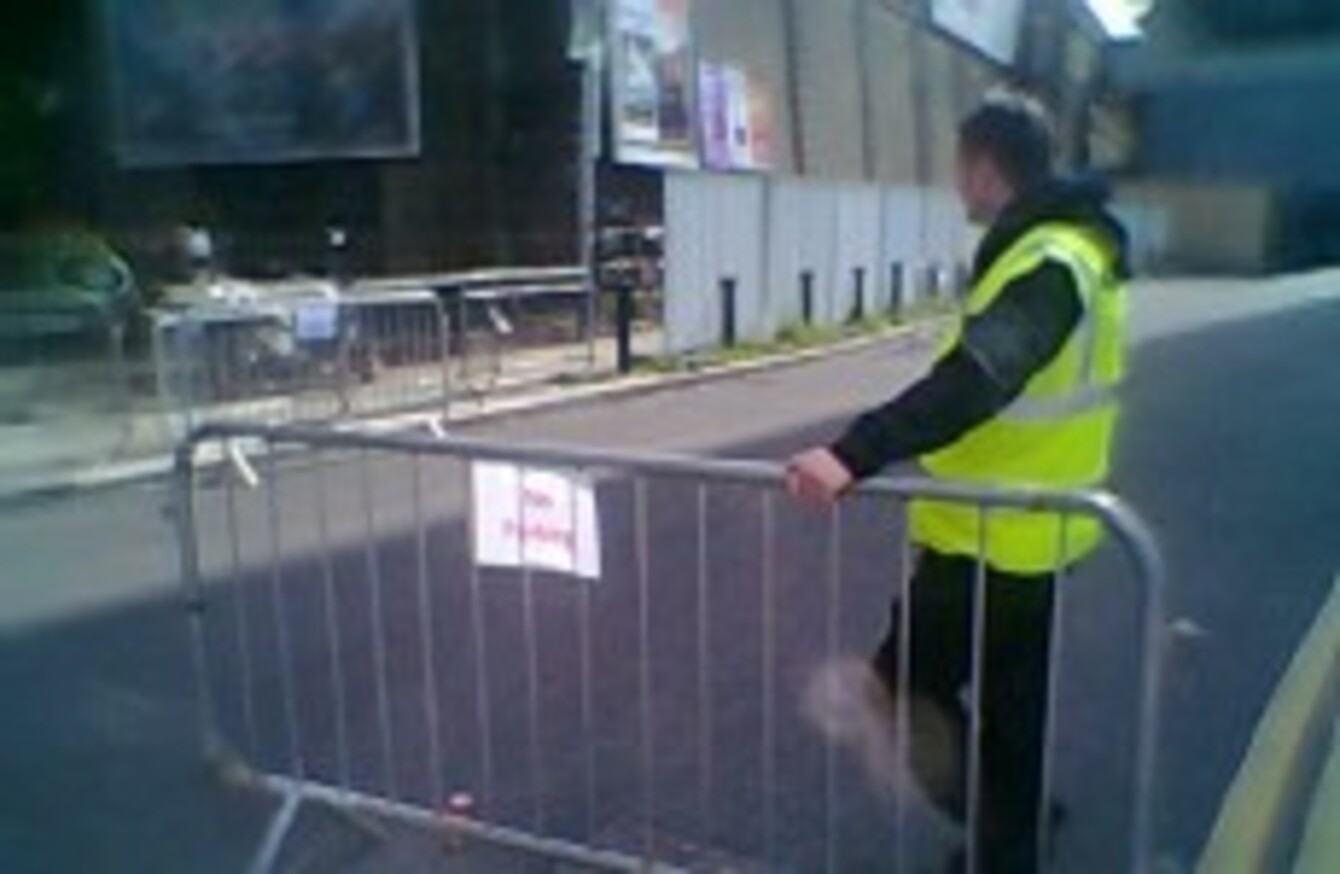 Barriers already in place ahead of One Direction concerts in Croke Park.
Barriers already in place ahead of One Direction concerts in Croke Park.
UPDATED 4.24pm
CROKE PARK HAS said that security staff are working today to prevent One Direction fans from queuing too early in the local residential area.
Responding to concerns that security guards were in place from 7am this morning, a spokesperson said Croke Park, MCD Promotions and the gardaí are "very conscious of the local community in all aspects of planning for the One Direction concerts this weekend".
"Security stewards have been in place around the stadium since 7am this morning to monitor, observe and report on activity and work with the Gardaí in relation to any issues with access and concert patrons arriving early into residential areas nearest the stadium."
The spokesperson also said that residents have not been denied access to their homes or business.
"No road closures are in place."
Earlier, some residents expressed their concerns about security staff being in place this morning.
They said they had made an official complaint to gardaí, claiming they had been denied access and parking.
Locals have been vocal about the upcoming Garth Brooks' and One Direction gigs which are taking place at the Dublin stadium. They have repeated calls for the number of special events at the stadium to be reduced.
Labour Relations Commission chief Kieran Mulvey was appointed to chair talks between residents, GAA bosses and promoters with the aim of solving the dispute over the number of concerts being held at the stadium, but residents have called the process "a sham".
Preparations for the One Direction concerts, which will begin tomorrow night, have already got underway:
Angry residents
Eamon O'Brien, Croke Park Streets Committees and Irish Stadium Communities Association, said the "lock down" of the area has already begun. 

Local resident Peter Branagan told TheJournal.ie, that his understanding of the law is that only a uniformed gardaí has the powers to direct persons away from a cordoned area, citing section 21 of Criminal Justice Public Order Act 1994:
… a member of the Garda Síochána not below the rank of superintendent that it is necessary in the interests of safety or for the purpose of preserving order to restrict the access of persons to a place where an event is taking or is about to take place which attracts, or is likely to attract, a large assembly of persons….
It goes on to say that only a member of the Garda Síochána is permitted to erect a barrier or a series of barriers on any road, street, lane, alley or other means of access in a one mile radius.
Law
The law states that where a barrier has been erected only "a member of the Garda Síochána in uniform may by oral or manual direction or by the exhibition of any notice or sign… divert persons generally or particularly and whether in or on vehicles or on foot to another means of access to the event, including a means of access to that event on foot only…".
Branagan pointed out that this is not just in relation to the One Direction concerts, but that it is an ongoing issue, saying the whole matter has been "handled disgracefully".
"It goes on all the time. I've pointed it out to the gardaí before, I have gone to the land registry and pointed out boundary areas, but I'm just ignored," he said.
In relation to passes that the gardaí say are for residents access, he said that there is no law that states that a resident must display a pass in order to access their home.
"No security personnel has the right to stop me having access to my street regardless of whether I have a pass or not. It's outrageous," he said.
He added that he had no problem if it was properly implemented, saying:
Only the gardaí have authority to restrict access. If there are barriers in place I should be able to just say I live here and be able to drive through, simple as that. There is no legal authority for them to stop me going to my house.
In a statement, gardaí said that if anyone wishes to make a complaint about any issue they should contact their local station.
They said that any such reports will be fully investigated, but they would not confirm correspondence from third parties as such reports are confidential.
Croke Park also noted that there is a local community team in place, as well as a dedicated 1800 number to deal with any issues around the concert set up.