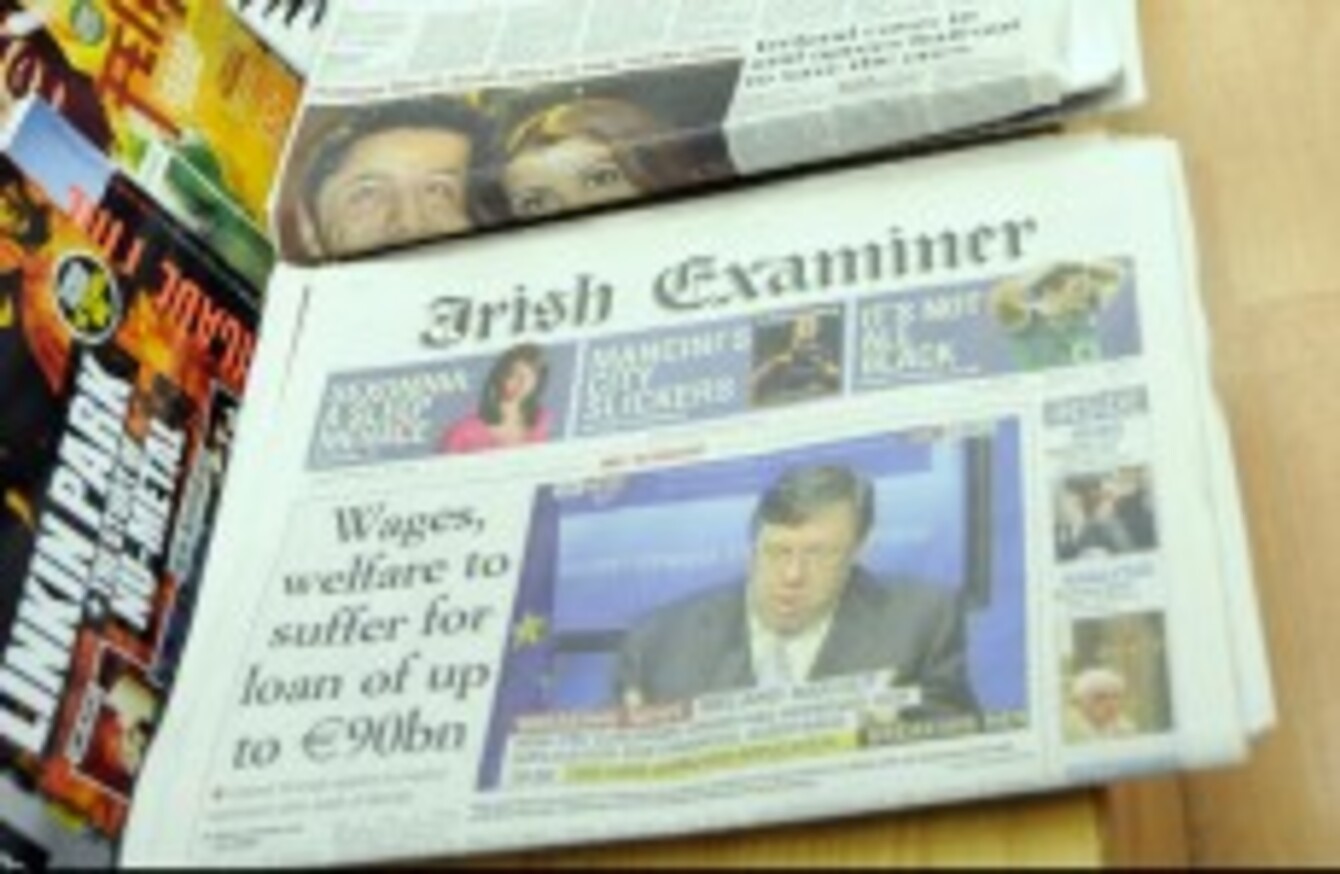 Image: Eleanor Keegan/Photocall Ireland
Image: Eleanor Keegan/Photocall Ireland
CHAIRMAN OF THE media group which publishes the Irish Examiner and the Sunday Business Post has said that newspapers should benefit from the introduction of a public service broadcasting levy.
Speaking at a conference on media diversity in Dublin today, Alan Crosbie of Thomas Crosbie Holdings said the Minister for Communications now has an opportunity to acknowledge the contribution made by newspapers to public service broadcasting. In his speech, he also said "new media" had the "capacity to destroy civil society".
By recognising newspapers within the remits of the proposed public broadcasting levy Pat Rabbitte could "step away from tradition" and reduce the "dangerous dependence on advertising", according to Crosbie.
Dissemination of information is too important to depend on the vagaries of advertising…We really do actually care what we do in terms of news. And relying on advertising revenue to support what is critical, is frankly irresponsible."
Many organisations are currently suffering because of a lack of advertising revenue, he continued.
Public service is not something RTÉ owns…It is a public service for any organisation to devote professional people to finding out, fact checking and publishing information in the public good."
Last month, Rabbitte indicated that he is considering replacing the current television licence with a household broadcasting charge. The levy would be placed on all households regardless if they had a TV set or not.
Crosbie argued that the TV licence fee should be increased so that RTÉ could "become a BBC" but noted that would be a political impossibility at present.
Crosbie has been chairman of TCH since March 2001 after stepping down as chief executive of subsidiary Examiner Publications, which publishes titles including the Irish Examiner, Western People and the Waterford News and Star.
Capacity to destroy civil society
Addressing an audience at the Radisson Blu Hotel in Dublin city earlier today, Crosbie also warned of the "threat to humanity" posed by new media and called for Government regulation in the area.
Citing a "tsunami of unverifiable data" and vulgar abuse, he said that new media has the "capacity to destroy civil society and cause unimaginable suffering".
He accused governments of "walking away" from their regulatory roles because they are afraid of "appearing to be repressive".
Information can be reduced to chaos, he warned, as good information requires money.
The key difference between the information the reader of one of those solid Sunday newspapers chews through, and many other sources of information, is that the newspaper stuff has been gathered by trained, professional reporters, filtered by trained, professional editors, considered, in some cases, by lawyers, sub-edited and double-checked before it arrives with the reader."
The newspaper executive claimed that information coming from newspapers, TV and radio all hold provenance, adding that newspapers should not all be "tarred with the same black brush that [Rupert] Murdoch created".
However, he did acknowledge that new media delivers views, opinions and different angles on stories. He also said there were "great news websites out there than deliver solid data".
The question is not if new media can deliver. It does. What's missing is knowing whether what they deliver is good or bad, sourced or made-up.
The dissemination of information is greater than it has been at any other time and Crosbie claims that if individuals and society wants trustworthy information it should value the people and organisations that produce it.
- additional reporting by Sinead O'Carroll