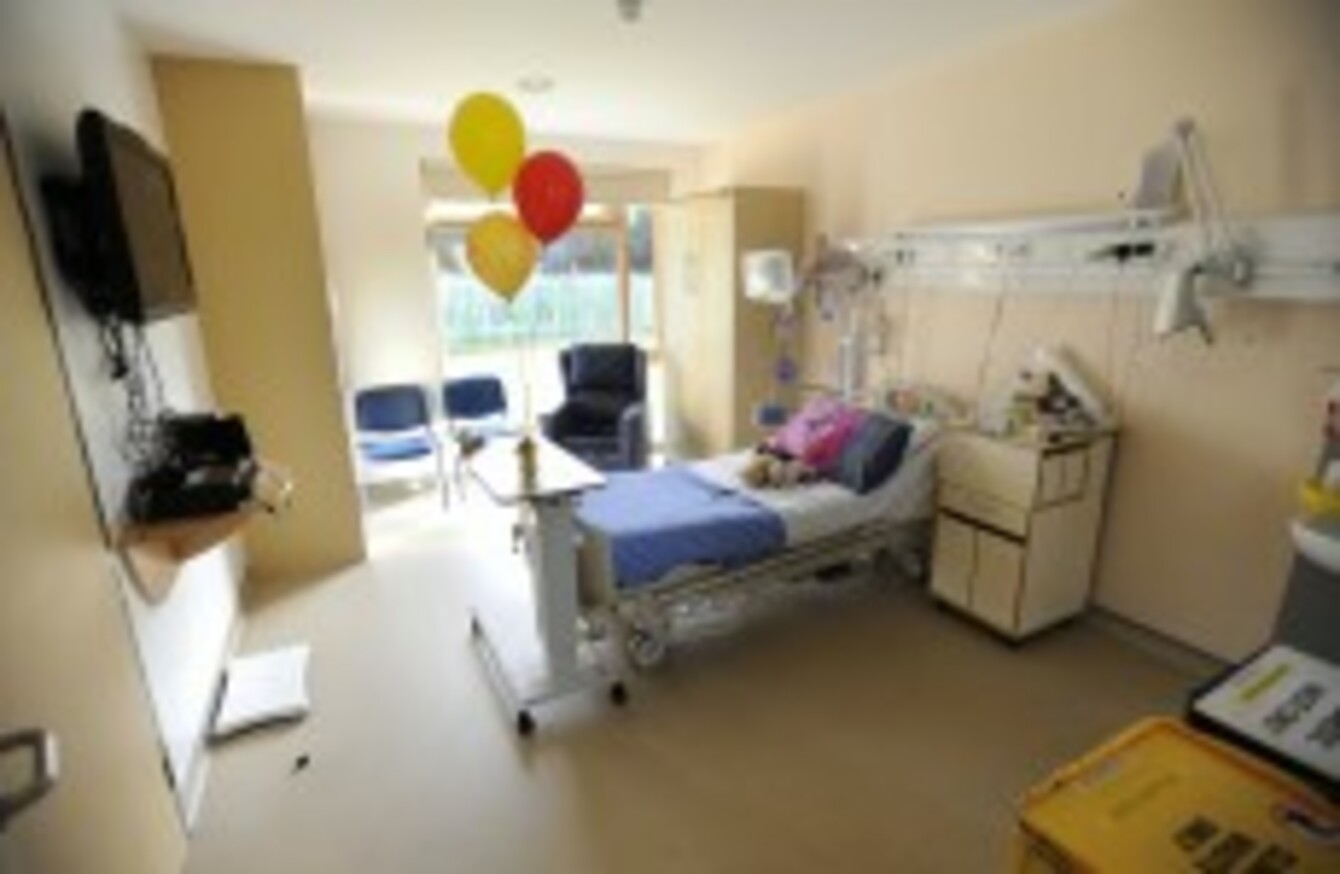 A room in Crumlin Hospital
Image: Sasko Lazarov/Photocall Ireland
A room in Crumlin Hospital
Image: Sasko Lazarov/Photocall Ireland
CRUMLIN CHILDREN'S HOSPITAL has said it mistakenly told 18 families that their children may have been contaminated by a bug found on hospital equipment.
However the Dublin hospital has now said that seven other children have been told that they may have been infected by bacteria on the contaminated scope.
The head of the HSE has blasted the hospital and said described the situation as a 'catastrophic failure'.
The hospital blamed a mix-up with two colonoscopy machines for the mistake. It said that the two machines had failed a quality assurance check and one was found to be contaminated with ESBL – but the wrong group of children were informed that they had been contaminated.
Speaking before the Oireachtas Health Committee this morning, HSE Director General Tony O'Brien said that there were major concerns about the incident.
"No amount of spin from PR companies on behalf of the hospital can mask the seriousness of this," he said.
Our Lady's Children Hospital went public with the possible contamination on Tuesday night when it said that a routine sterilisation of equipment used to perform colonoscopies had discovered a microbiological growth which has been identified as ESBL. ESBL are bacteria that live in the bowel and which cannot be treated by commonly used antibiotics, according to the Health Protection Surveillance Centre.
ESBL are not harmful for most people but can sometimes cause infection in vulnerable patients. Our Lady's Children's Hospital said there was no immediate impact on the children's health.
The hospital said all seven families have now been contacted and it is sending them information packs and sample stool testing kits. The families can take the samples themselves or have it done at the hospital.
The hospital said it has offered full tests to the original 18 children to reassure them that they are not at risk of being infected.
If any of the children are found to be infected with the ESBL bug, the hospital said it will provide them and their family with all the necessary information and support.
The hospital apologised to all concerned for any distress caused and said no other patients or hospital services were affected by the incident. A formal investigation is to begin to examine the cause of the contamination.