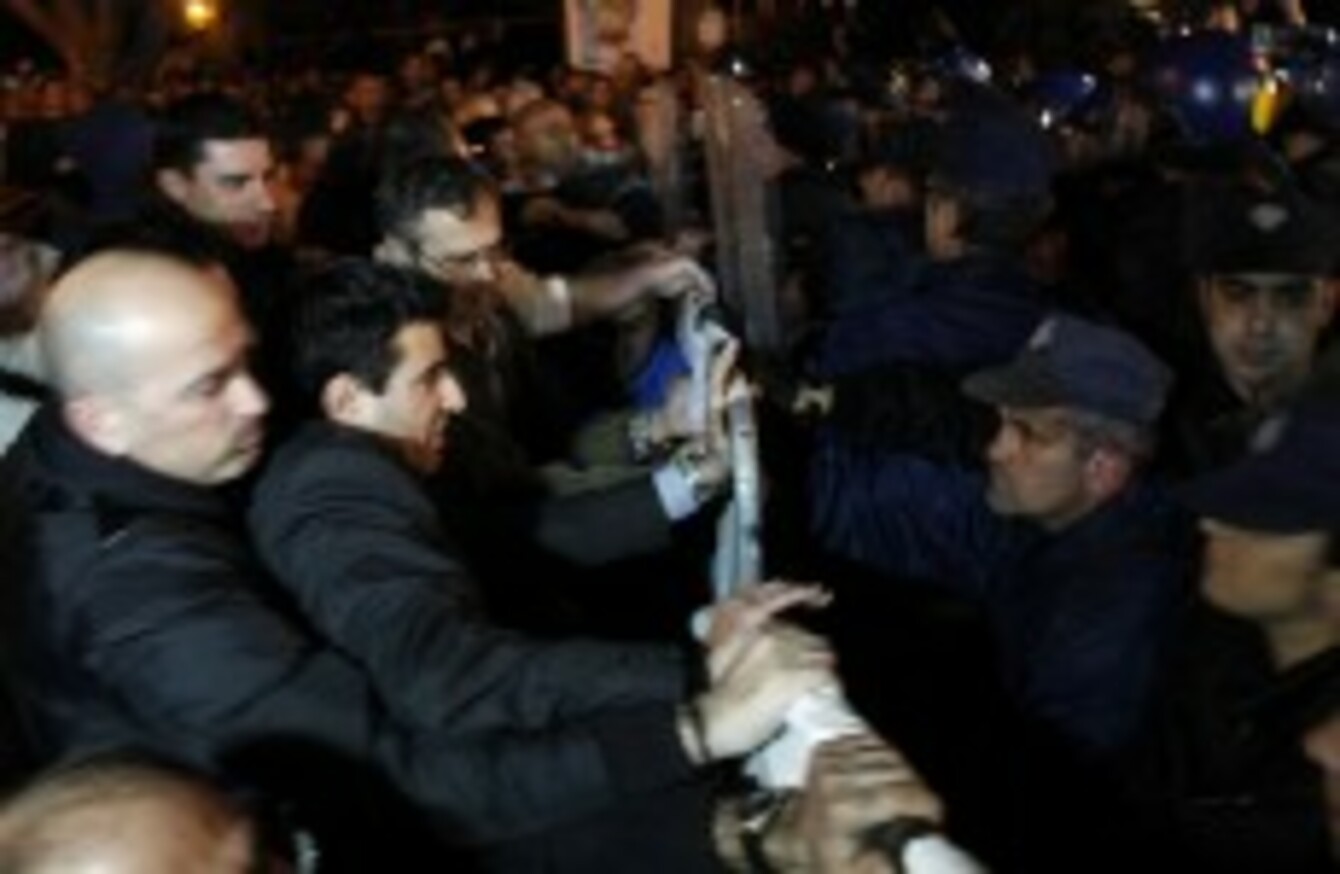 Employees of Laiki Bank, left, push barriers as riot police try to stop them during an anti-bailout protest outside the Cypriot parliament in Nicosia, Cyprus
Image: Petros Karadjias/AP/Press Association Images
Employees of Laiki Bank, left, push barriers as riot police try to stop them during an anti-bailout protest outside the Cypriot parliament in Nicosia, Cyprus
Image: Petros Karadjias/AP/Press Association Images
THE EUROGROUP HAS said it is ready to discuss a new proposal with the Cypriot authorities.
In a statement this evening, the Eurogroup said it had held a teleconference, and that following this it "stands ready to discuss with the Cypriot authorities a draft new proposal, which it expects the Cyprus authorities to present as rapidly as possible".
The Eurogroup would subsequently, on the basis of a Troika analysis that needs to be undertaken, be prepared to continue negotiations in an adjustment programme, while respecting the parameters defined earlier by the Eurogroup. After the conclusion of such negotiations the Cyprus authorities should begin legislating the elements of such an agreement.
The Eurogroup also reaffirmed the importance of fully guaranteeing deposits below €100,000 in the EU, adding that the Euro area member states continue to stand ready to assist the Cypriot people in their reform efforts and ensure the stability of the euro area as a whole.
Also this evening, Sky News reports that Cyprus's second biggest lender has limited cash withdrawals.
Meanwhile, employees of Laiki Bank are among those who took part in an anti-bailout protest outside the Cypriot parliament in Nicosia today.
RTÉ reports that a bill has been submitted to the country's parliament that would allow capital controls to be imposed on banks.
Banks will remain closed until Tuesday. Earlier today, Bank of Cyprus said that it urged a bailout deal to save the island from ruin.