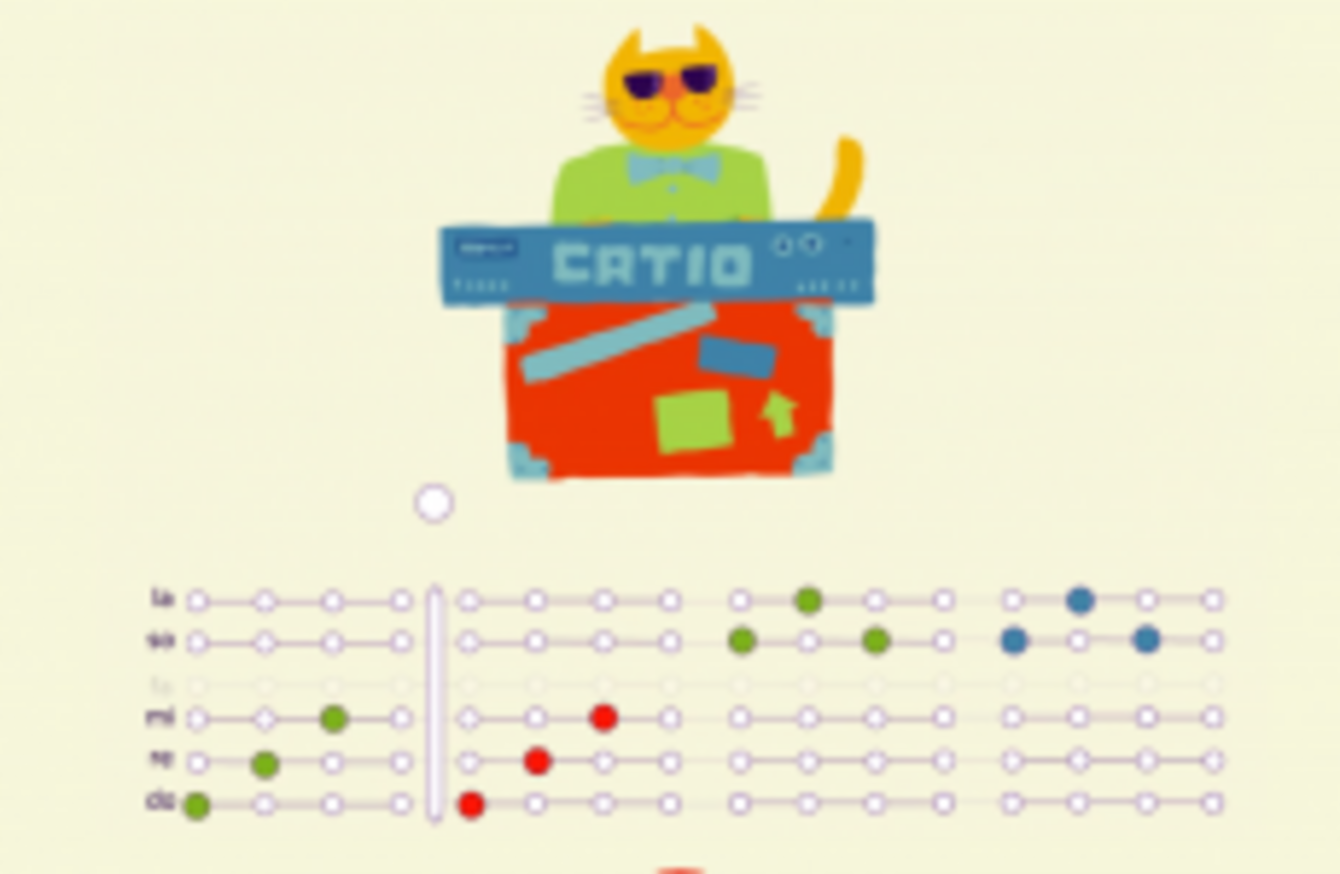 CAN AN OCTOPUS called Igor and a feline named Jazz Cat help children learn about music?
That's what Irish music programme Dabbledoo wants to prove. A new way of teaching music, it is based on animated graphic notation, and Shane McKenna (32) – who founded the programme – explained:
It's an easy way to get a group performance going in the classroom, using colours and shapes. The kids can then learn through performances.
That means none of this:
And lots of this:
Dabbledoo is aimed at primary school children aged from six to 12, and Shane thought up the idea after studying alternative types of music notation (how music is written down) for his Masters in Trinity College Dublin.
He wanted to come up with a type of notation "that can be used by loads of different people, regardless of their previous musical experience".
Animated graphic notation is being used within the avant garde music realm, but Dabbledoo brings it into the educational space.
The website is in beta mode right now, and is available for free, so that teachers can begin using it right away for no cost. The intention is that it fits right into the existing music curriculum.
But is it easy for children to understand?
"A lot of the way they learn from early primary school is making connections between symbols and sounds," explained Shane. "When they're learning the alphabet, they learn symbols, and connect sounds to each one, and create sounds out of that."
A lot of the idea behind the whole graphic notation is we are born ready to listen to music. From a very young age we can distinguish different melodies and respond to different rhythms.
"Another big reason [for setting up Dabbledoo] was that in primary schools, teachers aren't music specialists, and music – I find even after studying it for a few years – is a difficult subject to teach," added Shane.
"In primary school, the majority of teachers don't have specialist musical training."
https://vine.co/v/OYAU9OB5iZg
Sound and vision
After setting up Dabbledoo in 2010, Shane held workshops in and outside of schools, to find out the best way to make the system work.
To come up with the symbols and shapes that are used in the notation, he had adults interpret abstract shapes and symbols vocally, and then correlated the results.
We found that there are loads of visual connections that we all would put the same sounds to.
Cillian, a visual artist, came on board to work on the characters (which include Igor the Octopus and Jazz Cat) and artwork.
A Fundit was set up which raised €4,000 for the website, and designer Trevor Finnegan and software developer Brian Michael Thornton then became involved.
The site can be used with the interactive whiteboards that most Irish classrooms now sport.
Making it sound good
"A lot of the kids' music stuff is really twee, really badly produced, horrible-sounding stuff that people think is 'good enough' for kids," said Shane. "We want to make it really good, really well-produced music."
The music Jazz Cat plays, for example, is actually jazz musician Johnny Taylor, based in Dublin, tinkling the ivories.
Though they haven't been successful in getting to meet officials at the Department of Education or Department of Arts, Heritage and Gaeltacht, Dabbledoo have had a lot of contact with teachers, who have invited them into their classrooms to introduce their pupils to the music.
But the idea is that teachers can just use the programme without needing their help. In order to gather some funds, they will be introducing a subscription element in the future with some extras, such as new lesson plans and tutorial videos, but the site will remain free.
It's also notable that Dabbledoo is for students of all abilities. "We didn't want to put any barriers in the way for teachers," said Shane.
What do you think of the Dabbledoo idea? Tell us in the comments.