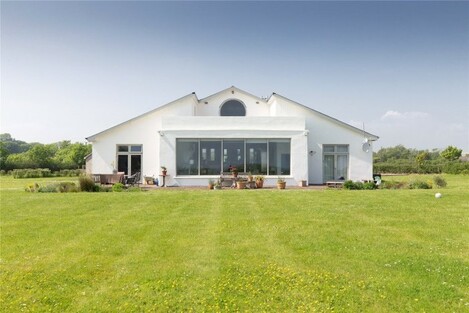 Source: Daft
COMMANDING VIEWS OVER Ballycotton Bay and Lighthouse, anyone who buys this impressive four-bed home near Midleton in east Cork will probably have to make-do with a queue of friends vying to stay the night.
Sitting on 1.75 acres, the blue flag beach of Ardnahinch is a mere five minute drive away, with the towns of Midleton and Castlemartyr accessible in 15. While you can be at Cork Airport's check-in desk in 40 minutes, one look inside may make you think twice about leaving.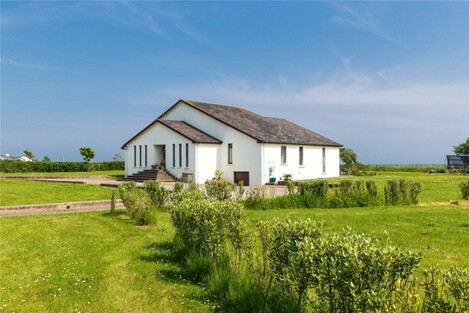 The kitchen, dining and living area combine farmhouse and industrial features. A large double Aga and a vaulted ceiling add to the traditional vibe, while domed pendant lamp shades bring in elements of modernity. The ceiling's shape shows off a large round feature window that brings extra light to the space.
For an extra modern touch, this room is wired for surround sound – handy for those who fancy some relaxing tunes while taking in the impressive views of Ballycotton Bay from the wall-to-wall windows.
The sunken sitting room resides the east of the house. Steps lead down either side of this family room and, further on, double doors connect to the large patio and back garden.
The perfectly positioned pendant shades lead the eyes to aforementioned vaulted ceiling in the kitchen and dining area, making this a truly social space that's made for entertaining.
Off the hallway sits a pantry/utility room that would undoubtedly be a saving grace if the kitchen gets too crowded. Fully fitted storage units, a Belfast sink and a chrome double oven could certainly take a load off.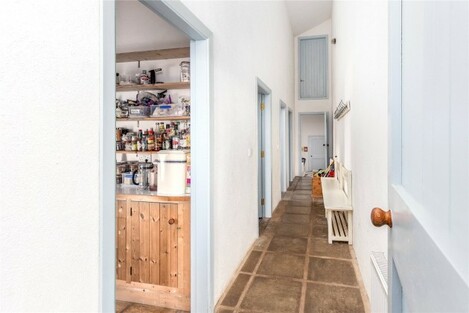 Source: Daft
Similar in layout to the main living area, the master bedroom is accessed by steps from one side mirroring those that lead to the en suite bathroom. High ceilings with recessed lighting and a double door to the patio area means there's no shortage of light.
Source: Daft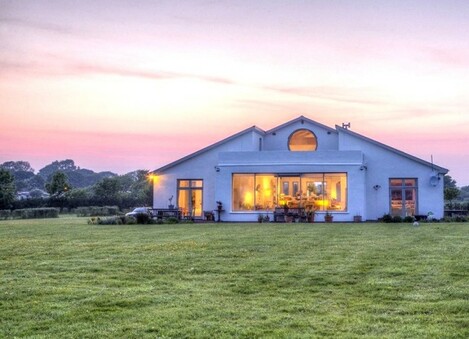 Source: Daft
With all of the rooms residing on one level, this leaves plenty of space for a surprise staircase that leads up to the large balcony area. From here you can take in even better views of the bay.
The area of Ballynamona in east Cork is sure to feed anyone's creative side. Close to renowned Ballymaloe Cookery School, the Shanagarry Design Centre and home of iconic Irish craft company, Stephen Pearce Pottery, great local food and interiors touches would certainly complete the picture for anyone lucky enough to buy this home.
Want more of these articles? Get our weekly property magazine emailed to you