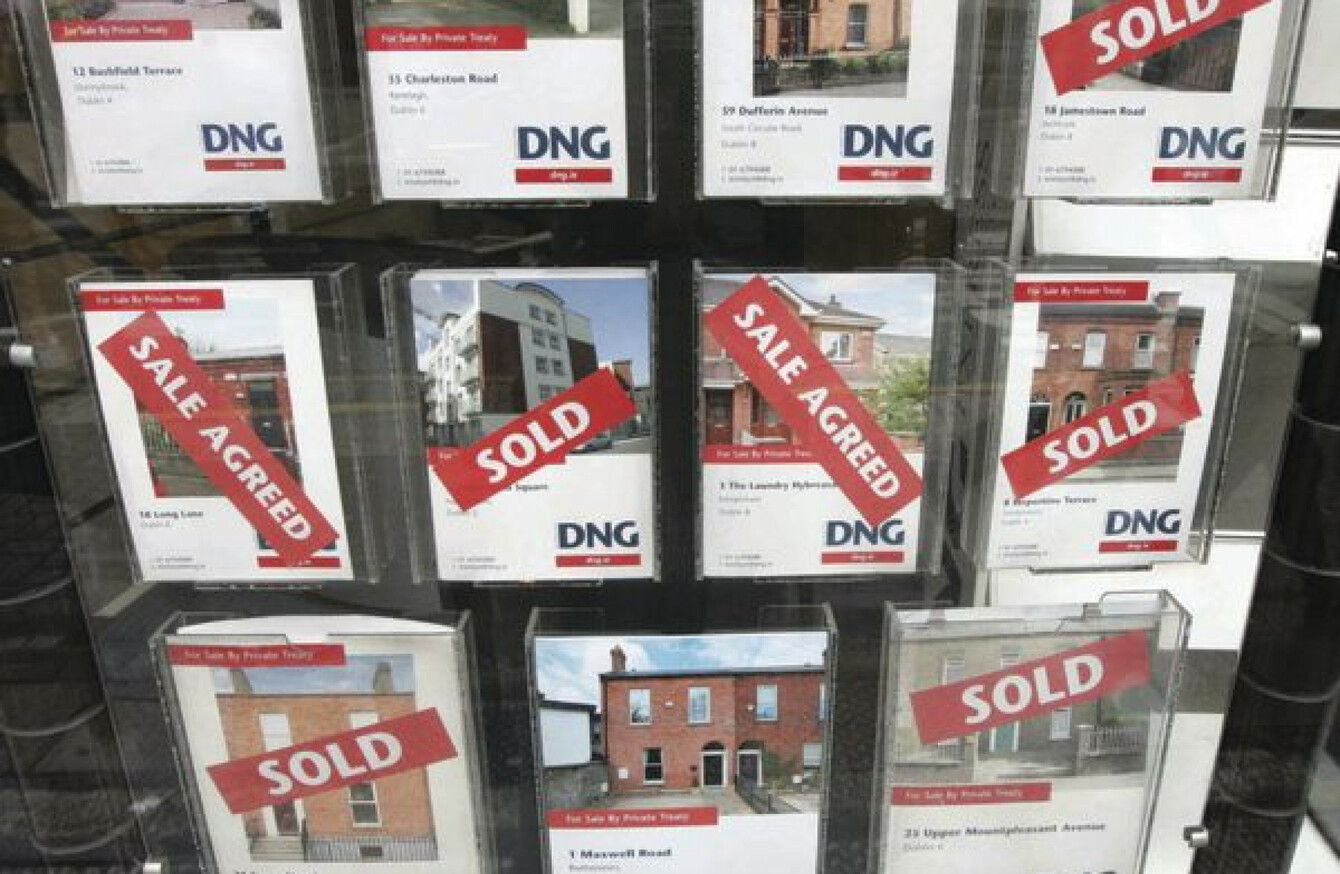 File Photo
Image: Sam Boal via RollingNews.ie
File Photo
Image: Sam Boal via RollingNews.ie
HOUSE PRICES ACROSS the country are rising by more than €50 a day according to the latest report from Daft.ie.
The House Price Report has found that the price of the average house is now nearly €241,00 – 8.9% higher than this time last year.
It means that prices have risen by almost 47% on average from their lowest point in late 2013.
The best value for money is in Sligo where houses are around €134,000, while South County Dublin remains the most expensive with the average house costing €559,000.
Major cities
The annual rate of inflation in Dublin was 9.9% in the year to September. This is the second quarter in a row where it exceeds the rate in the rest of the country (8.2%).
The rate of inflation in Dublin also exceeded the rate seen in each of the four other major cities for the first time since 2014.
In Cork, the change in prices over the last year has been 5.1%, its lowest in over three years, while in Galway the figure was 9.2%.
In both Limerick and Waterford, the rate was close to 8.5%, similar to the rate seen elsewhere in the country.
Dublin City: €354,765 – up 9.9%
Cork City: €260,181 – up 5.1%
Galway City: €271,797 – up 9.2%
Limerick City: €177,771 – up 8.6%
Waterford City: €159,992 – up 8.5%
Number of houses for sale
The number of properties available to buy on the market nationwide continues to fall, albeit at the slowest rate in over five years.
There were almost 24,000 properties on the market on 1 September, 4% lower than the same date a year previously.
This is from extra supply, rather than less demand, with over 40,000 properties listed in the first eight months of the year, compared to 37,600 in the same period in 2016.
Commenting on the figures, Ronan Lyons, economist at Trinity College Dublin and author of the Daft.ie Report, said: "The relaxation of the Central Bank rules on the minimum deposit would be expected to bring about a one-off jump in house prices, particularly in Dublin.
"This appears to have happened in the first half of the year, when prices in the capital rose by 10% in just six months. Since June, though, prices have largely been stable, suggesting the change in rules has run its course.
Nonetheless, with a shortage in supply, largely due to the lack of new homes being built, there is little to suggest that house prices will fall in the months and years ahead."
Martin Clancy from Daft.ie said: "Every minute over 1,000 property searches are being carried out on our website and apps, which gives an indication of the strong demand that is in the market at present."