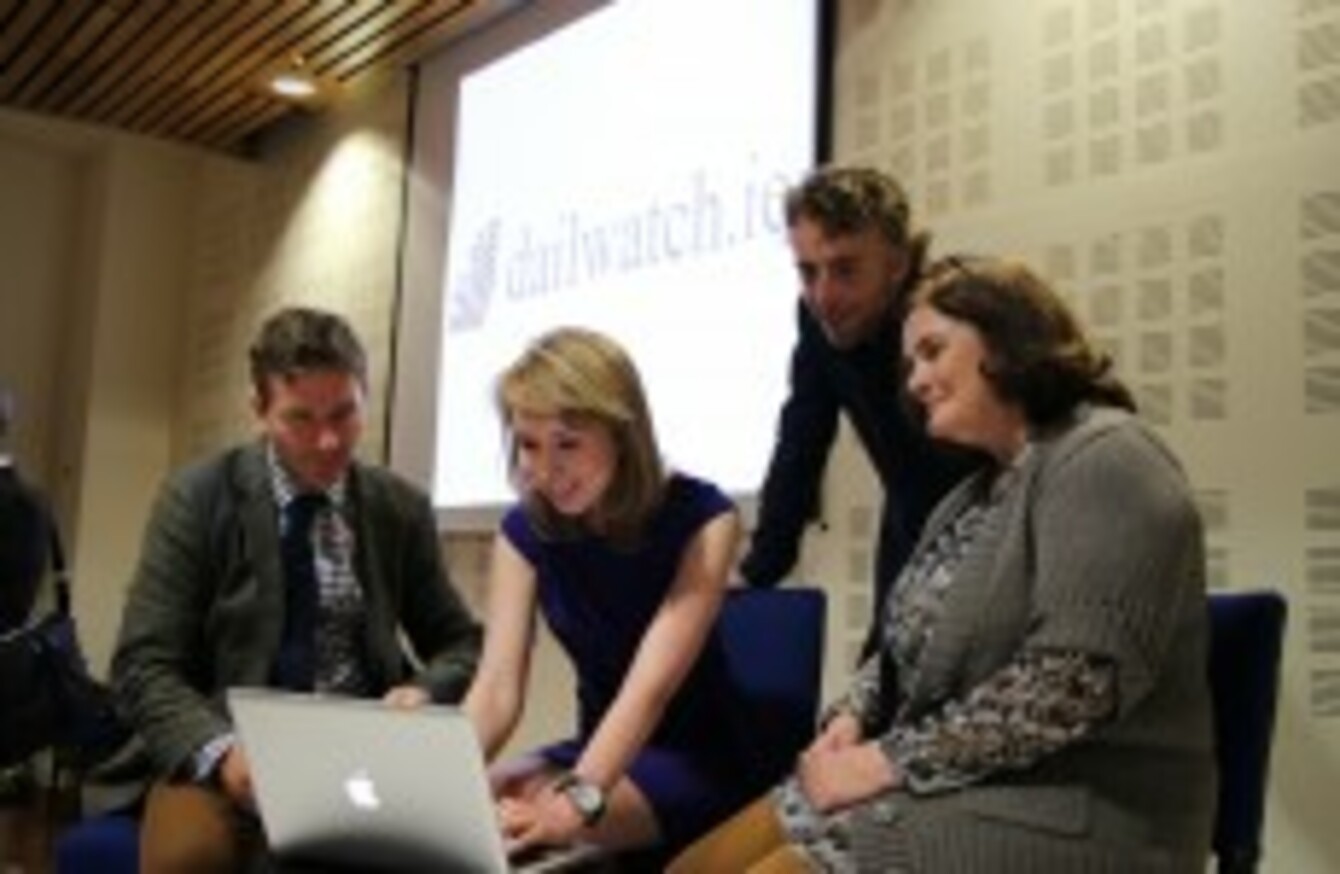 Harry McGee, Sarah O'Neill, Ruairí McKiernan and Dr Jane Suiter at today's launch.
Image: Sam Whelan-Curtin
Harry McGee, Sarah O'Neill, Ruairí McKiernan and Dr Jane Suiter at today's launch.
Image: Sam Whelan-Curtin
A NEW WEBSITE which aims to offer a direct line of communication between the people of Ireland and their elected representatives was officially launched in Dublin today.
Dailwatch.ie allows users to submit questions through the site, which they then forward to the appropriate political representative.
All questions and answers will be publicly available on the site, with duplicate queries being filtered out to avoid the same question being asked multiple times.
At the opening address, CEO Sarah O'Neill said that "like many people here today, I felt that my influence on the political agenda began and ended at election time."
Explaining the need for the site, she said:
The detachment that exists between citizens and their representatives is detrimental to the health of our democracy and undermines our ability to recover from the current economic crisis that we face.
While admitting that the new site was not the answer of all of Ireland's problems, O'Neill said that it would, at least, help to make the decision making process a more collaborative one.
A nonpartisan, non-profit initiative, Dailwatch.ie came about as a result of an invitation from Ashoka Ireland to the German organisation ParliamentWatch, who operate a similar site.
Distrust
One of the board of trustees, Dr Jane Suiter, believes that the website is coming at the right time for Ireland. "The amount of distrust [in Ireland, against government] has been climbing every year since 2008," she said.
The danger is that we sleepwalk into another crisis, that politics aren't changed. This crisis is an opportunity to do some serious political reform. In the last election, there was a lot of talk about political reform, all the parties had it in their manifesto… yet we've seen very little reform. Very little has actually happened. This is an opportunity for politicians to engage with their constituents and engage with the citizens at large.
Speaking the TheJournal.ie, she said that the current economic difficulties are more likely to get people to sit up and take notice of the site.
We are in the middle of a crisis which is one of the things that is likely to encourage people to get involved. If this was six or seven years ago, there would probably have been a lot more apathy.
Also at today's launch was Ruairí McKiernan, the creator of SpunOut.ie. Speaking of the need for engaging younger people in Ireland, he thinks that people's mindset needs to change:
The politicians fundamentally work for us. We are their bosses, and that's something that psychologically people have failed to get their heads around. The charm and the wit [of politicians] and all of that will have you eating out of their hands in five minutes. It's about us asserting our rights and our power as citizens.
It's been said that the price of democracy is eternal vigilance and we haven't been vigilant enough. There's too much bar-stool rebellion and coffee-shop crusading where we're giving out and pointing the finger, and really we need to engage.
Negative narrative
In attendance was David Stanton, TD and chairman of the Justice Committee who, while praising the initiative, had issue with the lack of positive coverage of the work currently being done by government representatives with finite resources.
"If we do something really fundamental in the committee, we get no coverage," he said.
I want to say this publicly. There is a negative narrative about politicians and TDs, and I feel very strongly about it. I would ask media not to be so negative because you will find that a lot of people like me will opt out. We will not want to stand because it is personally very difficult.
Someone asks a parliamentary question, and you get a newspaper report saying that a parliamentary question was asked and this is the information, with no credit given to the deputy who asked it, and that's not right.